TIME OF THE ACES: Marine Pilots in the Solomons
by Commander Peter B. Mersky, U.S. Naval Reserve
---
The First Corsair Ace
Because the Navy decided that the F6F Wildcat was a better carrier fighter than the F4U Vought Corsair, the Marines got a chance to field the first operational squadron to fly the plane. Thus, Major William Gise led the 24 F4U-1s of VMF-124 onto Henderson Field on 12 February 1943.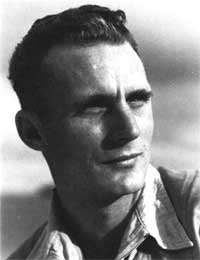 Enlisting in the Marine Corps in 1933, 1stLt Kenneth A. Walsh eventually went through flight training as a private, gaining his wings in 1937. By 1943, Walsh was in aerial combat over the Solomons and be came the first Corsair-mounted ace. Department of Defense Photo (USMC) 60940
As the Allied offensive across the Pacific gathered momentum, the fighting above the Solomons and the surrounding islands continued as the Japanese constantly harassed the advancing Allied troops. The Corsair's first engagements were tentative. The pilots of the first squadron, VMF-124. had only an average of 25 hours each in the plane when they landed at Guadalcanal. The very next day, they were off to Bougainvile as escorts for Army B-17s and Navy PB4Y Liberators. It was a lot to ask, but they did it, taking some losses of both bombers and escorts. While it was a rough start, the Marines soon settled down and began to exploit the great performance of this new machine, soon to become known to the Japanese as "Whistling Death," and to the Corsair pilots as the "Bent Wing Widow Maker."
After the first few missions, the new experience with the Corsair's capabilities began to really take hold. First Lieutenant Kenneth A. Walsh, a former enlisted pilot (he received his wings of gold as a private), shot down three enemy aircraft on 1 April. Six weeks later, after several patrols, Walsh dropped three more Zeros on 13 May 1943, becoming the first Corsair ace. By 15 August, Walsh had 10 victories to his credit.
On 30 August, he was scheduled to fly escort for Army B-24s on a strike against the Japanese airfield at Kahili, Bougainville. Walsh's four-plane section launched before noontime to make the flight to a forward base on Banika in the Russell Islands. After refueling and grabbing some lunch, the four Marine pilots took off again to rendezvous with the bombers. As the escorts — more F4Us and Army P-38s — joined up with the bombers, Walsh's engine acted up, forcing him to make an emergency landing at Munda.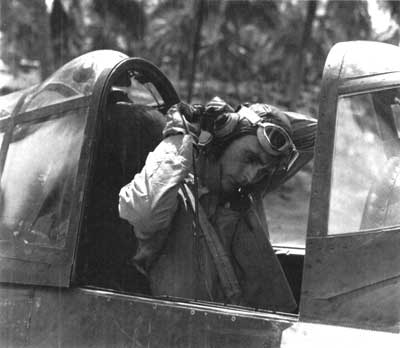 1stLt Ken Walsh of VMF-124 connects his radio lead to his flight helmet before a mission in 1943. He was the first F4U pilot to be decorated with the Medal of Honor, for a mission on 30 August 1943, during which he shot down four Japanese Zeros before ditching his borrowed Corsair. National Archives photo 80-G-54291
A friend, Major James L. Neefus, was in charge of the Munda airfield, and he let Walsh choose an other fighter from Corsairs that were parked on Munda's airstrip. Walsh took off in his borrowed fighter and headed toward Kahili to try to find and rejoin with his division. As he finally approached the enemy base, he saw the B-24s in their bomb runs, beset by swarms of angry Zeros. Alone, at least for the moment, Walsh piled into the enemy interceptors which had already begun to work on the Army bombers.
As Walsh fought off several attacks by some 50 Zeros, thereby disrupting to a degree their attack on the bombers, he wondered where all the other American fighters might be. Finally, several other Corsairs appeared to relieve the hard-pressed ace. As other aircraft took the burden from Walsh, he eased his damaged fighter east to take stock of his situation. He was able to shoot down two Zeros, but the enemy interceptors were nearly over whelming. The B-24s were struggling to turn for home as more Zeros took off from Kahili.
Lieutenant Walsh managed to down two more Zeros before he had to disengage his badly damaged Corsair. Pursued by the Japanese, who pumped cannon and machine gun fire into his plane, Walsh knew he would not return this Corsair to Major Neefus at Munda. Several Corsairs and a lone P-40 arrived to scatter the Zeros which were using Walsh for target practice. He ditched his battered fighter off Vella Lavella and was picked up by the Seabees who borrowed a boat after watching the Marine Corsair splash into the sea. For his spirited single-handed defense of the B-24s over Bougainville. Lieutenant Walsh became the first Corsair pilot to receive the Medal of Honor. The four Zeros he shot down during this incredible mission ran his score to 20.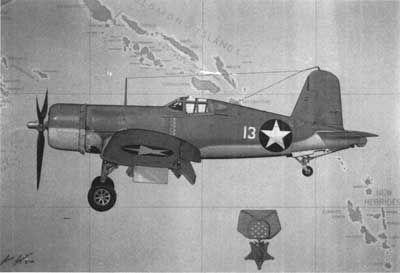 This VMF-124 F4U-1, No.13, was flown by 1stLt Ken Walsh during his first combat tour in which he became the first Corsair-mounted ace. Profile by Larry Lapadura, courtesy of the artist
Ken Walsh shot down one more aircraft, another Zero, off Okinawa on 22 June 1945, the day the island was secured. At the time, Walsh was the operations officer for VMF 222, shorebased on the newly secured island.
A series of assaults during the spring and summer of 1943 netted the Allies several important islands up the Solomons chain. An amphibious assault of Bougainville at Empress Augusta Bay on 1 November 1943, caught the Japanese defenders off guard. In spite of Japanese reaction and reinforcement, a secure perimeter was quickly established, and within 40 days, the first of three airfields was in operation with two more to follow by the new year. Aircraft from these strips flew fighter sweeps first, later to be followed by daily escorted SBD and TBF strikes. With the establishment of this air strength at Bougainville, the rest of the island was effectively bypassed, and the fate of Rabaul sealed.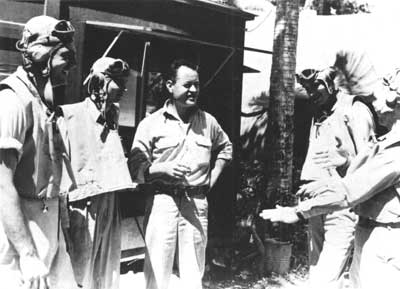 Maj Gregory "Pappy" Boyington became the best known Marine ace. A member of the Flying Tigers in China before World War II, he later commanded VMF-122 before taking over VMF-214. By early January 1944, he was the Corps' leading scorer. Here, the colorful Boyington, center, relaxes with some of his pilots. Author's Collection
Marine aircraft began flying from their base at Torokina Point at Empress Augusta Bay, the site for the initial landing on Bougainville's midwestern coast. Navy Seabees then quickly hacked out two more airstrips from the jungle — Piva North and Piva South. Piva Village was a settlement on the Piva River, east of the airfield complex.
The official Marine Corps history noted that "whenever there was no combat air patrol over the beachhead, the Japanese were quite apt to drop shells into the airfield area. The Seabees and Marine engineers moved to the end of the field which was not being hit and continued to work."
Comparative Table for Main Types of Fighters
Aircraft
Length
Span
Engine
(hp)
Max Speed
(mph)/
altitude
(feet)
Range
normal/max
(miles)
Armament
Number
Built
U.S. Navy
F4F-4
Wildcat
28'9"
38'0"
Pratt & Whitney
R-I 830-86
(1,200)
320/19,400
910/1,250
4x (later 6)
.50-cal.
machine guns
1,168
4U-1
Corsair
33'4"
41'0"
Pratt & Whitney
R-2800-8
(2,000)
417/19,900
1,015/1,562
6x.50-cal.
machine guns
9,4441
USAAF
P-400
(P-39D)
Airacobra
30'2"
34'0"
Allison
V-1710
(1,150)
335/5,000
600/1,100
1x20mm can.
4x.30-cal.
2x.50-cal.
machine guns
1792
P-40E
Warhawk
31'2"
37'4"
Allison
V-1710
(1,150)
335/5,000
650/850
6x.50-cal.
machine guns
2,320
Japanese Navy
A6M2
Model 21
Zero-sen
Zeke)
29'8"
39'4"
Nakajima
Sakai 12
(925)
331/15,000
1,160/1,930
2x20mm can.
2x7.7mm
machine guns
1,1003
A6M2-N
(Rufe)
33'1"
39'4"
Nakajima
Sakai 12
(925)
270/16,400
714/1,107
2x20mm can.
2x7.7mm
machine guns
327
Japanese Army
Ki.43-1a
Hayabusa
(Oscar)
28'11"
37'6"
Nakajima
Ha-25
(950)
308/13,100
745 max
2x7.7mm or
12.7mm
machine guns
716
Ki.61-1a
Hien
(Tony)
28'8"
39'4"
Kawasaki
Ha-40
(1,175)
368/16,000
373/684
2x1 2.7mm
2x7.7mm
machine guns
1,380
---

1Includes all variants of the F4U-1, i.e., the -1, -1A, -1C (armed with 4x20mm cannon), and -1D, as well as those built by Goodyear as the FG-1A/D, and by Brewster as the F3A-1D.

2The amount reclaimed by the USAAF from the original RAF order of 675. Approximately 100 P-400 and 90 P-39Ds Served with the USAAF in the Pacific. Others served with the Soviet Air Force, and the USAAF in the Middle East and the Mediterranean theater.

3Production numbers for many Japanese aircraft are difficult to pin down. The best estimate places A6M2 production at over 1,100.
---