INFAMOUS DAY: Marines at Pearl Harbor
by Robert J. Cressman and J. Michael Wenger
---
On the afternoon of 6 December 1941, Tai Sing Loo, the colorful Pearl Harbor Navy Yard photographer, arranged with Platoon Sergeant Charles R. Christenot, the noncommissioned-officer-in-charge of the Main Gate at the Navy Yard, to have his Marines pose for a photograph between 0830 and 0930 Sunday morning, in front of the new concrete main gate. The photo was to be for a Christmas card.
As war clouds gathered over the Pacific basin in late 1941, the United States Pacific Fleet operated, as it had since May 1940, from Pearl Harbor. While the security of that fleet and for the island of Oahu lay in the Army's hands, that of the Navy Yard and the Naval Air Stations at Pearl Harbor and Kaneohe Bay lay in the hands of Marines. In addition, on board the fleet's battleships, aircraft carriers, and some of its cruisers, Marines provided security, served as orderlies for embarked flag officers and ships' captains, and manned secondary antiaircraft and machine gun batteries — seagoing duties familiar to the Corps since its inception.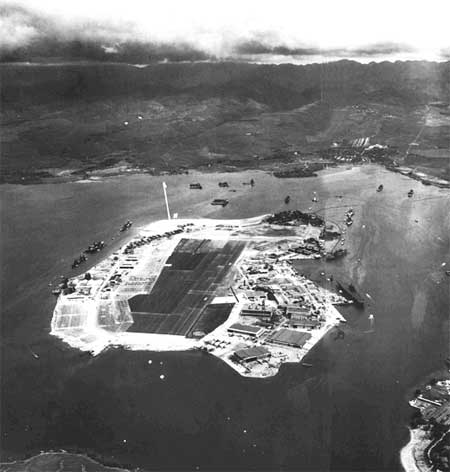 Ford Island, seen on 10 October 1941 from much the same angle as Japanese bomber pilots viewed it on 7 December. National Archives Photo 80-G-279375
The Marine Barracks at Pearl Harbor comprised a Barracks Detachment and two companies, A and B, the men living in a comfortable three-story concrete barracks. Company A manned the main gates at the Submarine Base and Navy yard, and other "distant outposts," providing yard security, while Company B enforced traffic regulations and maintained proper police and order under the auspices of the Yard Police Officer. In addition, Marines ran the Navy Yard Fire Department. Elements of Marine defense battalions made Pearl Harbor their home, too, residing in the several 100-man temporary wooden barracks buildings that had been completed during 1940 and 1941. Less commodious but no less important was the burgeoning airbase that Marines of Marine Aircraft Group (MAG) 2 (later 21) had hewn and hammered out near Barbers Point — Ewa Mooring Mast Field, home for a Marine aircraft group consisting of fighting, scout-bombing, and utility squadrons.
On 27 November, having been privy to intelligence information gleaned from intercepted and translated Japanese diplomatic message traffic, Admiral Harold R. Stark, the Chief of Naval Operations, and General George C. Marshall, the Army's Chief of Staff, sent a war warning to their principal commanders on Oahu, Admiral Husband E. Kimmel, the Commander in Chief, Pacific Fleet, and Lieutenant General Walter C. Short, the Commander of the Hawaiian Department. Thus adjured to take appropriate defensive measures, and feeling that his more exposed advance bases needed strengthening, Kimmel set in motion a plan that had been completed as early as 10 November, to provide planes for Midway and Wake. The latter was to receive fighters — 12 Grumman F4F-3 Wildcats of Marine Fighter Squadron (VMF) 211 — while Midway was to get scout bombers from Marine Scout-Bomber Squadron (VMSB) 231. The following day, 28 November 1941, the carrier Enterprise (CV-6) departed Pearl in Task Force 8 under Vice Admiral William F. Halsey, Jfr., Commander, Aircraft, Battle Force, embarking VMF-211 at sea. VMSB-231 was to embark in another carrier Lexington (CV-2), in Task Force 12 under Rear Admiral John H. Newton, on 5 December.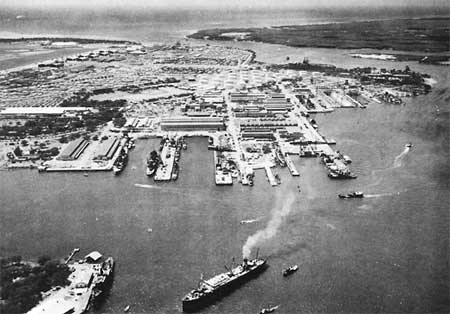 Pearl Harbor Navy Yard, looking south, on 13 October 1941. Marine Barracks complex is located to the left of the tank farm visible just to left of center. Several temporary wooden barracks, completed in early 1941, ring the parade ground. National Archives Photo 80-G-451123
At the outset, apparently no one except the squadron commanders knew their respective destinations, but the men of VMF-211 and VMSB-231, meanwhile, apparently ordered their affairs and made ready for what was to appear as "advanced base exercises." Among those men seeing to his financial affairs at Ewa Mooring Mast Field on 3 December 1941 was First Lieutenant Richard EW. Fleming, USMCR, who wrote to his widowed mother: "This is the last time I'll be able to write for probably sometime. I'm sorry I can't give you any details; it's that secret."
On the 5th, Task Force 12 sailed from Pearl. Eighteen light gray Vought SB2U-3 Vindicators from CMSB-231, under 41-year old Major Clarence J. "Buddy" Chappell, then made the 1.7-hour flight from Ewa and landed on board Lexington, along with the "Lady Lex" air group. Planes recovered, the force set course for Midway. The Lexington departed Pearl Harbor on the morning of 5 December. That afternoon saw the arrival of Battleship Division One from gunnery exercises in the Hawaiian Operating Area, and the three dreadnoughts, Arizona (BB-39), Nevada (BB-36), and Oklahoma (BB-37), moored in their assigned berths at the quays along Ford Island. The movements of the ships in and out of Pearl Harbor had been the object of much interest on the part of th espionage system operating out of the Japanese consulate in Honolulu throughout the year 1941, for the information its operatives were providing went to support an ambitious and bold oeration that had taken shape over several months.
Unbeknownst to Admiral Kimmel, a Japanese task force under the command of Vice Admiral Chuichi Nagumo, formed around six carriers and the most powerful force of its kind ever assembled by any naval power, had set out from the remote Kurile Islands on 27 November. It observed radio sxilence and steamed via the comparatively less traveled northern Pacific.
Nagumo's mission was to destroy the United States Pacific Fleet and thus ensure its being unable to threaten the Japanese Southern Operation posed to attack American, British, and Dutch possessions in the Far East. All of the warning signs made available to Admiral Kimmel and General Short pointed toward hostilities occurring within the forseeable future, but not on Oahu. War, however, was about to burst upon the Marines at Pearl Harbor "like a thunderclap from a clear sky."
---