LIBERATION — Guam Remembers
A Golden Salute for the 50th anniversary of the Liberation of Guam
---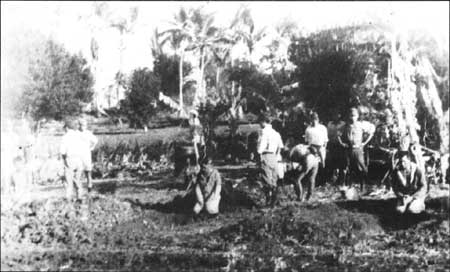 As U.S. forces approached Guam in 1944, the Japanese military began exercising their power over life and death, and their brutality to the Chamorro people turned evil. In this photo, which was taken in late June or early July 1944 and captured by the American military, Japanese military officers prepare to execute three Chamorro men. At left, barely discernible behind the fading in the photograph is Miguel Terlaje. At center is Jesus (Kiadas) Salas, and at right is Juan (Dondo) Perez, his hands clasped together as if he were praying. Jesus Salas and Perez were apparently executed because they had been members of the Insular Force Guard, a naval militia formed just months before the Japanese invaded Guam in December 1941. Miguel Terlaje was apparently executed for disobedience.
In Tai, a day of terror and tragedy
By JUDGE JOAQUIN V.E. MANIBUSAN
Before the American bombardment, in late June or early July 1944, I and other members of my work battalion witnessed at Tai one of the most appalling and tragic sights - the execution by beheading of three Chamorro men by a Japanese taicho (head military man, an officer).
It is a day in my life that cannot be compared to any other.
It was that day 50 years ago when Tun Enrique White and I were teamed up by the Japanese at a Japanese camp in Tai, across from where Father Duenas school is now. It was late in the afternoon when we were ordered to dig a four-foot-deep hole. We did not know what the purpose of the hole, and others were ordered to dig two more holes.
I was a kucho (assistant team leader) at the time, and among members of my team were Juan Lujan Salas, Vicente (Eka) Blas, Victoriano (Chele) Camacho, Manuel N. Lujan, Charlie Martinez, Jose Garrido Salas, Candido San Nicolas, Enrique White, Enrique Peredo and Juan San Nicolas. They all witnessed the execution, along with several nurses - Mariquita Perez Howard, Concepcion Torre Tenorio (Connie Slotnik) and Simplicia Salas. Blas, Camacho, and Candido San Nicolas were later killed by the Japanese in Yigo; Mariquita was also killed by the Japanese.
I recall being there at the camp and my men being ordered to catch about 10 dogs. The dogs were tied up and hung upside down from a tree; the Japanese then would practice swinging their swords by killing the dogs. The taicho would demonstrate to us what he believed to be an art - the skill of slaying a dog. Of course, he was showing off the power of his sharp blade of the sword.
There were several occasions where he would tie my hands and those of others. He would then take his sword and run it across the back of my neck. The interpreter told me that I was supposed to have my neck slashed twice, but I escaped death.
Another fearful and agonizing moment was once when the blade of the sword actually nicked my forehead, a threat to me to be obedient to the Japanese commander. That scar is still on my forehead and although in these years past I have not associated this scar with the scars of the war, I am again reminded why that scar is there.
Again while others may have had their heads severed, I again escaped death in that instance.
I have kept this picture for almost 50 years; it was obtained by my father, the late Judge Jose Camacho Manibusan when he was chairman of the War Crimes Commission.
Looking at the picture, what Tun Enrique and I dug is the hole on the right; it is where Juan Perez was buried. In the middle of the picture is Jesus Salas, shown kneeling, like Juan Perez, beside the hole dug for him. Both Perez and Salas were members of the Insular Guard Force and were from Piti.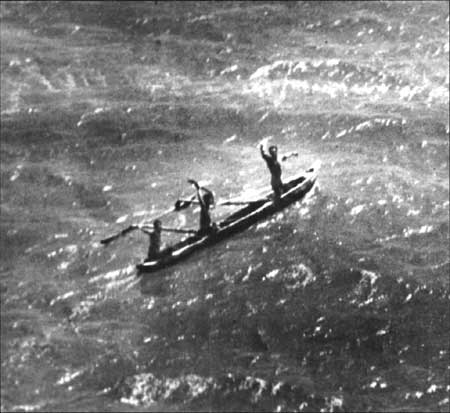 With a man possibly laying injured inside the canoe's hull, three men wave to a Navy pilot. Three groups of Merizo villagers were picked up by the Navy, all fleeing Japanese brutality. With the massacres at Tinta and Faha fresh in their minds, the men were seeking help for families that were left behind.
The hole to the left was dug for Miguel Terlaje. He was nearly dead because he was severely beaten in Hagatna (Agana) because instead of going to get water, he was found doing something else.
I don't remember much about that man, but what I remember was that a ceremony always occurred before a beheading.
I remember that the tallest man, the taicho, was the Japanese in charge of slaying the men. You can see from the photo a Japanese soldier leaning to wipe off the sword. The sword was always cleaned before a beheading and then wiped off afterward.
One other command from the Japanese, part of their ritual was to have the people in the camp surround the holes and witness what would happen if anyone would be found in disobedience.
Tun Enrique White has passed away, and I am the only one living to recall this agonizing and traumatic experience. Although I forced myself to mentally block this memory from my mind, the scars on my legs and on my back are constant reminders every waking moment of my day.
And now, as I remember this terrible day, the pain grows stronger and the memories more vivid and I find myself reliving the fear and torture and I am in tears
As the Chamorros honor the members of their Insular Guard Force who died in battle and throughout the war and other Chamorros who were beheaded or tortured to death, I want to part with this picture, this picture I received from my father, this picture which accounts for my painful memories of Tai.
I wish to tell stories to my children so they can tell the same stories to their children and to their children's children and so on.
It is time to talk about my experience during the war, and continue to talk. Maybe by talking and sharing my experience, I can finally let go of these painful memories and find peace - after 50 years of not telling my story - and now begin to heal.