The Coast Guard During World War II
Guam
Guam is the largest and was the most important island in the Marianas group. Thirty-five miles long and five to nine miles wide it lies on the southern end of the chain and is almost entirely surrounded by a coral reef. The assault ships sailed from Eniwetok to Guam and began arriving on the afternoon of July 20.
The transports steamed to the southern side of the island and took their positions off the landing beaches.
The Coast Guard transports Cor Caroli, Aquarius, Centaurus, Sterope, the 180-foot buoy tender Tupelo, LSTs 24, 70, 71, and 207, and seven other Navy ships with partial Coast Guard crews all took part in the campaign.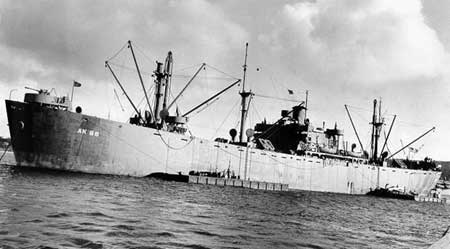 The Coast guard-manned attack cargo vessel Sterope, a veteran of the invasion of Guam.
Hoping to draw the Japanese away from the southern beaches, the Arthur Middleton made a diversionary landing north of the main landings. Several waves of the Middleton's boats went ashore without troops and then retracted. At the main the first wave of LVTs landed on the beach at 8:30 a.m. As at Saipan, the LVTs shuttled back and forth from the beach to the edge of the reefs to be loaded again.
Organized Japanese resistance lasted until mid-August and isolated fighting prolonged the final conquest of the island for many months.
Tinian
The amphibious forces' next target was the island of Tinian. This island lies less than three miles southwest of Saipan. The task force that formed to attack Tinian consisted of 214 vessels, most of which were in the amphibious groups. The assault on this island was from shore to shore due to its closeness to Saipan.
Naval forces subjected the Japanese on the island to air and naval bombardment beginning June 11. The bombardment thoroughly destroyed the extensive defenses the Japanese had prepared. On July 24, all craft moved smoothly from Saipan to Tinian. At 6 a.m. the Cambria and Cavalier arrived off the beach to land troops. The Cavalier served as the flagship for Commander Reserve Transport Group and Commander Transport Division Seven.
That afternoon, the Cambria moved closer to the beach to evacuate wounded Marines. The transport received casualties by breeches buoy due to unfavorable sea conditions. During the afternoon, the transport brought aboard a total of 293 wounded. With the capture of Tinian the Allies completed the conquest of all the important islands in the Marianas group.