Mormon Pioneer

---

Historic Resource Study

APPENDIX A:
DOCUMENTS
---

DOCUMENT 1
BILL OF PARTICULARS, 1845
BILL OF PARTICULARS

For the emigrants leaving this government next spring.
Each family consisting of five persons, to be provided with—

1 good strong wagon well covered with a light box.
2 or 3 good yoke of oxen between the age of 4 and 10 years.
2 or more milch cows.
1 or more good beefs.
3 sheep if they can be obtained.
1000 lbs. of flour or other bread, or bread stuffs in good sacks.

1 good musket or rifle to each male over the age of twelve years.
1 lb. powder.
4 lbs. lead.
1 do. Tea.
5 do. coffee.
100 do. sugar.
1 do. cayenne pepper.
2 do. black do.

1/2 lb. mustard.
10 do. rice for each family.
1 do. cinnamon.
1/2 do. cloves.
1 doz. nutmegs.
25 lbs. salt.
5 lbs. saleratus.
10 do. dried apples.
1 bush. of beans.
A few lbs. of dried beef or bacon.
5 lbs. dried peaches.
20 do. do. pumpkin.
25 do. seed grain.
1 gal. alcohol.
20 lbs. of soap each family.
4 or 5 fish hooks and lines.
15 lbs. iron and steel.
A few lbs. of wrought nails.
One or more sets of saw or grist mill irons to company of 100 families.

1 good seine and hook for each company.
2 sets of pulley blocks and ropes to each company for crossing rivers.
From 25 to 100 lbs. of farming and mechanical tools.
Cooking utensils to consist of bake kettle, frying pan. coffee pot, and tea kettle.
Tin cups, plates. knives, forks, spoons, and pans as few as will do.
A good tent and furniture to each 2 families.
Clothing and bedding to each family, not to exceed 500 pounds.
Ten extra teams for each company of 100 families.


N. B.—In addition to the above list, horse and mule teams can be used as well as oxen. Many items of comfort and convenience will suggest themselves to a wise and provident people, and can be laid, in in season; but none should start without filling the original bill.23
Source: Nauvoo Neighbor, October 29, 1845, as cited in B.H. Roberts, A Comprehensive History of the Church of Jesus Christ of Latter-day Saints, vol. 1, 539-540.
---

DOCUMENT 2
MORMON HYMN, "COME, COME YE SAINTS"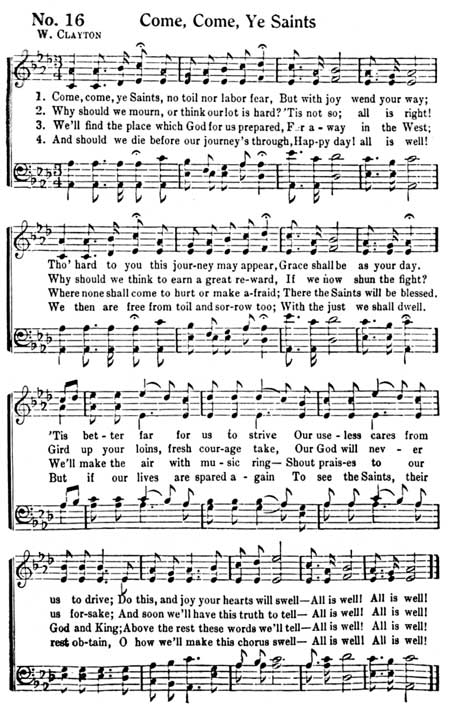 ---

DOCUMENT 3
ROSTER OF THE PIONEER CAMP, 1847
The personnel of the Pioneer band, was as follows. They are given as divided into companies of "Tens";
First Ten—Wilford Woodruff, captain: John S. Fowler. Jacob D. Burnham. Orson Pratt, Joseph Egbert. John M. Freeman. Marcus B. Thorpe. Geo. A. Smith. Geo. Wardle.
Second Ten—Ezra T. Benson, captain: Thomas B. Grover, Barbaras L. Adams. Roswell Stevens. Amasa M. Lyman. Starling G. Driggs. Albert Carrington. Thomas Bullock, George Brown. Willard Richards. Jesse C. Little.
Third Ten—Phineas H. Young. captain: John Y. Green, Thom as Tanner. Brigham Young. Addison Everett, Truman 0. Angell, Lorenzo D. Young, Bryant Stringham. Joseph S. Scofield, Albert P. Rockwood.
Fourth Ten—Luke S. Johnson. captain: John Holman, Edmund Ellsworth, Alvarus Hanks, George R. Grant. Millen Atwood, Samuel B. Fox. Tunis Rappleyee, Harry Pierce, Win. Kykes, Jacob Weiler.
Fifth Ten—Stephen H. Goddard, captain: Tarlton Lewis, Henry G. Sherwood, Zebedee Coltrin, Sylvester H. Earl. John Dixon. Samuel H. Marble, George Scholes, Win. Henrie. Win. A. Empey.
Sixth Ten—Charles Shumway, captain: Andrew Shumway, Thos. Woolsey. Chauncey Loveland, Erastus Snow. James Craig, Win. Wordsworth, Win. Vance, Simeon Howd, Seeley Owen.
Seventh Ten—James Case, captain: Artemas Johnson. Win. C. A. Smoot. Franklin B. Dewey, Win. Carter, Franklin G. Losee, Burr Frost, Datus Ensign, Franklin B. Stewart. Monroe Frink, Eric Glines. Ozro Eastman.
Eighth Ten—Seth Taft, captain: Horace Thorton. Stephen Kelsey. John S. Eldredge. Charles D. Barnum, Alma W. Williams, Rufus Allen, Robert T. Thomas, James W. Stewart, Elijah Newman, Levi N. Kendall, Francis Boggs. David Grant.
Ninth Ten—Howard Egan. captain: Heber C. Kimball, Win. A. King. Thomas Cloward, Hosea Cushing. Robert Byard. George Billings. Edison Whipple. Philo Johnson. Win. Clayton.
Tenth Ten—Appleton M. Harmon, captain; Carlos Murray, Horace K. Whitney, Orson K. Whitney. Orrin P. Rockwell, Nathaniel T. Brown, R. Jackson Redding, John Pack, Francis Pomeroy, Aaron Farr. Nathaniel Fairbanks.
Eleventh Ten—John S. Higbee, captain: John Wheeler, Solo mon Chamberlain. Conrad Klineman, Joseph Rooker, Perry Fitzgerald, John H. Tippetts. James Davenport. Henson Walker, Benjamin Rolfe.
Twelfth Ten—Norton Jacobs. captain: Charles A. Harper George Woodward, Stephen Markham, Lewis Barney. George Mills, Andrew Gibbons, Joseph Hancock, John W. Norton.
Thirteenth Ten—John Brown, captain: Shadrach Roundy, Levi Jackman, Lyman Curtis, Hans C. Hansen. Mathew Ivory. David Powers, Hark Lay (colored). Oscar Crosby (colored).
Fourteenth Ten—Joseph Mathews, captain: Gilbroid Summe, John Gleason. Charles Burke, Alexander P. Chessley. Rodney Badger. Norman Taylor, Green Flake (colored). Ellis Eames, who. it will be remembered, returned to Winter Quarters from the Pioneer camp on the 18th of April on account of sickness.
Besides the men. there were three women and two children in the camp.
Source: B.H. Roberts, A Comprehensive History of the Church of Jesus Christ of Latter-day Saints.
---

DOCUMENT 4
"THE WORD AND WILL OF THE LORD" TO BRIGHAM YOUNG, 1847
(omitted from online edition)
---

DOCUMENT 5
NDREW JENSON'S TABULATION OF THE NUMBER OF MORMON EMIGRANTS BY YEAR
EMIGRATION CROSSING THE PLAINS
FROM 1847 TO 1869

(Andrew Jenson's Compilation)

1847
About 2,000
1848
About 4,000
1849
About 3,000
1850
About 5,000
1851
About 5,000
1852
About 10,000
1853
About 2,603 (foreign)
1854
About 3,167
1855
About 4,684
1856
About 3,756
1857
About 1,994
1858
About 179
1859
About 809
1860
About 1,409
1861
About 1,959
1862
About 3,599
1863
About 3,646
1864
About 2,697
1865
About 1,301
1866
About 3,333
1867
About 660
1868
About 3,232


Total 68,028
Source: "Church Emigration Book," Mormon Church Archives
---

DOCUMENT 6
PIONEER COMPANIES THAT CROSSED THE PLAINS, 1847-1868
(omitted from online edition)
---
---
mopi/hrs/hrsab.htm
Last Updated: 08-Oct-2003