Martin Luther King, Jr.

---

Historic Resource Study

Chapter Two:
MARTIN LUTHER KING, JR.'S LEADERSHIP OF THE AMERICAN CIVIL RIGHTS MOVEMENT, 1955-1968 (continued)
---
CIVIL RIGHTS LEADERSHIP OF MARTIN LUTHER KING, JR.
In 1954, the Dexter Avenue Baptist Church in Montgomery, Alabama, hired Martin Luther King, Jr., as its pastor. Following his graduation from Crozer Seminary in 1951, King had worked toward a doctorate in comparative theology at Boston University. While in Boston, he met Alabama-born Coretta Scott, a music student at the New England Conservatory. The two were married on June 18, 1953. Upon assuming his pastorate in Montgomery, King rapidly established his authority and expanded the church's existing social welfare program. He formed a social and political action committee, a committee to raise scholarship funds for black college students, and a cultural committee to encourage black artists. King joined the local chapter of the NAACP and the Alabama Council on Human Relations, one of the few interracial groups in the state. Within a year, King was known in the Montgomery black community as an activist and leader. NAACP members elected him to the Montgomery Chapter's Executive Board, and he served as vice president of the Montgomery Chapter of the Alabama Council on Human Relations. [44] In December 1955, Montgomery blacks chose King to lead their protest against segregated buses, beginning his career as a civil rights leader.
Montgomery blacks had long resented city ordinances that required segregation on buses and state laws that authorized drivers to enforce the ordinances. Throughout 1955, E. D. Nixon, a Brotherhood of Sleeping Car Porters official, and Fred Gray, one of Alabama's few black attorneys, sought a strong test case to challenge the laws. On December 1, 1955, Montgomery police arrested Rosa Parks for refusing to surrender her bus seat to a white, providing just such a case. Mrs. Parks, a respected seamstress and secretary of the Montgomery NAACP chapter, was of unimpeachable character and likely to make an excellent trial witness. Authorities charged Mrs. Parks only with violation of the segregation laws. Because no disorderly conduct charges were involved, the lawyers could mount a direct attack on the segregation laws. Mrs. Parks agreed to appeal her conviction, thrusting her case into a national spotlight. [45]
E. D. Nixon and teachers from black Alabama State College organized a bus boycott to complement the legal challenge. On December 4, 1955, the first day of the boycott, Montgomery black leaders met to plan an evening mass meeting. In attendance were Nixon, Rufus Lewis, a funeral director and Nixon' s rival for leadership of the black community, and a number of ministers including King and Ralph David Abernathy, pastor of First Baptist Church. The group created the Montgomery Improvement Association (MIA) to coordinate the boycott and negotiate with the bus company. Lewis made a motion to name King president of the association, and he was elected without opposition. [46] In leading the MIA, King insisted on nonviolent protest, based on the principles of civil disobedience—many articulated by Henry David Thoreau and Mohandas Gandhi. Participants in the boycott were instructed on how to respond nonviolently to Verbal and physical attacks. The Montgomery black community successfully maintained the boycott for over one year. In November 1956, the U.S. Supreme Court overturned the Alabama and Montgomery bus segregation laws. [47]
King's boycott leadership propelled him to national prominence as a civil rights leader. From 1955 until his assassination in 1968, King led or provided strong support to numerous campaigns and demonstrations for equal rights throughout the South. Many of these efforts were coordinated by the Southern Christian Leadership Conference (SCLC), an activist organization of Southern black clergymen King helped establish in 1957. [48]
The SCLC evolved from informal meetings and strategy sessions held by Southern black ministers concerning the Montgomery boycott. Ministers who attended the meetings included King, the Reverend C. K. Steele, who had helped lead the Tallahassee bus boycott, and the Reverend Fred Shuttlesworth of Birmingham, Alabama, who had founded the Alabama Christian Movement when the state effectively shut down the Alabama chapter of the NAACP. In December 1956, at Holt Street Baptist Church in Montgomery, King, Shuttlesworth, Steele, the Reverend Theodore Jemison of Baton Rouge, Louisiana, the Reverend Joseph E. Lowery of Mobile, Alabama, J. H. Jackson, president of the National Baptist Convention, and others held a week-long "Institute on Nonviolent Social Change." [49]
Encouraged by the interaction at these meetings and in response to suggestions from Bayard Rustin, a veteran pacifist organizer from New York, King, Shuttlesworth, and Steele issued invitations for an organizational meeting of the "Southern Negro Leaders Conference on Transportation and Nonviolent Integration" held at Ebenezer Baptist Church in Atlanta on January 10 and 11, 1957. Approximately sixty southern black ministers attended the organizational meeting, and, at a subsequent meeting in February, King was elected president. In August 1957 the group changed its name to the Southern Christian Leadership Conference. [50]
Overshadowing other groups such as CORE and the Student Nonviolent Coordinating Committee (SNCC), the SCLC became "the sustaining mechanism of the Civil Rights Movement." [51] The SCLC sought to coordinate and raise funds, mostly from Northern sources, for local civil rights protests across the south and to develop and train black leaders. Emphasizing its roots in the church, the SCLC insisted on a commitment to nonviolence in all its endeavors. The SCLC was a loosely structured organization, with a fluctuating contingent of headquarters staff and field organizers. Black Baptist ministers dominated the organization's governing board and executive staff. To avoid direct competition with the NAACP, the SCLC did not accept individual memberships, but worked through local, dues-paying affiliates, most of which were black church groups. [52] Locally anchored, independently financed, and committed to a program of nonviolence, the SCLC proved effective after some initial faltering.
Martin Luther King, Jr., was the dominant personality within the SCLC. His national prestige, moving oratory, and experience with both southern black culture and northern intellectual circles made a uniquely successful combination. King moved easily between a rally at a rural black Baptist church in Alabama and a fund-raising dinner in New York City. Many staff and board members contributed to the SCLC's success, but during King's life, the SCLC was synonymous with him. [53]
The SCLC initially concentrated on local voter registration drives in the South, without significant success. Understaffed, chronically short of funds, and without a clear strategic direction, the SCLC achieved little in its first two years. In 1959, the group's executive board urgently requested that King "seriously consider giving the maximum of his time and energies" to the organization's work. [54] In response to this plea, King resigned his pastorate at Dexter Avenue Baptist Church in 1960 and moved permanently to Atlanta. The King family—Martin, Coretta, and their two children, Yolanda and Martin Luther King III—moved into a small rented house on Johnson Avenue in Atlanta, near Ebenezer Baptist, but outside the current boundaries of the national historic site. The Kings later purchased a larger house on the city's west side, where King resided at the time of his death. While in Atlanta, the Kings had two more children, Dexter and Bernice. From 1960 to 1968, King devoted most of his energies to the SCLC and co-pastored with his father at Ebenezer Baptist Church, traveling much of the time (photograph 6). [55]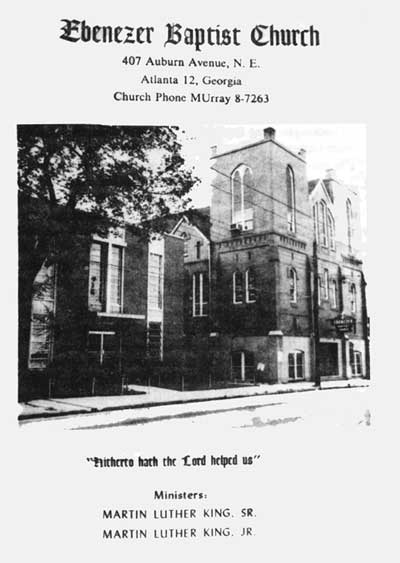 Photograph 6: Program, Ebenezer Baptist Church, June 13, 1965. Courtesy of Ebenezer Baptist Church
With King firmly in command, the SCLC figured prominently in many of the important civil rights campaigns of the 1960s. Local groups frequently called on King and the SCLC for counsel. In February 1960, college students from North Carolina Agricultural & Technical College staged sit-in protests at a whites-only Woolworth's lunch counter in Greensboro, North Carolina. Within six weeks, the sit-ins spread to dozens of cities across the South. In April, two hundred black college students met at Shaw University in Raleigh, North Carolina, to form the Student Nonviolent Coordinating Committee (SNCC). The SCLC helped underwrite the meetings, which King attended as an advisor and speaker. The SNCC avoided a formal alliance with the SCLC, but established its headquarters in Atlanta and officially recognized King as a permanent advisor. [56]
Following King's move to Atlanta, student leaders repeatedly urged him to join their efforts to desegregate local restaurants and stores. In October 1960, King participated in a desegregation protest at Rich's Department Store in downtown Atlanta. Atlanta police arrested King and thirty-five others on trespassing charges for refusing to leave the store's whites-only restaurant. Following this arrest, Georgia Judge J. Oscar Mitchell revoked King's probation on an existing charge of driving without a valid driver's license and sentenced him to four months at hard labor. Democratic presidential candidate John F. Kennedy telephoned King's wife Coretta to express his concern, also hoping to draw support from black voters. Kennedy's brother and campaign manager, Robert Kennedy, called Judge Mitchell, who then released King on bond. Upon his release, King addressed a rally at Ebenezer Baptist Church. He expressed his gratitude and esteem for Senator Kennedy, and Daddy King openly endorsed Kennedy's candidacy. [57] Although King made no formal endorsement, the Kennedy campaign publicized the two telephone calls to the black community nationwide, and Kennedy received 70 percent of the black vote in the November election. [58]
In May 1961, CORE began a series of Freedom Rides, attempting to enforce the desegregation of southern bus terminals ordered by the U.S. Supreme Court in 1960. At every southern bus stop, the riders attempted to use the whites-only facilities and to receive service at lunch counters. After a group of riders was brutally beaten by mobs in Alabama, King on May 20 addressed a rally in Montgomery, vowing to support a nonviolent campaign against the entire system of segregation in Alabama. A few days later, King presided at a meeting at Ebenezer Baptist Church where representatives of the SCLC, CORE, SNCC, and others formed the temporary Freedom Ride Coordinating Committee to coordinate support for the Freedom Riders. In late May, Attorney General Robert Kennedy ordered the Interstate Commerce Commission to draft regulations outlawing segregation in interstate bus facilities. [59]
In the summer of 1961, SNCC began organizing segregation protests in the southwest Georgia city of Albany, forming a coalition called the Albany Movement. In December 1961, with hundreds of protesters in jail and no money for lawyers, the Albany Movement requested King's help. Throughout the first half of 1962, protests coordinated by the SCLC, SNCC, and the local chapter of the NAACP continued in Albany. King participated in several demonstrations and spent time in jail. Albany's white leadership ordered mass arrests, which were accomplished without violence. Lacking brutal local opposition that aroused press interest and racked by internal divisions, the Albany Movement failed to gain any concessions on desegregation. The Albany experience was valuable. In subsequent campaigns, King and the SCLC attempted to operate where the black community was unified and where violent white response was likely to attract national attention. [60]
The Alabama Christian Movement for Human Rights (ACMR), an affiliate of SCLC in Birmingham, began an effort to desegregate downtown stores in 1962. Blacks organized a boycott of stores to force negotiations. In December 1962, ACMR leader Fred Shuttlesworth persuaded King and the SCLC to agree to organize and lead a mass action campaign in Birmingham. During mass protest marches, Birmingham Police Commissioner Eugene "Bull" Connor unleashed fire hoses and police dogs on the youthful marchers. These tactics elicited widespread negative reaction when shown on national television. In May 1963, the city's white merchants agreed to desegregate fitting rooms, restrooms, and lunch counters and promised to improve black employment opportunities in stores. [61]
Capitalizing on the success of the Birmingham campaign, the SCLC joined forces with A. Philip Randolph, the NAACP, and other groups to organize a massive March on Washington for Jobs and Freedom on August 28, 1963. An immediate goal of the march was the passage of a civil rights bill that the Kennedy Administration had sent to Congress. Broader goals encompassed the elimination of all legal segregation and increased job opportunities for blacks. Labor leaders like United Auto Workers President Walter Reuther and prominent white religious leaders supported the effort. The march drew two hundred thousand participants and brought national attention to the civil rights struggle. The demonstration concluded with a rally in front of the Lincoln Memorial, where King delivered his "I Have a Dream" address, an impassioned plea for racial justice. [62]
President Kennedy's civil rights bill was stalled in Congress when he was assassinated in November 1963. Kennedy's successor, President Lyndon B. Johnson, strengthened the bill's provisions and engineered its passage in the summer of 1964. The Civil Rights Act of 1964 prohibited racial discrimination in most public accommodations, banned employment discrimination, created the Equal Opportunity Commission, and denied federal funds to any activity where discrimination was practiced. King attended the bill's signing ceremonies in Washington in July 1964. [63]
During the late 1950s and early 1960s, King's international reputation grew. The NAACP bestowed it highest award, the Spingarn Medal, on King in 1957. By 1964, he had published Stride Toward Freedom: The Montgomery Story (1958) and Strength to Love (1963), a book of sermons. In January 1964, Time magazine named him its "Man of the Year" for 1963. In December 1964, King traveled to Norway to accept the Nobel Peace Prize, awarded for his nonviolent civil rights work. [64]
King's growing international stature did not preclude his involvement with local issues. In late 1964, King and SCLC participated in an Atlanta labor dispute that affected blacks living on the East Side. At issue was alleged racial discrimination by Scripto, Inc., a manufacturer of pencils, pens, and cigarette lighters. Founded in Atlanta in 1923, Scripto in 1931 built a manufacturing plant at 423 Houston Street, within the current Site boundaries. From the 1930s to the 1960s, Scripto expanded its operations, adding plant buildings between Houston and Irwin and constructing offices and research facilities at 150 and 160 Boulevard. By 1964, Scripto employed 950 workers. Some 633 of Scripto's 836 production and maintenance workers were black women. Many were residents of nearby residential areas. [65]
On November 27, 1964, Local 754 of the International Chemical Workers Union called a strike, alleging that Scripto's offer of a 4 percent raise to skilled workers and a 2 percent raise to unskilled workers was discriminatory. The union considered the offer unfair, because it believed Scripto refused to promote blacks to skilled positions. Only six of Scripto's 700 black employees were categorized as skilled workers. On November 30, Dr. King informed Scripto that the SCLC supported the strikers and threatened to lead a nationwide boycott of Scripto products if the strike remained unsettled. [66] The company countered that the issues were entirely economic, not racial. King was scheduled to address a rally of strikers at Mt. Zion Second Baptist Church on December 1, but flew to Washington to meet with FBI Director J. Edgar Hoover instead. The Reverend C. T. Vivian of SCLC substituted for King at the rally. [67]
A day after his return to Atlanta from the Nobel ceremonies in Oslo, King walked the picket line at Scripto for 30 minutes on December 19, 1964. [68] According to newspaper accounts, King walked the line with 15 others, including a representative from the union s international headquarters in Amsterdam. On Sunday, December 20, King addressed a rally attended by 250 striking Scripto employees at Ebenezer Baptist Church. King announced that the SCLC was proceeding with plans to implement a boycott of Scripto products. On December 24, union leaders and SCLC abandoned the boycott when Scripto agreed to pay Christmas bonuses to all employees. An agreement in principle between Scripto and the union appears to have been reached at this point, and newspaper accounts do not mention any strike-related activity by SCLC or King after December 24. Scripto and the union officially announced a strike settlement on January 9, 1965. The basis of the settlement was an across-the-board wage increase to all categories of employees. The Scripto plant remained in operation on Houston Street until December 1977, when operations moved to Gwinnett County. [69]
While the Scripto strike unfolded, King was planning a major civil rights campaign for Alabama. Throughout 1964, the SCLC and SNCC had been working independently to register voters in various Alabama counties. A coalition including the SCLC and SNCC concentrated its 1965 efforts in Selma, Alabama, where segregationist Dallas County Sheriff Jim Clark led the resistance. Large-scale demonstrations and mass arrests in Selma began in January and continued into March.
King and other leaders planned a march from Selma to Montgomery for March 7, 1965, designed to draw attention to the refusal to register black voters. When the marchers reached the Edmund Pettus Bridge on the east side of Selma, state troopers and "possemen," deputized by Sheriff Clark, charged into the demonstrators, beating them with billy clubs and firing tear gas. Graphic national television coverage of the incident sparked widespread outrage. [70]
The repression of the Selma march brought growing numbers of supportive northern white clergymen and labor leaders to the city and increased pressure on President Lyndon B. Johnson and Congress to protect voting rights. On Monday evening, March 15, President Johnson appeared before Congress and a national television audience to introduce legislation that would send federal agents to the South to oversee voter registration. Protected by federalized National Guard troops and a court order, King led a march from Selma to Montgomery March 21 through March 25, which ended with a rally on the steps of the Alabama state capitol. The voting rights legislation was enacted in early August, with King attending signing ceremonies at the Capitol in Washington. [71]
Following the successful voting rights bill campaign, King and the SCLC increasingly turned their attention to the broader problems of poverty and unemployment, particularly in northern city slums. The SCLC continued its voter registration and leadership training work in the South but also mounted a major effort in Chicago in 1965-66. The SCLC joined a coalition of local groups called the Coordinating Council of Community Organizations to attack housing and employment discrimination, inferior public schools, and exploitive ghetto merchants. King moved to a Chicago slum apartment on a part-time basis to draw attention to ghetto conditions. King, SCLC staff, and local leaders led open-housing marches into all-white neighborhoods, frequently encountering hostile crowds. Confronting complex social and economic forces rather than legal segregation, the Chicago campaign had difficulty defining coherent goals. Movement leaders negotiated an agreement with city officials and real estate professionals on a limited number of housing issues, but implementation of the accord was slow. The narrow scope and vague wording of the agreement drew criticism from some commentators and civil rights leaders outside of the SCLC [72]
Increasingly in the last two years of his life, King moved beyond attacks on segregation to focus on broader issues of economic justice and U.S. military involvement in Vietnam. In April 1966, the SCLC board approved a resolution condemning U.S. policy in Vietnam and urging serious consideration of a prompt withdrawal of forces. [73] King continued to speak out against the war in 1967 and 1968. In the fall of 1967, King and the SCLC began planning a "Poor People's Campaign" to dramatize the issue of poverty in America. For the first time, the SCLC attempted to create a national movement, rather than joining a preexisting local movement. The SCLC hoped to bring together blacks, Hispanics, Native Americans, and poor whites in the campaign. The SCLC's plans called for three caravans of the poor to march on Washington, D.C., from Mississippi, Milwaukee, and Boston in the spring of 1968. Once in Washington, the demonstrators would establish a temporary tent city to keep the problems of the poor before Congress and the nation. The SCLC hoped to influence Congress to pass legislation assuring full employment, a guaranteed annual income, and increased funding for public housing. King contemplated disrupting traffic and city services if orderly marches and demonstrations failed to move Congress. [74]
King's willingness to consider more aggressive forms of nonviolent protest reflected a growing controversy among blacks over the continued viability of the philosophy of nonviolence. As early as 1966, SNCC's Stokely Carmichael began to articulate a "Black Power" stance that emphasized gaining power for blacks by any means necessary. Frustrated by the slow progress of civil rights reforms and the perceived passivity of King's nonviolent approach in the face of white violence against blacks, many younger blacks embraced Black Power in the late 1960s. By 1968, leaders like Carmichael and H. Rap Brown openly scorned nonviolence and challenged King's leadership of the Civil Rights Movement. Adding to the national controversy over nonviolence were the riots in urban black ghettos that began in the Watts section of Los Angeles in the summer of 1965 and continued in Chicago in 1966, Detroit and Newark in 1967, and dozens of other cities. Increasingly in 1967 and 1968, King was attempting to guide a movement deeply divided over philosophy and tactics. [75]
In early 1968, King was devoting much of his time to recruiting for the Poor People's Campaign, when the Reverend James Lawson of Memphis, Tennessee, asked him to support a strike of black sanitation workers in that city. The sanitation workers had walked out in February 1968, because city officials refused to recognize their nearly all-black local of the American Federation of State, County and Municipal Employees. The Community on the Move for Equality (COME) organization was formed to support the strikers. King was largely unaware of divisions within the Memphis black community between established clergy and NAACP officials and young Black Power adherents. On March 18, King addressed a rally of fifteen thousand strikers and supporters in Memphis. Ten days later, King led a march that turned violent. A small minority of demonstrators began looting, and police attacked both looters and peaceful demonstrators. Deeply alarmed by the eruption of violence, King vowed to return to Memphis and conduct a wholly peaceful march to vindicate his nonviolent beliefs. [76]
King arrived in Memphis on Wednesday, April 3, 1968, for talks with participants in a new march scheduled for Monday, April 8. Aides described King as depressed as a result of the violence that marked the previous march and the difficulties the SCLC was experiencing recruiting for the Poor People's Campaign. On Wednesday evening King addressed a small rally at the Memphis Mason Temple. The next evening, April 4, 1968, King was assassinated while standing on the balcony of his room at the Lorraine Motel. Blacks and whites alike reacted with sorrow and anger to King's murder. Rioting in 110 American cities left thirty-nine dead in the days following King's death. [77] Escaped convict James Earl Ray was tried and convicted of murdering King, although the question of whether Ray acted alone is still debated. The Reverend Ralph D. Abernathy succeeded King as president of the SCLC. Abernathy went ahead with the Poor People's Campaign in Washington, but failed to accomplish the campaign's goals. [78]
King's body was flown to Atlanta, where it lay in state at Sisters Chapel of Spelman College. On April 9, 1968, Ralph Abernathy, who had been with King since the Montgomery bus boycott days, conducted his funeral service at Ebenezer Baptist Church. Prominent civil rights leaders, black entertainers and professional athletes, and the four leading presidential contenders—Senator Eugene McCarthy, Senator Robert Kennedy, Vice President Hubert Humphrey, and Richard Nixon—attended the service. A crowd exceeding sixty thousand listened to the service over loudspeakers outside, and as many as fifty thousand joined in the funeral cortege from Ebenezer to the campus of Morehouse College. King's casket was borne on a farm cart drawn by two mules, symbolic of the Poor People's Campaign. At Morehouse, college president emeritus Benjamin Mays gave a brief eulogy before King was buried next to his grandparents at South View Cemetery. [79]
King's widow, Coretta Scott King, founded the Martin Luther King, Jr., Center for Nonviolent Social Change in order to carry on her husband's work and honor his memory. She purchased property on Auburn Avenue east of Ebenezer Baptist Church for this purpose. King's remains were moved to a commemorative site at the Center in 1971. The King Center complex was completed in 1981 and includes King's marble tomb and surrounding plaza, a library and archive, conference center, and exhibit areas (photograph 7) [80]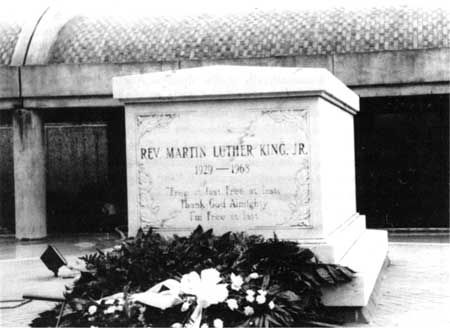 Photograph 7: Martin Luther King, Jr., Tomb
---
---
http://www.nps.gov/malu/hrs/hrs2a.htm
Last Updated: 26-Oct-2002