PU'UKOHOLA HEIAU NHS • KALOKO-HONOKOHAU NHP •
PU'UHONUA O HONAUNAU NHP

---

A Cultural History of Three Traditional Hawaiian Sites
on the West Coast of Hawai'i Island
Site Histories, Resource Descriptions, and Management Recommendations

CHAPTER VIII:
KALOKO-HONOKOHAU NATIONAL HISTORICAL PARK (continued)
---
G. Description of Resources
1. Fishponds
Fishponds are impressive examples of native prehistoric engineering/technological achievements and comprise one of the many effective techniques Hawaiians used in adapting to a sometimes hostile environment. On the North Kona Coast most of the land is covered with lava that has not yet decomposed to the degree that it produces enough soil for large-scale agriculture. The dry and bleak environment of the Kekaha region between Honokohau and 'Anaeho'omalu was somewhat ameliorated by the presence in ancient times of nineteen major fishponds. Enabling a larger population by bolstering food resources, these ponds became the focal point of settlement and social organization in the area. [44]
Very few fishponds exist on Hawai'i Island, because many are being filled in to create more land for housing developments. The two at Kaloko-Honokohau, therefore, comprise some of the park's most significant and unique resources. Kaloko is a loko kuapa, or walled fishpond, formed by sealing off a small bay. 'Ai'opio Fishtrap was built by constructing a stone seawall arc from the shore to form an enclosed body of water. It is considered a fishtrap rather than a fishpond because it lacks a sluice gate. 'Aimakapa Fishpond is a lagoon formed behind a barrier beach.
Kaloko Fishpond and 'Ai'opio Fishtrap are the only remaining large Hawaiian aquacultural structures with extensive ancient foundation remains in place in relatively good condition. In addition, many prehistoric and historic sites associated with them and their use are present. [45] 'Ai'opio is the only fishtrap on the island of Hawai'i, and in addition to its good state of preservation, is a significant example of one aspect of prehistoric fishing technology. [46]
One of the general settlement types identified for the Hawaiian Islands is referred to as an agglutinated pattern. This pattern is characterized by high population density, a grouped community, clustered residential sites, and clear boundary delineations between the cluster and sites outside it. Agglutinated sites tend to be found along the shore in coastal areas with sandy beaches and safe canoe anchorages that offer good fishing and surfing possibilities — in other words, generally idyllic settings. [47] They also are often associated with people of high status. The Kaloko, 'Aimakapa, and 'Ai'opio sites are all representative of the agglutinated settlement pattern. All three exhibit a density of habitation features and the presence of temples and shrines, as well as canoe and net sheds supporting fishpond maintenance and harvest. These sites did not support a very large population, however, probably indicating that the pond harvests were not generally available for public use. [48]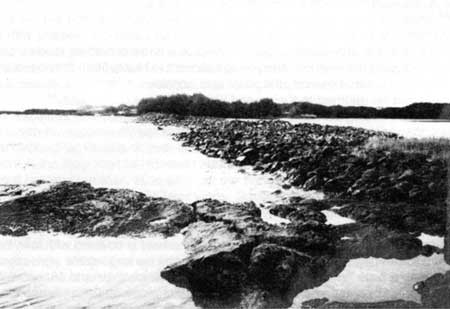 Illustration 96. Map showing boundaries of Honokohau Settlement area from National Register of Historic Places Inventory Nomination form, 1970.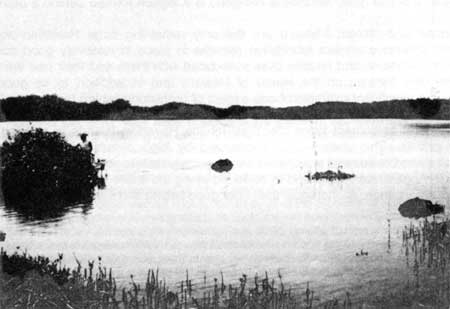 Illustration 97. Map showing boundaries of Honokohau Settlement area from National Register of Historic Places Inventory Nomination form, 1970.
---
---
greene/history8d.htm
Last Updated: 15-Nov-2001