PU'UKOHOLA HEIAU NHS • KALOKO-HONOKOHAU NHP •
PU'UHONUA O HONAUNAU NHP

---

A Cultural History of Three Traditional Hawaiian Sites
on the West Coast of Hawai'i Island
Overview of Hawaiian History
by Diane Lee Rhodes
(with some additions by Linda Wedel Greene)

CHAPTER III:
FOREIGN POPULATION GROWS
---
A. First White Residents of Hawai'i
1. Kamehameha Detains Two Foreigners
The first known westerners to have remained in the Hawaiian Islands, and certainly among the most influential individuals in terms of their impact on Hawaii's development, were an Englishman, John Young, and a Welshman, Isaac Davis. Both men were detained in Hawai'i unwillingly as the result of rather strange and interrelated circumstances. As mentioned, during the 1790s an increasing volume of trade had evolved between Hawaiian chiefs offering food, firewood, and fresh water, and foreign sea captains pedalling cargoes of metal, firearms, gunpowder, and cloth. The Hawaiian ali'i avidly desired such foreign goods, for through them they gained status and power over their rivals.
Isaac Davis served as mate on a small schooner, the Fair American, commanded by Thomas Metcalf, the son of Captain Simon Metcalf of the American snow Eleanor out of New York. Both vessels were bound on a northwest fur-trading voyage, which included a rendezvous in the Hawaiian Islands if they became separated. Reaching the islands, the elder Metcalf traded off the coast of Hawai'i during the winter of 1789, ultimately moving over to Maui. Metcalf was, by all accounts, an irascible, harsh individual, who believed in strong and immediate punishment for infractions of his rules. When natives stole a small boat he was towing and killed its watchman, he sought a secret, murderous revenge. Sailing to the village of the suspected thieves, he waited until the trusting inhabitants had gathered in their canoes around his ship, eager for trade, and then opened fire, indiscriminately killing more than 100 natives and wounding several hundred more. Avenged of his losses, Metcalf weighed anchor and returned to the island of Hawai'i where he initiated a seemingly friendly intercourse with the natives at Kealakekua Bay.
Kame'eiamoku, one of the North Kona chiefs on Hawai'i, however, had previously been insulted by Metcalf and vowed revenge on the next ship that passed his way. By coincidence, it happened to be the Fair American, seeking land near Kawaihae Bay. The opportunity to avenge his insult by foreigners, the defenseless state of the vessel due to its small crew and inexperienced commander, and the value of the muskets and other iron implements on board sealed the vessel's doom. Metcalf and his crew were either killed or drowned. The only survivor was Isaac Davis, who, although wounded, jumped overboard and managed to reach a native canoe, whose occupant clubbed him into submission but for some reason spared his life. The Fair American was hauled ashore and Kamehameha later appropriated it, its guns, ammunition, and other articles of trade, as well as Davis himself.
During this event, the Eleanor remained anchored at Kealakekua. John Young, a native of Liverpool, England (Illustration 20), serving as boatswain, went on shore one day with some of his shipmates to see the country, and, venturing far inland, returned alone to the beach too late to reboard the vessel. In addition, he discovered that Kamehameha had instituted a kapu on all canoes and was prohibiting the population from further contact with the Eleanor. A combination of reasons probably influenced that action. First, having just been informed of the capture of the Fair American, Kamehameha undoubtedly feared retribution from Captain Metcalf. Second, Kamehameha was still involved in warfare both with other chiefs on Hawai'i and with the rulers of the other islands. Because he was slowly amassing a quantity of arms and ammunition to combat these threats, he may have felt in dire need of knowledgeable foreigners with the expertise to handle those items, care for and repair them, and train his warriors in their use.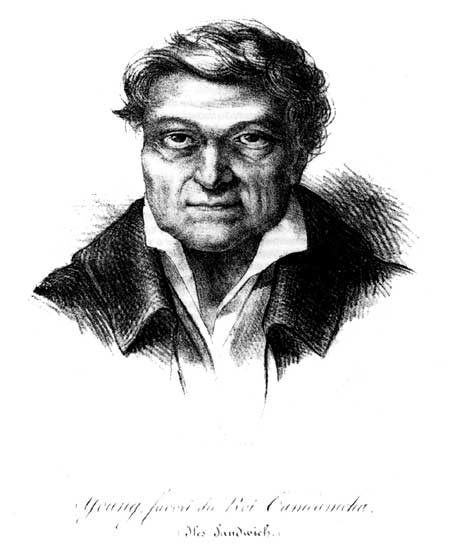 Illustration 20. John Young, drawn by Jacques Arago, artist on the de Freycinet expedition, 1817-20. Courtesy Hawaii State Archives, Honolulu.
Puzzled by the sudden lack of activity in the bay, the crew of the Eleanor remained offshore for two days, firing guns and awaiting Young's return. Finally, puzzled by the sudden disruption of trading, frustrated by his broken contact with the Fair American, and probably thinking Young had deserted, Metcalf set sail for China. [1]
These events mark a turning point in Hawaiian history, for they provide the catalysts, in the form of Young and Davis, that enabled Kamehameha to succeed in his military ventures and eventually assert his dominance in the islands. It is the beginning of the transformation of the ancient Hawaiian civilization to a modern state.
2. Young and Davis Adjust to Their New Life
Although at first full of despair and fearful of what lay ahead, the two white men received only kind and respectful treatment from Kamehameha and his people:
It is true, he [Young] was narrowly watched whenever a vessel came in sight, lest he should escape and relate what had passed; but at other times he was treated with entire confidence and great distinction. He became a prime favorite, cabinet counsellor, and active coadjutor of Tamaahmaah, attending him in all his excursions, whether of business or pleasure, and aiding in his warlike and ambitious enterprises. By degrees he rose to the rank of a chief, espoused one of the beauties of the island, and became habituated and reconciled to his new way of life; thinking it better, perhaps, to rule among savages than serve among white men; to be a feathered chief than a tarpawling boatswain. [2]
Young later told Vancouver's party that, having been present at Kealakekua with Kamehameha at the time he received the news of the seizure of the Fair American, he could vouch for the fact that the king was very disturbed over the incident. Archibald Menzies, Hawaii Nei 128 Years Ago (Honolulu: New Freedom Press, 1920), p. 97. Because Kamehameha wished to encourage friendly relations with visiting ships, he must have been greatly angered at Kame'eiamoku's actions and fearful of how they might affect future relations with foreign powers. Menzies, ibid., p. 96, states that King Kamehameha was anxious that Young and Davis remain on the island until Metcalf returned so that they could tell him that the king had played no part in the seizure of the Fair American.
According to Captain Joseph Ingraham, the natives at Kaleakekua were planning to attack the Eleanor, but were dissuaded at the last minute. Fearing further trouble, the king sent Metcalf a letter telling him to depart immediately or risk losing his vessel. "Log of the Brig Hope called the Hope's Track Among the Sandwich Islands, May 20-Oct. 12, 1791," Hawaiian Historical Society Reprint #3 (Honolulu: Paradise of the Pacific Press; 1918), pp. 16-17, photographed from the original in the Library of Congress, Washington, D.C.
Finding their lives secure, and being watched closely and unable to escape, Young and Davis became reconciled to their lot. Their fortunes became quickly and closely linked to those of the king. They would play a significant role in Kamehameha's rise to dominance, and Young, especially, who quickly gained the king's trust and became his principal advisor, would be visited, consulted, or at least mentioned by every visitor to the islands for the next forty years. Young and Davis, although untutored seamen, were far above the ordinary class of sailor to which the Hawaiians had become accustomed. Possibly because they realized that in their position as advisor to Kamehameha they could accomplish things for themselves that would have been impossible elsewhere, they rose to the occasion and displayed great intelligence and fairness in their dealings with Kamehameha as well as sincere compassion for the Hawaiian people.
By the time Vancouver reached the islands on his 1793 voyage, Young and Davis had been residing there for three years. Vancouver wrote at this time that Young and Davis "are in his [Kamehameha's] most perfect confidence, attend him in all his excursions of business or pleasure, or expeditions of war or enterprise; and are in the habit of daily experiencing from him the greatest respect, and the highest degree of esteem and regard." [3] The two men were
Well cared for, but never allowed to embark together in the same canoe, each knew that attempted escape by one would mean the instant death of the other. White men, with so much knowledge to offer, had great value for the Hawaiian king; soon, he made both his prisoners chiefs and gave them royal women as brides, and by the time of Vancouver's visit both men had lost all wish to leave. [4]
Young stated about two years after Davis's death that after Davis recovered from his wounds, neither of them had any particular reason to complain of the treatment they received from the natives. [5] He said "We rendered great and important services to the king in his wars, and, in consequence, were held in high estimation by his majesty, and the principal and subordinate chiefs and warriors." [6]
Young admits, however, that
We were by no means sleeping on beds of roses, for our situation was most arduous, responsible, and trying, but we were under many obligations to the king, whom we resolved to defend with all our might. If honesty is the best policy, gratitude for past favors ought never to be obliterated from the mind; and whenever we can consistently manifest our returns, we should not hesitate to devote our hands and our hearts in the cause that demands our services. [7]
Vancouver left a letter with Young and Davis in 1793 commending them to visiting sea captains as men who could be trusted and requesting that they be treated with civility and hospitality by any subjects of Great Britain and those of other powers dealing with them. At the same time, he enjoined Young and Davis to render every service they could to Europeans and Americans who visited the island while they were there. [8] Young and Davis owed much to Vancouver. Artemas Bishop wrote in 1826 that Young had told him that, after the Eleanor set sail, he and Davis had "wandered from place to place dressed in the native habit, until at the suggestion of Capt. Vancouver, Tamehameha gave them land." [9 ] The following year Vancouver stated that he felt that Young and Davis's presence, conduct, and good advice to the king and chiefs had been "materially instrumental in causing the honest, civil and attentive behavior lately experienced by all visitors from the inhabitants of this island." [10]
3. Young and Davis Aid Kamehameha's Wars of Conquest
Vancouver heartily encouraged Kamehameha and the Kona-Kohala chiefs to take advantage of the political expertise, technical knowledge, and military skills of Young and Davis in their struggle for dominance. In fact the success in conquest these chiefs experienced was primarily due to Young's and Davis's knowledge of Western firearms — including cannon and rifles, of fortification techniques, and of the martial arts." Kamehameha had a rather interesting method of utilizing his foreigners in battle:
It was customary, in an engagement, when victory began to incline to the standard of Tamaammaah, and the enemy was yielding, for him to press upon him with so much vigour and rapidity, that it was not possible for us to load and fire upon the enemy, and at the same time keep up with the rapid movements and advance of the king. In this case, the chief, now called Billy Pitt, and prime minister, and who is a remarkably strong and well-built man, would place one of us on his shoulders, and another strong chief would take the other of us on his, and swiftly run with us to the front of the battle. There we were placed on the ground, and would then fire and reload. By that time the van would be considerably in advance, when the chiefs would again remount us and dash away to the front, and thus continue until the victory was decided, and none of the enemy were longer in sight. [12]
Although other chiefs also employed foreign military experts, Kamehameha used his most successfully. Militarily Young and Davis were indispensable to Kamehameha during his conquest period, from about 1790 through the capitulation of Kaua'i in 1810. During this time they adopted the use of gunpowder and European military tactics to Hawaiian warfare. They mounted the small cannon from the Fair American on carriages and trained the king's troops in the use of muskets and other firearms. It was a swivel gun obtained from a trader and mounted on a large double Canoe, manned by Young and Davis, that gave Kamehameha his advantage in naval warfare. [13] The two advisors were also instrumental in providing Kamehameha's navy with the first keeled vessel constructed in Hawai'i, with the help of Captain Vancouver's carpenters. [14] They also helped the king fortify his kingdom against invasion by building forts. Young and Davis, in charge of artillery, were especially important in engagements at Hilo against the forces of Keoua, in the naval encounter off Waipio under Ke'eaumoku, in the conquest of Maui, and in the celebrated battle of Nu'uanu that won O'ahu. [15]
4. Young and Davis Conduct Business with Foreign Traders
In the years following Cook's discovery of Hawai'i, Kamehameha began to realize the advantages of having loyal white men within his inner circle to deal with foreign traders. Over this period of time he had become cognizant of the broad business acumen and wide variety of skills that foreigners possessed and had come to understand the need of including in his retinue foreign advisors adept in diplomacy and navigational and technical matters as well as military strategy. [16]
Young and Davis, in addition to being the king's business agents, acted as interpreters between the king and foreign traders, supplying information to the former on the customs and habits of the visitors and explaining the Hawaiian way of thinking to the latter. When explorer Otto von Kotzebue wanted to survey Honolulu harbor, his men erected poles around the perimeter of the water to which white flags were attached. These greatly upset the Hawaiians, who believed either the Russians were taking possession of the island or that foreigners were making the waters kapu. Young explained the local agitation to Kotzebue, who then substituted brooms for the flying flags. [17]
Known to Hawaiians as "Olohana," in reference to his frequent boatswain's call of "All Hands" for any duty he required of them, Young piloted many ships in and out of Hawaiian harbors and served as Kamehameha's agent in business transactions with visiting sea captains. On board ship Young would provide the visitors with information about activities on the island and the arrival and departure times of other trading vessels and dispense any current news that might interest them. [18] Archibald Menzies, surgeon and naturalist with Vancouver on board the Discovery, states that Young and Davis were extremely useful to them because of their acquired knowledge of the language and customs of the Hawaiians:
One of them lived on each vessel, especially in the daytime, and transacted all business of intercourse and traffic between us and the natives, with such candour and fairness as entitled them to our approbation and regard and reflected much credit on their conduct. [19]
William Shaler, master of the Lelia Byrd, which brought the first horses to Hawai'i in 1803, said that
John Young and Isaac Davis have been the principal means of convincing the islanders of the good policy of treating the foreigners well, and have shown them the great advantages that would derive from a friendly intercourse with them. [20]
Georg von Langsdorff noted in 1805 that
Their King, Tomamahah, from his constant intercourse with the sea-officers of the American States, and particularly under the instruction of Mr. Young and Mr. Davie [sic] , who have already lived with him some years, and are, as it were, his ministers, has introduced many European customs, and has brought the English language so much into use, that most of the inhabitants of the island [Hawai'i] of any rank or distinction can now speak English. [21]
5. Young and Davis Settle Permanently into Hawaiian Life
Before long, Young and Davis had made a secure niche for themselves in Hawaiian society. John Boit, master of the Union, in the Sandwich Islands in 1795, said that he had
offered to give Young his passage to Canton but he excus'd himself from excepting [sic] it mentioning at ye same time, that this was the only country that he was ever in where he could be allowed so many privileges as he here enjoyed for 'twas at Owhyhee he said that peace and contentment seemed to go hand in hand, & everyone seemed to be perfectly happy, with the portion, that was allotted him for poverty was a stranger, in this land of liberty, and slavery was a term they did not understand & for his own part he had a very good plantation allotted to him by the Chiefs as many wifes as he chose to take. [22]
The high regard in which the king held these men was evidenced by the recollection of Ebenezer Townsend, of the Neptune, who noted in 1798 after a meeting with the king on board his ship before sailing that
On leaving Davis the king embraced him and cried like a child. Davis said he always did when he left him, for he was always apprehensive that he might leave him, although he had promised him he would never do it without giving him previous notice. [23]
Townsend also noticed that
Young and Davis now are right hand men to the king, and are very serviceable to him as well as to the foreigners who visit the island. They honestly appear to consult the interest of the visitors and visited. [24]
Not that friction did not sometimes develop between the king and his foreign advisors. John Papa I'i mentions:
It is said that there had developed a great argument between Kamehameha and Isaac Davis, one of the well-known haole men who were with the king during his battle at Koapapaa in Hamakua, Hawaii. When the first Russian ship to visit Honolulu arrived in about 1808, visitors noticed the friction between the two men. It was not generally known why they had disagreed, thereby ending their pleasant association to hoist the banners of animosity. However, they did not openly quarrel, because Kamehameha would not countenance that. Finally, they put an end to their disagreement, and had become friendly by the time the ship departed from Honolulu. [25]
An anecdote relates how Young obtained a high level of power and influence. It is said his popularity with the king created some animosity with the priesthood. A certain kahuna let it be known he planned to kill Young and had already retreated to the woods to build a hut in which to pray him to death. Young then proceeded to build a small, round hut just opposite that of the priest in which he determined to pray the latter to death. Superstition overcame the kahuna, who became so worried and upset by this situation that he eventually died. This turning of the tables on his enemy greatly increased Young's power. [26]
6. Young and Davis are Active in Kamehameha's Government
Both men were considered to be of good character and very influential, in their adopted homeland as well as among their own countrymen and men of other nations, as is documented by navigators, traders, missionaries, and businessmen. Their wise counsel and natural tact enabled the king to cope with the myriad of administrative matters involved in consolidation of his kingdom. Hawaiian chiefs and commoners, especially during the period of the disintegration of their traditional society, of necessity placed their confidence and trust in Europeans who not only could advise them on foreign customs but who, being independent of local politics, could also be trusted to act in the best interest of the Hawaiian people as a whole. [27] A glance at the documents reveals that most visitors considered Young and Davis a good influence on the Hawaiian people, especially compared to most of the sailors and traders to whom the Hawaiians had theretofore been exposed.
Young and Davis became an integral part of this early period of modern Hawaiian civilization, and for their efforts Kamehameha rewarded them by making them high chiefs and endowing them with large tracts of land on which they settled and raised families. This property was given particularly for their services in helping conquer the islands of Hawai'i, Maui, Moloka'i, and O'ahu. [28] The land given to Young included Mailekini and Pu'ukohola heiau. Near their homes in Kawaihae, Young and Davis raised fruits and vegetables new to Hawai'i from seeds procured from foreign ships. Their residence in this area made it a required port of call for sea captains who had to obtain Young's blessing before conducting business with the Hawaiian government. In 1793 Vancouver landed the first cattle in Hawai'i at this spot. In 1803 Richard Cleveland, supercargo aboard the Lelia Byrd, left a mare with foal in Young's care at Kawaihae — the first horse ever seen in Hawai'i. In 1809 Young took the first horses and cattle to Honolulu, O'ahu. [29]
Davis served as governor of O'ahu during the early years of the nineteenth century. In 1810 he negotiated terms of peace for Kamehameha with Ka'umu'ali'i, the king of Kaua'i, bringing that island under Kamehameha's dominion. When Ka'umu'ali'i journeyed to Honolulu on board a foreign vessel to see Kamehameha, some lower chiefs conspired to kill him and proposed to Kamehameha that a sorcerer perform this deed. The king refused and even had the sorcerer slain. The chiefs then hatched a plot to kill Ka'umu'ali'i secretly as he journeyed into the interior. Learning of these plans, Davis warned Ka'umu'ali'i to return on board ship. Shortly thereafter, Davis died by poisoning, possibly in retaliation for this act of loyalty to Ka'umu'ali'i [30] Davis's grave is located at Kawaihae.
After the conquest of O'ahu, Young was designated governor of Hawai'i Island, an office that primarily involved superintending tax gathering for the king. [31] He governed Hawai'i from his home at Kawaihae from 1802 to 1812 while Kamehameha attended to royal business on other islands; Young later became the resident chief of Kohala, with frequent assignments to Honolulu and elsewhere. [32]
Young kept closely apprised of political and military affairs in the kingdom, he being the one in 1816 to inform the king, then at Kailua-Kona, of the raising of the Russian flag in Honolulu and the initiation of construction of a Russian fort on the shores of the harbor in a first attempt to gain a foothold in the islands. Young carried back Kamehameha's orders to the Russians to leave immediately and then rebuilt the fort for Kamehameha's use. [33]
Prior to 1819 Young also modified Mailekini Heiau into a fort to protect the important Kawaihae harbor. As business agent for Kamehameha, as well as chief of the area, Young supervised the trade with ships at this port, where local salt and sweet potatoes, timber for ship repairs, hogs, fowl, taro, sugar cane, breadfruit, muskmelons, coconuts, and bananas were traded for nails, iron, and finally, at Young's suggestion, for more sophisticated types of goods. A lucrative sandalwood trade also originated here, with Young supervising from his home the measuring and loading of trees. [34]
Young was involved in, or witness to, most of the significant events in the early years of the Hawaiian kingdom. He was also present at Kamehameha's death in 1819 and participated in the secret burial of the monarch. He was also a guest of the royal court at the banquet in Kailua a few months later when Kamehameha II abruptly discarded the ancient Polynesian religion. There is no question that Young was sincerely devoted to the interests of his adopted country. Louis de Freycinet, who commanded a French expedition to the islands in 1817-20, noted that the death of King Kamehameha affected him deeply. [35] Although Liholiho felt well disposed toward Young, their relationship could never match the Englishman's previous attachment to the young monarch's father. After Kamehameha's death, a degree of unrest existed among some of the principal chiefs regarding several economic matters, including the king's monopoly of the sandalwood trade. This tension in the political situation disturbed the elderly Young, who entreated de Freycinet to stress to the Hawaiians that peace and unity were essential for the future of the country and could only be attained by continuing loyalty to the Kamehameha dynasty. De Freycinet's draftsman, Jacques Arago, noted that
This request of Mr. Young's could only have been dictated by generosity of sentiment; personal interest had no share in it; the poor old man has but a few days to live; extended on a bed of sickness, he perceives the rapid approach of death, and, little regarding his own sufferings, his last prayers are offered up for a country, which the beneficence of Tammeamah makes him grieve to leave a prey to the factions which are about to divide it. [36]
Young evidently had some religious inclinations, and, when counseled by Liholiho during the prolonged debate over allowing the American missionaries to land, helped arrive at a decision favorable to the newcomers. Young not only supported the missionaries' initial appeal to land, but maintained friendly relations with them afterwards. By persuading tolerance of these new arrivals, Young helped set a course that ultimately brought Hawai'i into the sphere of American influence and finally to statehood.
Young's second wife was Ka'oana'eha, a niece of Kamehameha. Their children became intimately involved with the Kamehameha dynasty, several of his descendants holding important government posts until late in the nineteenth century. John Young II (Keoni Ana) served Kamehameha Ill as a member of the committee that paved the way for the Great Mahele. He served as kuhina-nui (premier) from 1845 to 1854 and as a member of the Privy Council. Kamehameha IV made him Minister of the Interior, a post he held until his death in 1857. James Young Kane-hoa, a son by his first wife, served as interpreter for Kamehameha II on that monarch's ill-fated trip to England in 1824. He also held the governorships of Kaua'i and Maui. Later he was a member of the first Board of Land Commissioners under Kamehameha III. [37] Young's last descendant, his granddaughter Emma Rooke, married King Kamehameha IV in 1856. Her estate, administered by the Queen's Hospital, a facility for needy Hawaiians that she and her husband opened in 1859, included the lands at Kawaihae on which Pu'ukohola and Mailekini heiau stand.
In feeble health, Young finally moved to Honolulu in the care of his son-in-law, an English physician, Thomas C.B. Rooke. (Rooke's wife was a sister of Fanny Young, Queen Emma's mother. The Rookes adopted Emma.) Young died at the latter's home in 1835 at the age of about 93. As a last gesture to an old friend, he made Isaac Davis's children equal heirs in his will. His remains and those of his granddaughter Queen Emma lie with those of other high chiefs and royalty of the Kamehameha dynasty at the Royal Mausoleum in Nu'uanu Valley, Honolulu.
Unfortunately, and possibly because he was uneducated, Young wrote virtually nothing about himself or the happenings of his time, in most of which he was an important participant or at least a witness. His journal, spanning the years 1801 to 1809, located in the Hawaii State Archives, is primarily a log of taxes gathered. [38] Young would have been able to provide invaluable accounts of Kamehameha's battles, the murder of his arch-rival Keoua, the dedication of Pu'ukohola Heiau and its subsequent use, the death and burial of Kamehameha I, and of the abolition of the kapu system.
---
---
greene/history3.htm
Last Updated: 15-Nov-2001