PU'UKOHOLA HEIAU NHS • KALOKO-HONOKOHAU NHP •
PU'UHONUA O HONAUNAU NHP

---

A Cultural History of Three Traditional Hawaiian Sites
on the West Coast of Hawai'i Island
Overview of Hawaiian Prehistory

CHAPTER I:
BEFORE THE WRITTEN RECORD (continued)
---
E. Major Aspects of Traditional Hawaiian Culture (continued)
2. Settlement Patterns
a) Location of Houses
Ancient Hawai'i contained no large villages because of the need to reserve as much land as possible for cultivation or as fishing sites and because concentration of the population for governmental and business purposes was not integral to the functioning of society. The terms "village'' and ''town" as used in this report regarding early Hawaiian settlements do not denote a corporate social entity as they do today, but a forced proximity of homes to each other because of the topography or physical character of an area or the concentration of a particular activity, such as fishing, at that location. Most permanent villages initially were near the sea and sheltered beaches, which provided access to good fishing grounds as well as facilitating canoe travel between settlements. The majority of the population maintained these permanent residences along the coast and erected temporary shelters inland for use while exploiting forest products and working in taro and sweet potato fields. [41]
Both windward and leeward coasts of the Hawaiian Islands had their virtues and defects. As habitation sites, windward coasts were well watered but susceptible to choppy seas, a lack of sunshine, and often harbored steep cliffs. Leeward coasts offered safer navigation, were sunny and warm, but sometimes lacked water for agricultural and domestic use. Leeward coasts possessed of abundant water were considered ideal habitation sites. [42] According to Archeologist Ross Cordy, recent study indicates that the first population centers on the larger Hawaiian islands existed on the windward sides, probably primarily in fertile valleys but extending into areas with good fishing. Permanent occupation of leeward areas did not begin until later. [43] By about A.D. 1400 population had begun expanding inland from the coast, increasing throughout the fifteenth and sixteenth centuries as scattered homes and small settlements were established near extensive permanent inland irrigation fields and in specialized agricultural areas. [44]
The district chief resided mostly among the largest centers of population, near the most productive resource areas, where there was enough food to feed his immediate family and relatives. His retainers, including lesser chiefs, warriors, and priests, settled nearby, creating a village atmosphere. Tenants of the ahupua'a provided food and goods to the court. District chiefs tended to move about, concentrating on good surfing or fishing areas, and distributing the burden of their support among the people. [45] This constant movement also enabled them to keep a critical eye on their subjects and ferret out any unrest.
b) Construction Techniques
Houses of many different construction types existed in the Hawaiian Islands. Usually a commoner constructed his house with the help of friends. When a chief needed a house, however, his retainers assembled the materials and erected the structure under the direction of an individual (kahuna) expert in the art of erecting a framework and applying thatch. Every step of the house building process, from the selection of the site to the final dedication, required careful religious supervision. Certain prescribed rules governed not only the house's location, but also the method of construction, the arrangement of the mats for sleeping, and the procedure for moving in. Blessings such as long life were expected to result from proper respect of these rules. [46]
Most houses at the time of Cook's discovery of the Hawaiian Islands consisted of a framework of posts, poles, and slender rods — often set on a paving or low platform foundation — lashed together with a coarse twine made of beaten and twisted bark, vines, or grassy fibers and covered with ti, pandanus, or sugarcane leaves, or a thatch of pili grass or other appropriate material. When covered with small bundles of grass laid side by side in overlapping tiers, these structures were described as resembling haystacks (Illustrations 2 and 3). One door and frequently an additional small "air hole" provided ventilation and light, while air also passed through the thatching. Grass or palm leaves covered the raised earth floors of these houses. [47]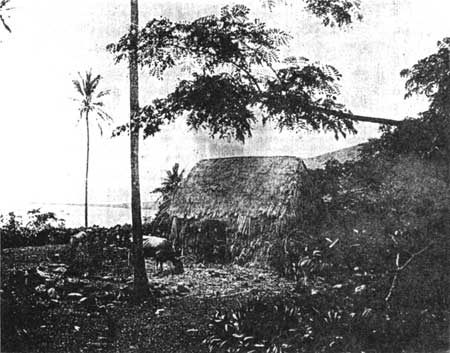 Illustration 2. Scene on the west coast of Hawai'i Island, no date, near Kealakekua Bay. From Jose de Olivares, Our Islands and Their People as Seen with Camera and Pencil . . . 2 vols. Edited by William S. Bryant. St. Louis: N.D. Thompson, 1899, p. 521.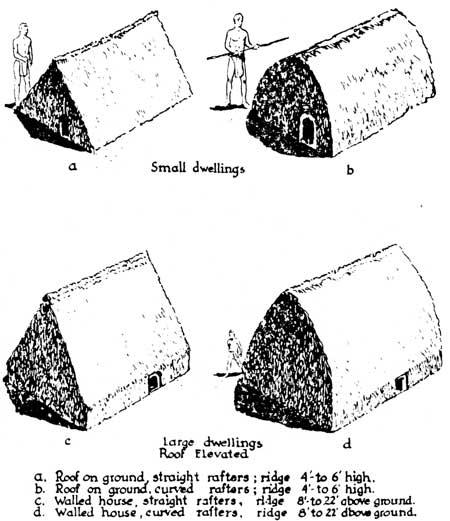 Illustration 3. Hawaiian thatched houses, ca. 1779. Plate 2 in Apple, Hawaiian Thatched House, p. 18.
c) Size of Residences
Residences of the Hawaiian people varied in size because of differences in use based on class and social status. A commoner's family probably occupied only one or two structures — a sleeping house and perhaps a cooking or utility house, with an associated work plaza for kapa making and other outdoor activities (Illustration 4) [48] Households by the sea kept their canoes in sheds and farmers might have storehouses. Furnishings in the homes of commoners were almost nonexistent, consisting only of some mats used as floor coverings and, when covered with kapa, as beds; a variety of containers; poi boards and calabashes; some simple tools; fish lines and nets; and weapons of war. [49] Commoner's houses were primarily used only for storage and shelter in inclement weather; most daily household activities, such as cooking, took place outside. [50] These houses also served as places of security or hiding places for commoners and lesser chiefs during kapu periods while high chiefs and high priests conducted important religious activities, such as burials or temple ceremonies, that needed to be free from prying eyes. [51]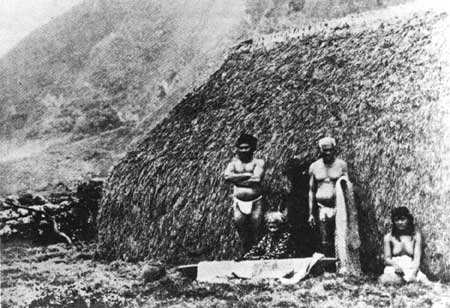 Illustration 4. Villagers at Kalaupapa (pre-leprosy settlement), 1880s. Courtesy Bernice P. Bishop Museum, Honolulu.
The families of chiefs occupied their structures day and night, good weather or bad. The household of a Hawaiian of rank or position, therefore, would need six or more houses. This is because separate structures had to be built for different purposes, the kapu forbidding eating and sleeping under the same roof and prohibiting men and women from eating or working together. [52] The typical household cluster of a chief or other person of rank or position would include one or more of the following: a common sleeping house, a men's house for eating and cooking that was kapu to women, a women's eating house, a women's work house for making mats and beating kapa, a private retreat house for women during their menstrual period, and a heiau or house temple for worship of the family gods. [53] At least one house of each chief's complex served as an office, conference room, and reception area for important visitors. Chiefs tended to stay inside most of the time, shielding their person and their mana from the view of commoners. [54]
A high chief possessed at least one complex of permanent thatched houses surrounded by a fence, while a ruling chief and other high-ranking individuals maintained several such complexes in different locations or districts. A ruling chief moved his court as desired, travelling along the coasts by canoe with his retinue and setting up temporary establishments at certain sites for purposes of business or pleasure. [55] Numerous individuals, possibly as many as 100 people including family members, relatives, friends, and servants, attended and supported each chief. These retainers, each with specific duties such as preparing food or carrying the chief's spittoon, lived near the chief and moved when he did. Most of the families in this complex organization lived outside the chief's enclosure, but also required thatched houses for storage, shelter, and security during kapu periods. Probably the higher a chief's rank, the larger his stockade and more numerous his houses. [56]
d) Shelters
Shelters at worksites for farmers, canoe makers, bark scrapers, salt makers, fishermen, and quarrymen; at short-term special-use camps for those working at a distance from their permanent home or involved in resource procurement; or at rest stops along trails when traveling were a necessity (Illustration 5). These temporary abodes took a variety of forms, including caves, stone wall windbreaks, lava tubes, lean-tos, hollow trees, simple A-frame structures, or bark houses. Shelters in the non-irrigated inland agricultural areas and in the forests where people were raising crops, hunting birds, gathering vines, or cutting timber, protected against heat, cold, wind, and rain. Shelters on the coasts, and especially on barren lava flows, provided relief from the sun or inclement weather or were used as windbreaks when sleeping. Chiefs and their retinues lived in temporary shelters when travelling by canoe along the coasts to establish temporary settlements for business or recreational pursuits. Apparently some commoners, regarded somewhat as vagrants by the rest of the population, used caves, lava tubes, or lean-tos as permanent abodes. Sheds thatched only on the roof were erected near the shore to provide shelter for canoes during construction and storage periods and shade for craftsmen working on them. [57]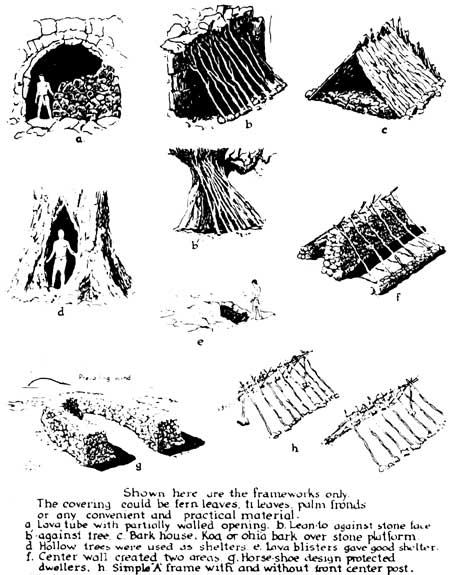 Illustration 5. Hawaiian temporary shelters, ca. 1778-1950. Plate 1 in Apple, Hawaiian Thatched House, p. 14.
---
---
greene/history1d.htm
Last Updated: 15-Nov-2001