---
CHAPTER THREE
Reaping the Profits of the Klondike Trade
---
Outfitters
---
Seattle offered numerous companies that could outfit miners -- sometimes in a single stop. Some of the city's retailers captured Klondike trade by marketing complete outfits that included food, equipment, and clothing. The Columbia Grocery Company, Seattle Trading Company, and Fischer Brothers, for example, offered this service. While gold seekers in other cities had to locate and visit a variety of stores, Seattle businesses developed a reputation for providing outfits quickly and efficiently. The Seattle Trading Company, established in 1893, printed special forms listing supplies, and miners could check the items they wished to purchase. [22]
(Courtesy National Park Service)

Cooper and Levy was among the largest and most heavily advertised of the city's outfitters. Isaac Cooper and his wife's brother, Louis Levy, formed a partnership in 1892, providing retail and mail-order groceries, hardware, and woodenware. Their business was located in Seattle's commercial center, at the southeast corner of First Avenue and Yesler (photo, above). During the gold rush, large stacks of goods outside this store became a common sight -- and it remains an enduring image of Seattle street scenes from the period. In 1903, Cooper and Levy sold their business to the Bon Marche. [23]
Schwabacher Brothers and Company was another prominent merchandising business. Established in Seattle in 1869, it was also one of the city's oldest. In 1888, Schwabacher Hardware Company incorporated as a separate business. Schwabacher Brothers and Company sold groceries, clothing, and building materials. The store was located in Seattle's commercial district, and the company also maintained a wharf. These facilities, along with the Schwabachers' longstanding presence in Seattle, placed the company in an advantageous position when the gold rush began. Schwabacher's wharf received considerable publicity in July of 1897, when the Portland, laden with Klondike gold, docked there and set off the rush to the Yukon. [24]
Some Seattle companies that prospered during the stampede continue to serve customers today. These include the Bon Marche, which frequently advertised arctic clothing as well as a mail order business, in Seattle newspapers in 1897 and 1898. Its wares included blankets, shoes, bedding, and general furnishings. Edward Nordhoff, a German immigrant, founded this company, naming it after the famous store in Paris. "Le Bon Marche" translates into "The Good Bargain." During the gold rush, the Bon Marche operated at Second Avenue and Pike Street. [25]
Additional outfitting stores that remained in business a century after the gold rush era included the Clinton C. Filson Company, which operated the Pioneer Alaska Clothing and Blanket Manufacturer, and continues to provide outdoor wear. [26] Similarly, the Bartell Drug Company continues to maintain a chain of stores throughout Puget Sound.
Nordstrom Department Store remains one of the best-known businesses still in operation. John W. Nordstrom, a Swedish immigrant, arrived in the Klondike gold fields in 1897. He struggled there for two years, supporting himself by taking odd jobs. When Nordstrom finally hit pay dirt, another miner challenged his claim, and he sold it. In 1899, he arrived in Seattle with $13,000, which "looked like a lot of money" to him. Two years later Nordstrom invested $4,000 of his newfound wealth in a shoe store, which he opened with his partner, Carl F. Wallin. Located at Fourth Avenue and Pike Street, the business prospered for nearly 30 years -- and Nordstrom and Wallin bought another store on Second Avenue. By the late 1920s, the partnership had soured, and Nordstrom bought Wallin's shares. Nordstrom's sons bought the shoe store during the 1930s, expanding it into a retail business with multiple locations. [27]
Although Nordstrom's was not founded during the stampede of 1897-1898, it benefited from the vigorous economy that the Klondike Gold Rush encouraged in Seattle. Subsequent gold strikes in Alaska at the turn of the century continued the momentum, bringing additional customers to Seattle outfitters as well as other businesses, described below.
---
William B. Haskell listed the items in his outfit as follows:



Equipment


1
2
1
2
1
2
1
6
2
15
2
2

Handsaw
Handled Axes
Gold Scale
Butcher Knives
Measuring Tape
Cartridge Belts
Whetsone
Towels
Grub Bags
lbs. Pitch
Bread Pans
Scissors
Fish Lines & Hooks
2
2
2
2
1
1
2
2

1
4
20

Hatchets
Draw Knives
Compasses
Hunting Knives
Brace and 4 Bits
Caulking Iron
Prospector's Picks
Pairs Snow Glasses
Camp Kettle
Galvanized Pails
lbs. Oakum
Pack Straps
2
1
1
2
2
2
2

2
2
2



Shovels
Jack Plane
Chalk Line
Pocket Knives
Money Belts
Gold Pans
Picks & Handles
Coffee pots
Frying Pans
Large Spoons
Knives & Forks
Table & Teaspons
1
30

1
3
2
1
150
1
4


Whip Saw
lbs. Nails (assorted sizes)
Set Awls & Tools
Gold Dust Bags (buckskin)
Medicine Case
ft. of 5/8-inch Rope
Stove (Yukon)
Granite Buckets
Granite Plates
Granite Cups

Clothing


3
Suits, Underwear, extra heavy
2
Pairs Leopard Seal Waterproof Mittens
1
Pair Hip Boots
2
Extra heavy double-breasted Flannel Overshirts
2
Pair Overalls
2
Pair Rubber Shoes
1
Extra heavy Mackinaw Overshirt
1
Fur Cap
2
Pairs Blankets
4
Pairs All-Wool Mittens
1
Pair Mackinaw Pants
1
Wool Scarf
1
Pair Leather Suspenders
1
Extra heavy all-wool double Sweater
1
Mackinaw Coat, extra heavy
6
Pairs long German knit Socks
1
Suit Oil Clothing and Hat
1
Waterproof, Blanket-Lined Coat
1
Extra Heavy Packing Bag
1
Canvas Sleeping Bag
2
Pairs German knit and shrunk Stockings, leather heels
1
Doz., Bandana Handkerchiefs

Provisions


Flour
Corn Meal
Rolled Oats
Pilot Bread
Baking Powder
Yeast Cakes
Baking Soda
Rice
Beans
Split Peas
Evaporated Potatoes
800 lbs.
50 lbs.
80 lbs.
50 lbs.
20 lbs.
6 lbs.
6 lbs.
100 lbs.
200 lbs.
50 lbs.
50 lbs.
Bacon
Dried Beef
Dried Salt Pork
Roast Coffee
Tea
Condensed Milk
Butter, hermetically sealed
Salt
Ground Pepper
Ground Mustard
300 lbs.
60 lbs.
50 lbs.
50 lbs.
25 lbs.
50 lbs.
40 lbs.

40 lbs.
3 lbs.
3 lbs.
Evarporated Onions
Beef Extract
Evaporated Apples
Evaporated Peaches
Evaporated Apricots
Ginger
Jamaica Ginger
Evaporated Vinegar
Matches
Candles, 2 boxes containing 240 candles
20 lbs.
3 lbs.
50 lbs.
50 lbs.
50 lbs.
2 lbs.
3 lbs.
12 lbs.
25 lbs.
80 lbs.
Total Weight
2,327 lbs.


Source: William B. Haskell, Two Years in the Klondike Gold-Fields, 1896-1898 (Fairbanks, University of Alaska Press, 1998).
---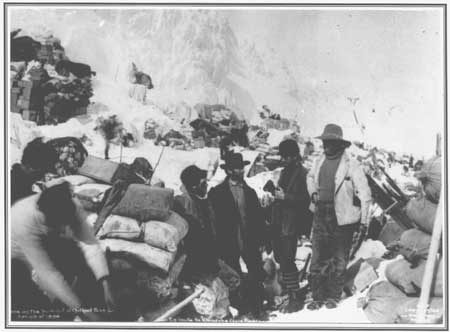 Miners and their supplies enroute to the Klondike gold fields.
(Courtesy Selid-Bassoc Collection, Alaska and Polar Regions Archives,
Rasmuson Library, University of Alaska, Fairbanks)