NATIONAL PARK SERVICE

---

The Most Splendid Carpet

V. ELEMENTS OF DESIGN IN THE SENATE'S CARPET
---
In the absence of any carpets definitively attributable to William Peter Sprague, and with the dearth of information about his design sources, how then was reconstruction of the Senate carpet to proceed? A logical beginning was the recognition of an unmistakable affinity in design between certain Axminster carpets and the written description of the Senate carpet in Dunlap's American Daily Advertiser.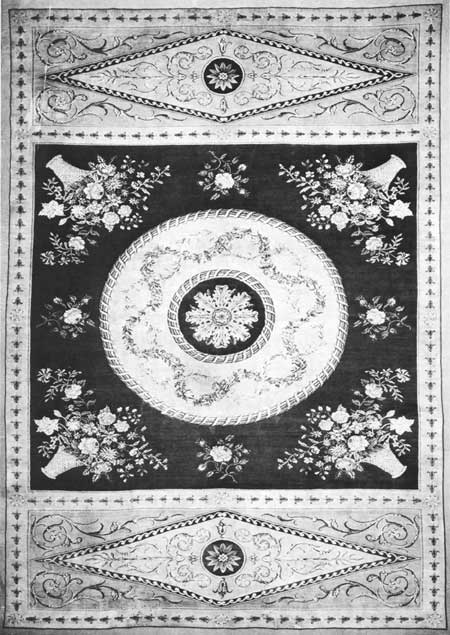 FIGURE 19: Axminster carpet, c. 1775-1780, called the "Lansdowne type" from its placement in a room from Lansdowne House now in the Metropolitan Museum of Art. This pattern appears to have been one of the most common of those used by Thomas Whitty at Axminster, and probably served as the inspiration for the Senate Chamber carpet. The Metropolitan Museum of Art, New York.
In the Lansdowne Room of the Metropolitan Museum of Art in New York is a carpet attributed to Axminster with the characteristic "tow" (now usually called "bast") fiber wefts. It is, however, undated, and could only be assumed to have been made while Sprague was in Axminster. Fortunately for the purposes of establishing a tentative date, five other versions of this same design survive in England and in America, one of which, at Rockbeare Manor, Devonshire, can be assigned a putative date; the owner remembers that records destroyed in the blitz of Exeter in 1941 included payments for this carpet to Thomas Whitty at Axminster, only a few short miles from Rockbeare, in the 1770's. [1]
The parallels in design between these carpets and the description of Sprague's consist of the overall compartmented layout with a transposition or substitution of one motif for another: in place of a rosette as the center medallion we find the Great Seal of the United States. The center rosette of the Axminster examples is surrounded by a chain of foliage, corresponding to the "chain formed of thirteen shields" of the Senate carpet. The baskets of flowers in the corners of the Lansdowne carpet were a popular eighteenth century motif, which in English design was interchangeable with cornucopias filled with fruit and flowers, "expressive of peace [and] plenty," as in the corners of the Senate carpet. Each Lansdowne carpet version has side compartments filled with neoclassical arabesques, corresponding to the "marine and land trophies" on the sides of the Senate carpet. The correspondence is so close one is tempted to think that William Peter Sprague had a drawing of this Axminster design to refer to; if not it is certainly an overall layout with which he must have been familiar.
In the eighteenth century it was standard procedure for designers in all crafts, from sculpture to textiles, to take designs and motifs from sources in other media. English ceramics craftsmen, for example, are known to have leaned heavily on French engravings for designs of Rockingham porcelain figurines, while silver craftsmen found sources in Italian and French engravings of classical antiquity. Early wallpapers often followed textile patterns, and some patterns have even been traced to the original designs taken from ingrain carpeting. It would not have been out of the question, then, for William Peter Sprague to "borrow" a design from an Axminster carpet, especially if the maker had been his former employer. Nor would it have been unusual for the designer of the Senate carpet to lean heavily on engravings for the assortment of patriotic motifs to be combined in the finished product.
Probably William Peter Sprague was not responsible for the selection of the symbolic motifs to go into the carpet, although he almost certainly worked with the designer to develop the overall neoclassical layout. Who did select the patriotic elements in the carpet is still unknown. That this individual or individuals were close to official Senate policymakers is certain, for each motif has a meaning particular to the Senate and the situation of the emerging nation after 1789.
The committee responsible for purchasing furnishings and working out other details of the interior of Congress Hall must have engaged a designer for the "most splendid carpet," or at least have consulted those associated with the Senate for ideas. Thomas Jefferson certainly cannot be ruled out as an influence, especially since he was an enthusiastic patron of the arts and had been concerned with appropriate symbolism for the new nation since 1776 when he was part of the first committee to design the United States seal.
Another possibility is the architect Pierre Charles l'Enfant, although specific documentary evidence is lacking. L'Enfant had already remodeled Federal Hall in New York for occupation by the Congress in 1789, and George Washington's first inauguration took place under a pediment carved with l'Enfant's version of the eagle of the United States seal. L'Enfant was a friend of Thomas Fitzsimons, who in turn was a friend of Miers Fisher of the City Council committee working on Congress Hall. On July 16, 1790, Fitzsimons wrote to Fisher from Philadelphia that "Major l'Enfant who projected the building of the Present Hall of Congress [in New York] is here and would be very glad to give plans or Superintend the Improvements with you." [2] But there were apparently some questions about l'Enfant's behavior while in New York; arrogant and tending towards conceit, he already showed the traits of highhandedness and self-righteousness which caused him to lose in 1793 the commission for laying out the city of Washington.
Fitzsimons recognized these problems. "I know that some delicacy may arise in employing him; but however good our builders are (and I am sure there are none better anywhere) they are not so well Acquainted with the present taste in Europe as this person is. He is a man of mild unassuming manners which would prevent disagreement with the Workmen and would be satisfied with a very moderate compensation." [3] This in spite of the fact that neither assertion had been true in l'Enfant's past work in New York.
Whatever the case may be, l'Enfant's name does not recur in the Congress Hall records, and no documentation has been located to corroborate reports of l'Enfant's hand in the Congress Hall refurbishing. Only one circumstance suggests his influence on the Senate carpet, the presence in the design of "land and marine trophies." The sources for this motif were undeniably in the French tradition practiced by l'Enfant. Moreover, l'Enfant had used trophies in wall plasterwork in the Senate Chamber in New York. L'Enfant was working in both New York and Philadelphia in 1790 on private commissions, but no evidence has yet come to light of any arrangement between l'Enfant and the Philadelphia City Council. It must remain a tantalizing conjecture that he had anything to do with the Senate Chamber carpet.
Whoever the carpet's author, it is certain that contemporary engravings were utilized as source material for specific motifs. As described by Charles Avery, the situation in Europe was this: "[Engravings] were the vehicle by which the most advanced designs of major contemporary artists ... were promptly disseminated all over Europe. Engravings could be purchased inexpensively as loose sheets or bound into picture books. They were popular with laymen for their informative or decorative value, while they were eagerly seized on by artists and craftsmen in every medium for aesthetic suggestions and stylistic innovations. Even so, they were normally employed with considerable selectivity and ingenuity in adapting motifs to new ends." [4]
Philadelphia libraries to which an artist might turn for design inspiration contained many of these picture books and engravings, bought directly from European sources or given by interested American patrons, and private collections must have contained many more. In 1789 The Library Company of Philadelphia, for example, owned the Works of Robert and James Adam, Colin Campbell's Vitruvius Britannicus, William Salmon's Palladio Londinensis, and various architectural books by William Halfpenny, Abraham Swann, James Gibbs and Isaac Ware, illustrating the best of British architecture and interior ornament.
French design was represented in the University of Pennsylvania Library by Charles le Brun's designs for the Grande Gallerie at Versailles, and elsewhere, as in Thomas Jefferson's own collection, by numerous architectural books and important neoclassical works such as Clerisseau's Monuments de Nismes. In 1785 the Chevalier de la Luzerne, Minister of France and Consul General in Philadelphia, advertised for sale "a large Book of Prints relative to Architecture and Ornaments," which may have been any of a number of French works on the subject. [5]
Engravings of classical monuments were especially popular in a neoclassical age. William Hamilton's Etruscan, Greek, and Roman Antiquities could be perused at the Library Company along with Bernard de Montfaucon's famous Antiquities of Italy, a goldmine of classical motifs and symbols. The great work of James Stuart and Nicholas Revett, the Antiquities of Athens, so important in its influence on neoclassical interior design, was also available at the Library Company in 1789.
Other sources, particularly for American patriotic motifs, were to be found in political cartoons of Europe and America, and in contemporary American prints and paintings. English cartoons supporting the American cause appeared in Philadelphia print shops, and contemporary publications such as Boston's Royal American Magazine contained satirical prints by Paul Revere. A reader of the Pennsylvania Gazette would discover that one could obtain from Robert Bell, engraver, "The Plea of the Colonies, in answer to charges brought against them by Lord Mansfield," with an "elegant frontispiece representing the present state of Europe and America, or the man in the moon viewing the English Armada (Price Half a Dollar)," or that the printseller Wilkinson had copies of Paul Revere's "A View of the Year 1765" for eightpence each. [6] Patriotic motifs also appeared in portraits of officers of the Revolution and other important figures of the Colonial and Federal periods.
An evaluation of these pictorial sources yields a long list of suitable patriotic symbols for the carpet destined for the United States Senate. Problems of selection of the most credible of these for the reconstructed design of the carpet seemed at first glance to be multitudinous, but in comparing the description of the Senate carpet from Dunlap's American Daily Advertiser with those available in 1790, the alternatives were narrowed considerably.
---
---
anderson/chap5.htm
Last Updated: 30-Nov-2007