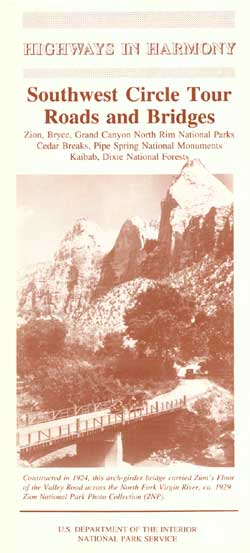 This leaflet was produced by the Historic American Engineering Record (HAER), a division of the National Park Service, U.S. Department of the Interior, The 1993 National Park Service Roads and Bridges Recording Project was cosponsored by Zion National Park. Donald Falvey, Superintendent; and the Historic American Buildings Survey/Historic American Engineering Record (HABS/HAER), Robert J. Kapsch, chief.
The fieldwork, measured drawings, histories, photography, and this brochure were completed under the direction of Eric N. DeLony, chief and Principal Architect, HAER, The recording team consisted of Todd A. Croteau, field supervisor; architectural technicians Laura J. Culberson and Christopher Payne; photographer Brian C. Grogan; and historians Michael F. Anderson, Christine L. Madrid and Richard H. Quin.
Text: Michael F. Anderson, edited by Richard H. Quin
Design: Todd A. Croteau
Web Edition by RD Payne
---
Constructed in 1924, this arch-girder bridge carried Zion's Floor of the Valley Road across the North Fork Virgin River, ca. 1929. Zion National Park Photo Collection (ZNP).