---
Rock Creek and Potomac Parkway
Washington, D.C.
---

THE ZOO TUNNEL
The biggest obstacle to smooth traffic flow occurred at the boundary between the parkway and the zoo. Since motorists used zoo roads to pass between the parkway and Rock Creek Park, this major link in the city's traffic system was cut off when the zoo closed at night. In addition, the road into the zoo crossed Rock Creek through a ford rather than on a bridge. This meant the link between the park and the parkway was also closed by heavy rains. Zoo officials long opposed plans to build a full-time roadway or connect the park and parkway with a tunnel under the zoo. An agreement was finally reached in 1960. The tunnel was completed in 1966.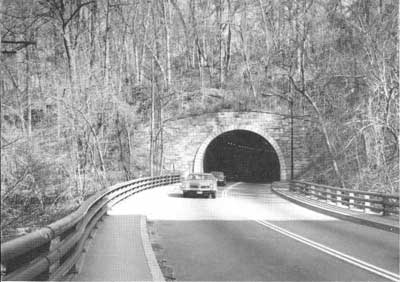 ---
Zoo Tunnel, 1992 (Boucher/HABS)

PARKWAY OR EXPRESSWAY?
These minor improvements did not increase the parkway's carrying capacity enough to suit District traffic officials. During the 1940s-50s they advanced various proposals for widening Rock Creek and Potomac Parkway into a major expressway and extending it through Rock Creek Park into Maryland. At the same time, they contemplated using the waterfront section of the parkway as part of an Inner Loop Freeway that would encircle downtown Washington with a ring of high-speed expressways.
Citizen protests and changing planning priorities defeated most of these proposals in the mid 1960s. Construction of the Washington subway system helped reduce pressure to expand the parkway into a high-volume expressway. The megalithic freeway ramps around K Street and the Theodore Roosevelt Memorial Bridge are the two major artifacts of this era of transportation planning.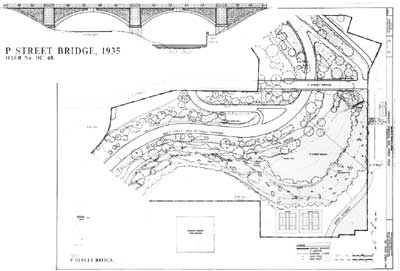 ---
(Top): P Street Bridge Drawing by Anthony Arcaro, HABS, 1992; (bottom): P Street Bend Drawings by Robert Harvey and Robert Arzola, HABS 1992-3
Rock Creek and Potomac Parkway is one of America's best preserved examples of early motor parkway design. Unlike most contemporary urban parkways, it survived the freeway-building era virtually intact. Its intimate scale, narrow roadway, sharp curves, slow speeds, abrupt entrances, and minimal median strips provide a rare glimpse of the transitional stage between yesterday's meandering carriage roads and today's efficient but visually bland modern motorways. The road itself may not satisfy modern expressway standards, but the present parkway landscape is even more heavily wooded than its designers had planned, and the multi-use trail is extremely popular with runners, walkers, and bicyclists.
Balancing the needs of commuters with the desire to preserve the parkway's scenic and recreational resources remains a formidable challenge for park managers and city planners.
---
| Introduction | Acadia | Blue Ridge Parkway | Colonial Parkway | Generals Highway | George Washington Memorial Parkway | Great Smoky Mountains | Mount Rainier | Rock Creek and Potomac Parkway | Shenandoah's Skyline Drive | Southwest Circle Tour | Vicksburg | Yellowstone | Yosemite | Discover History |