---
Rock Creek and Potomac Parkway
Washington, D.C.
---

ROCK CREEK'S BRIDGES (continued)
Dumbarton Bridge (5)
Dumbarton Bridge, at Q Street, is one of the parkway's most endearing structures. It was designed by the noted architect Glenn Brown and completed in 1915. Its curving form compensates for the difference in alignment between the Washington and Georgetown segments of Q Street.
The overhanging pedestrian walkways and tall, deep arches give the bridge a massive appearance recalling Roman aqueducts, on which the general design of the bridge is based. The brackets supporting the walkways terminate in rows of sculpted Indian heads, which are purportedly based on the life-mask of a Sioux chief named Kicking Bear. The seven-foot tall bronze American bisons on each abutment are the work of sculptor A. Phimister Proctor. Proctor also designed the bronze tigers on the Sixteenth Street Bridge.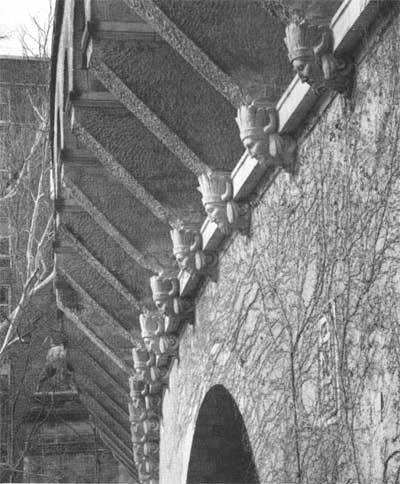 ---
Dumbarton Bridge, 1993 (Boucher/HABS)
Waterside Drive Overpass (6)
The Waterside Drive Overpass was constructed in 1932 to provide a means for southbound traffic from Massachusetts Avenue to enter the parkway. The structure housed restrooms for parkway users. These were closed when increasing traffic made access hazardous. The small tower on the west bridge abutment was designed for park police use.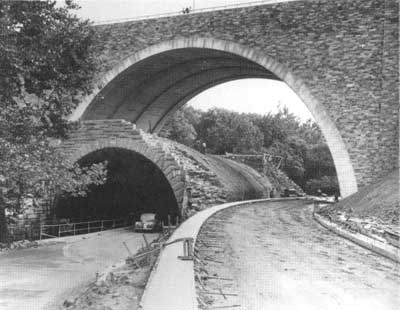 ---
New Massachusetts Avenue Bridge and Old Culvert, 1941 (DCL)
Charles C. Glover Bridge (7)
The Charles C. Glover Bridge at Massachusetts Avenue was the last major bridge built across Rock Creek valley. It was constructed in 1939-41 to replace an unsightly earthen causeway that had long carried the avenue across Rock Creek valley. The single, soaring arch provides a dramatic view along the parkway. An unusual feature of this bridge is the large curved planters built into the bridge abutments. It was officially named the Charles C. Glover Bridge in 1949 to honor this influential supporter of Washington parks.
---
| Introduction | Acadia | Blue Ridge Parkway | Colonial Parkway | Generals Highway | George Washington Memorial Parkway | Great Smoky Mountains | Mount Rainier | Rock Creek and Potomac Parkway | Shenandoah's Skyline Drive | Southwest Circle Tour | Vicksburg | Yellowstone | Yosemite | Discover History |