---
Mount Rainier Roads and Bridges
Mount Rainier National Park, Washington
---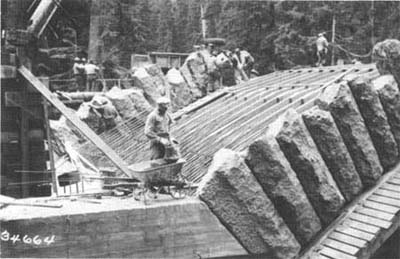 ---
Construction of Deer Creek Bridge on East Side Highway, 1939. The derrick-placed stones were hand-cut from templates.

EAST SIDE ROADS
The State of Washington began construction of the "Naches Pass Highway" in 1927. The new road would run from the Seattle suburb of Auburn through Enumclaw, then along the park's eastern boundary to Cayuse Pass before swinging east over Chinook Pass and on to Yakima. The road, completed in 1932, was renamed Mather Memorial Parkway after Stephen T. Mather, the first director of the National Park Service. Mather had spearheaded the plan to preserve a timber belt along the highway not only in the park but also in the adjacent national forests.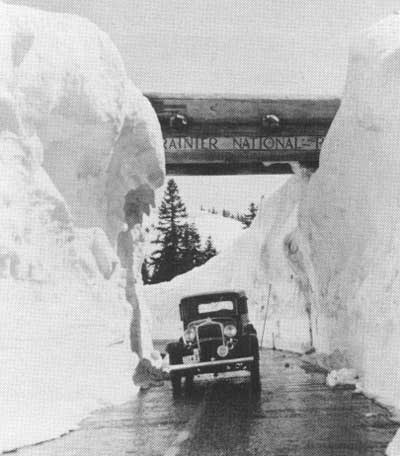 ---
Inspecting snow-removal operations on Mather Memorial Parkway at the Chinook Pass Entrance, 1930s.
The new White River Road to Yakima Park was completed in 1931. At 6,400' elevation, Yakima Park is the highest point reached by a road in the park. Here, amid fields of subalpine flowers, the new Sunrise development quickly rivaled Paradise as a popular destination.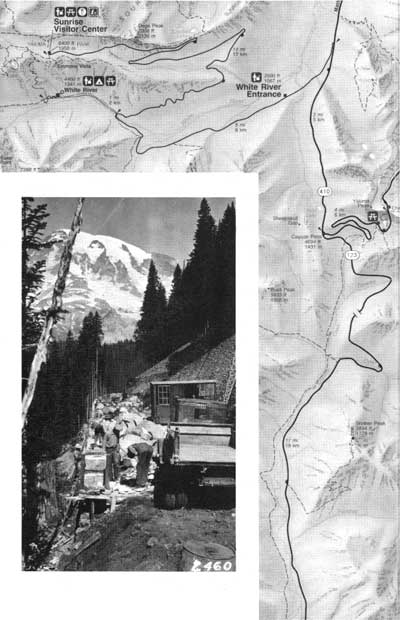 ---
CHINOOK PASS ENTRANCE, 1936, carries the Pacific Crest National Scenic Trail safely over the Mather Memorial Parkway. —Drawn by Todd Croteau, HAER, 1992; (bottom, left): Placing stones for a retaining wall. Notice the variety and craftsmanship of rustic' masonry designs.
A rough private road was built to the Ohanapecosh Hot Springs in 1924. Following the addition of this area to the park in 1931, this road was reconstructed and work began on the East Side Highway, linking Ohanapecosh with the Mather Memorial Parkway at Cayuse Pass. The new road, now designated State Route 123, was completed in 1940.
The last major park road development was Stevens Canyon Highway. Construction started in the late 1930s but was suspended during World War II. Work did not resume for more than a decade. The road was finally completed in 1957, and provided the first direct link between the east and west sides of the park.
Over the years, proposals were made for many other roads, including a "Wonder Road" around the mountain and even a road to the summit! These were never built, however, and most of the park remains as wilderness. Nevertheless, motorists find easy access to many of the most spectacular areas of the park, and any trip along the park roads is a memorable one.

---
—Drawn by Daniela Trettel, US/ICOMOS, 1992.
---
| Introduction | Acadia | Blue Ridge Parkway | Colonial Parkway | Generals Highway | George Washington Memorial Parkway | Great Smoky Mountains | Mount Rainier | Rock Creek and Potomac Parkway | Shenandoah's Skyline Drive | Southwest Circle Tour | Vicksburg | Yellowstone | Yosemite | Discover History |