---
Acadia Roads and Bridges
Acadia National Park, Maine
---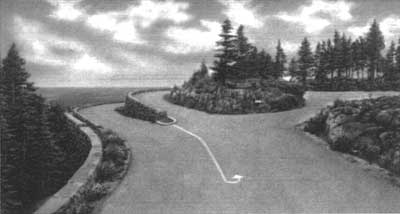 ---
Frederick Law Olmsted, Jr., designed the Otter Cliffs section of Ocean Drive, which includes this structure to provide unobstructed views for both automotive and pedestrian visitors. (postcard courtesy of Richard H. Quin)

THE MOTOR ROADS OF JOHN D. ROCKEFELLER, JR.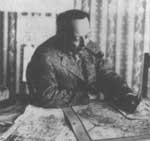 ---
Frederick Law Olmsted, Jr. (RAC)
During the early 1900s, as visitations to Mount Desert Island increased, motorists urged park officials to open up Acadia's carriage roads to automobiles. Attempting to alleviate this public pressure, Rockefeller decided to build scenic motor roads for the park that would remain physically separate from the carriage system. He envisioned a Park Loop Road that would carry visitors around the island and reveal the varied landscape of glacial mountains and valleys as well as ocean cliffs and tidal basins. He began in 1927 by constructing a motor road from the northern end of Eagle Lake to the Jordan Pond Tea House, and continued with similar projects during the following three decades. Here again, Rockefeller maintained high aesthetic standards, this time by hiring landscape architect Frederick Law Olmsted, Jr. to lay out many of the routes. Although these roads were widely praised for their scenic quality, Rockefeller's overall plan to construct a twenty-three mile motor loop around the eastern portion of the park aroused considerable local opposition from those fearing such a project would threaten the wilderness quality of several key regions. While Rockefeller was ultimately successful in seeing his plan carried out, when the Bureau of Public Roads completed the final segment in 1958, this community opposition had significantly altered the shape of his Park Loop Road.
"The whole theory of the Acadia Park Motor Road is that there shall be a continuous, unbroken-by-highways, park road circuit to the top of Cadillac Mountain, down to the sea, for miles along time seacoast and back to Cadillac Mountain."

— John D. Rockefeller, Jr., August 22, 1939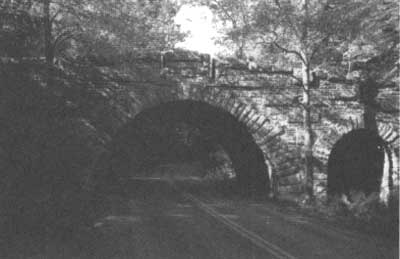 ---
Stanley Brook Road and Bridge, designed with assistance from Olmsted and Farrand (JTL)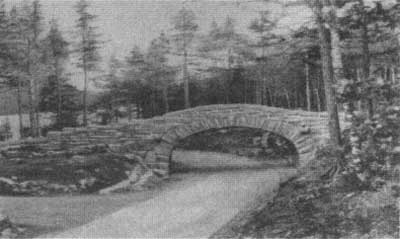 ---
Bubble Pond Road and Bridge were among Rockefeller's early motor road projects. (NPS)
---
| Introduction | Acadia | Blue Ridge Parkway | Colonial Parkway | Generals Highway | George Washington Memorial Parkway | Great Smoky Mountains | Mount Rainier | Rock Creek and Potomac Parkway | Shenandoah's Skyline Drive | Southwest Circle Tour | Vicksburg | Yellowstone | Yosemite | Discover History |