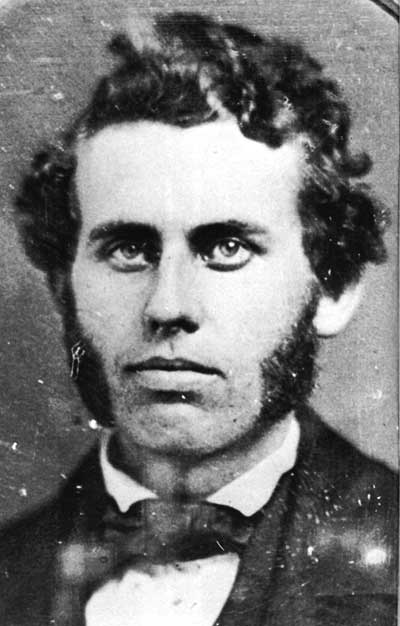 John T. Ford, about 1865, from an original daguerreotpye.

FORD'S THEATRE

The First Baptist Church of Washington in 1833-34 erected a house of worship upon the spot where Ford's Theatre now stands. Services were held in the building until 1859, when the congregation united with another church, retaining the name of the First Baptist Church but abandoning the 10th Street building.
John T. Ford, an enterprising theatrical manager of Baltimore and Philadelphia, purchased the First Baptist Church in 1861 and converted it into a theatre. After extensive alterations it was inaugurated on November 19, 1861. Early in 1862, the building was closed to make renovations necessary for the presentation of theatrical instead of musical plays. Reopened under the name of "Ford's Athenaeum," the playhouse proved to be a profitable business venture for Ford. On the evening of December 30, 1862, however, the theatre caught fire and, although several fire companies responded, the building was soon a smouldering ruin.
Ford, not discouraged by this misfortune, made plans for the construction of a larger and more modern structure. The cornerstone of the new edifice was laid on the morning of February 28, 1863, by James J. Gifford, the architect and builder. A substantial brick structure of imposing architectural proportions, it was one of the finest theatres in the country. The auditorium seated nearly 1,700, including 421 in the dress circle (first balcony). The orchestra, parquet, and dress circle, sloping downward toward the stage, were equipped with cane-bottomed chairs. There were eight private boxes, two upper and two lower, located on either side of the stage.
The new Ford's Theatre was completed and opened to the public on the night of August 27, 1863, when the dramatic pageant "The Naiad Queen" was presented to a capacity audience. From that date until it was closed by the Government in April 1865, Ford's Theatre was one of the most successful amusement places in Washington. Ford endeavored to provide his patrons with the best entertainment possible and a galaxy of famous actors and actresses appeared there in some of the outstanding productions of the period.