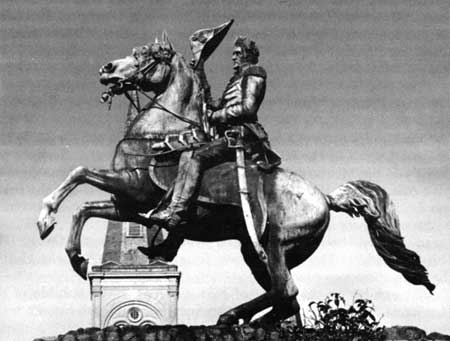 Equestrian statue of Andrew Jackson, by Clark Mills, in Jackson Square, New Or leans.


How to Reach the Park

The park is 6 miles from the junction of Canal and Rampart Streets, in the center of New Orleans. The Cemetery Section of the park is one-third mile east of the Monument Section. State Route 39 follows St. Claude Avenue, a continuation of North Rampart Street. Both park entrances are on this highway. State Route 47 is a short cut from U. S. 90 to State Route 39 for those approaching from the east. Close study of street maps and careful observation of signs are recommended for newcomers to New Orleans.

About Your Visit

You may obtain further information about this and other areas of the National Park System at the Visitor Center in the René Beauregard House, located in the Monument Section of the park. With the exception of Christmas and New Year's Day, the visitor center is open every day of the year. Visiting hours, Monday through Saturday, are from 8 a. m. to 5 p. m.; and on Sunday, from 9 a. m. to 6 p. m. Park personnel are available at the visitor center to give you information and assistance. Literature explaining the park can also be obtained here. Special service for groups can be secured if arrangements are made in advance with the superintendent.
Supplementing the explanatory exhibits in the visitor center, you will find in the Monument Section of the park a series of historical markers identifying important positions along General Jackson's line and the historic remains of the Rodriguez Canal in front of the American position. Here also is situated the imposing Chalmette Monument.

Related Areas

The National Park Service administers two other areas commemorating the War of 1812. They are Fort McHenry National Monument and Historic Shrine, Baltimore, Md.; and Perry's Victory and International Peace Memorial National Monument, Put-in-Bay, Ohio.

Administration

Chalmette National Historical Park is administered by the National Park Service of the U. S. Department of the Interior. A superintendent whose address is Box 125, Arabi 16, La., is in immediate charge.