Contents

a. THE WAR OF 1812
b. OLD HICKORY
c. LOUISIANA IN 1814
d. BRITISH PLANS AND PREPARATIONS
e. THE PENSACOLA AFFAIR
f. PREPARING TO DEFEND NEW ORLEANS
g. THE BATTLE OF LAKE BORGNE
h. THE NIGHT BATTLE OF DECEMBER 23
i. THE MUD RAMPART
j. THE "GRAND RECONNAISSANCE"
k. THE ARTILLERY DUEL, JANUARY 1, 1815
l. PREPARING FOR THE DECISIVE BATTLE
m. THE BATTLE OF NEW ORLEANS, JANUARY 8, 1815
n. MILITARY ACTIVITY AFTER JANUARY 8
o. NEW ORLEANS AFTER THE VICTORY
p. THE NEWS ON THE EAST COAST
q. WHAT THE VICTORY MEANT TO THE UNITED STATES
r. THE CHALMETTE MONUMENT AND THE PARK
s. GUIDE TO THE AREA
t. NEARBY POINTS OF INTEREST
u. HOW TO REACH THE PARK
v. ABOUT YOUR VISIT
w. RELATED AREAS
x. ADMINISTRATION
y. SUGGESTED READINGS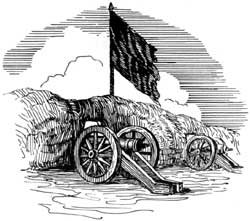 For additional information, visit the Web site for
Jean Lafitte National Historic Park and Preserve
---
Historical Handbook Number Twenty-Nine
1958
This publication is one of a series of handbooks describing the historical and archeological areas in the National Park System administered by the National Park Service of the United States Department of the Interior. It is printed by the Government Printing Office and may be purchased from the Superintendent of Documents, Washington 25, D.C. Price 40 cents

The National Park System, of which Chalmette National Historical Park is a unit (now part of Jean Lafitte National Historic Park and Preserve), is dedicated to conserving the scenic, scientific, and historic heritage of the United States for the benefit and enjoyment of its people.
UNITED STATES DEPARTMENT OF THE INTERIOR
Stewart L. Udall, Secretary

NATIONAL PARK SERVICE
Conrad L. Wirth, Director