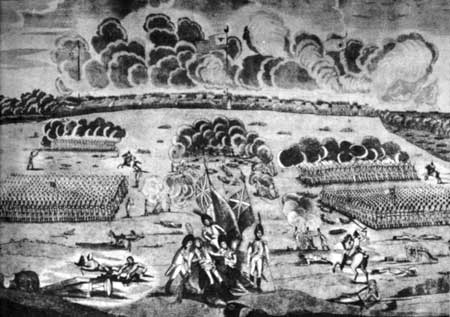 The impact of the Battle of New Orleans on Americans in 1815 and the following years is partly shown by the many popular prints of it, two of which are shown here. They are of course products of the artists' imaginations rather than the results of careful study of the battle. In the upper view, for instance, the river from the British side should be on the left. So far as we know, on January 8 there were no boats on the river near the battleground. But it was from pictures like these that many of our ancestors obtained their impressions of historic events.
Photocopy by Dan Leyrer, courtesy of Boyd Cruise.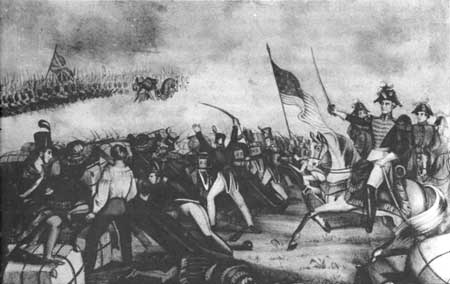 Military Activity After January 8

After defeating their enemies in front of Jackson's line on January 8, some of the Americans wanted to attack them in the open. This was prevented by the higher officers. They knew that the British still had many soldiers able to use bayonets, and that it would be only a waste of lives to try to destroy the rest of their army. There were truces to bury the dead, and the usual tedious and tricky negotiations over such matters as the exchange of prisoners. Between truces, the American artillery annoyed the enemy.
On January 19, it appeared that the British had gone. This was confirmed when one of their doctors approached the American lines with a letter from General Lambert informing General Jackson that the British had given up the attempt against New Orleans. The letter asked for care for 80 men wounded too badly to be taken home. Several spiked cannon and some other war materials were also left behind.
Meanwhile a small British fleet began to bombard Fort St. Philip, about 60 miles below New Orleans on a bend in the river. They soon found they could hit the fort and yet stay out of range of its guns. They continued to bombard it at intervals for more than a week, doing little damage and killing only two men. On January 16, supplies for the fort arrived from New Orleans, including fuses for the 13-inch mortars that the defenders had not been able to use. The next day they hit the ships with projectiles from the mortars. On the 18th the British gave up this rather half-hearted attempt.
Still not knowing that the peace treaty had been signed, the British forces showed their determination by attacking Fort Bowyer on Mobile Bay for a second time in this campaign. The fort was weak in comparison with the force now sent against it, and surrendered on February 11. Two days later, news of the peace reached the fort, and the fighting in America ended.