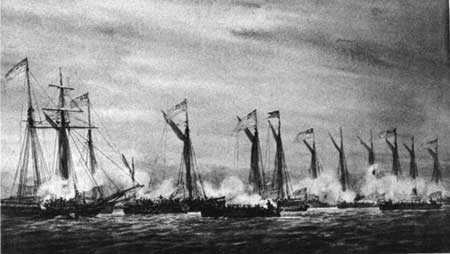 The Battle of Lake Borgne, December 14, 1814. In this view the British barges are closing in to board the American gunboats.
Courtesy, The Mariners' Museum. Newport News, Va

Preparing to Defend New Orleans

Andrew Jackson arrived in New Orleans for the first time on December 2, 1814. In his history of the campaign, Maj. A. Lacarriere Latour, Jackson's military engineer, said: "It is scarcely possible to form an idea of the change which his arrival produced on the minds of the people." That such a man was needed is shown by these words of Charles E. A. Gayarre, the distinguished Creole historian of Louisiana:
Where (Jackson) was as chief, there could be . . . but one controlling and directing power. All responsibility would be unhesitatingly assumed and made to rest entirely on that unity of volition which he represented. Such qualifications were eminently needed for the protection of a city containing a motley population, which was without any natural elements of cohesion, and in which abounded distraction of counsel, conflicting opinions, wishes and feelings, and much diffidence as to the possibility of warding off an attack.
Jackson commenced work with a minimum of formalities. He immediately reviewed the Battalion of Uniform Companies of the Orleans Militia. He then chose aides from among the prominent local citizens and established headquarters at 106 Royal Street. From there he issued orders for the disposition of troops for the defense of New Orleans.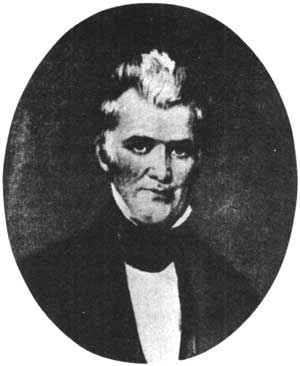 Maj. Gen. William Carroll, commander of the Tennessee Militia in the Battle of New Orleans.
Courtesy, Louisiana State Museum.
In 1814, the city, about 105 miles from the mouths of the Mississippi, was almost an island surrounded by swamps and marshes, lakes, and the river. Most of the firm ground was along the banks of the Mississippi. A mile or so from the river, the almost impenetrable cypress swamps began. These gradually gave way to marshes that were filled with tall, razor-edged reeds. The marshes became more watery as the shores of shallow lakes were reached: Maurepas, Pontchartrain, Borgne, and many smaller ones. Lake Borgne, was an arm of the Gulf of Mexico. The only practicable ways from the lakes to the river were along the bayous. The marshes and swamps were criss-crossed by many of these sluggish streams, some navigable by small boats. The banks of the bayous were the only partly firm ground in the extensive morass.
It seemed likely that the British would come by way of Lakes Borgne and Pontchartrain, and Bayou St. John, or up the Mississippi itself. Jackson kept some troops on the alert in New Orleans, and sent others to guard the water approaches. A fleet of gunboats watched the entrance to the lakes. Some of the bayous were blocked with logs and earth. These arrangements having been completed within 48 hours of his arrival, Jackson inspected the defenses down the Mississippi, where he ordered the strengthening of Fort St. Philip. On his return, he inspected the defenses of the lakes, Chef Menteur, and the Plain of Gentilly, these being north and east of the city. With his defenses in order, Jackson awaited the next move by the British.