Contents

a. INTRODUCTION
a. THE UNION STRATEGY OF 1864
b. THE STRATEGIC IMPORTANCE OF PETERSBURG
c. THE BATTLE OF PETERSBURG, JUNE 15—18,1864
d. FIRST UNION ATTEMPT ON THE WELDON RAILROAD
e. THE BATTLE OF THE CRATER, JULY 30, 1864
f. THE FIGHT FOR THE WELDON RAILROAD
g. UNION ENCIRCLEMENT CONTINUES
h. THE SOUTH STRIKES BACK—THE BATTLE OF FORT STEDMAN
i. UNION ENCIRCLEMENT BECOMES A REALITY
j. THE FALL OF THE CITY
k. GUIDE TO THE AREA
l. HOW TO REACH THE PARK
m. ADMINISTRATION
n. RELATED AREAS
o. VISITOR FACILITIES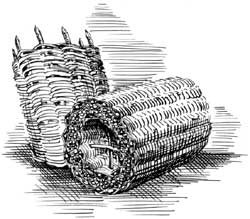 For additional information, visit the Web site for
Petersburg National Battlefield
or view National Park Service publication "Campaign for Petersburg":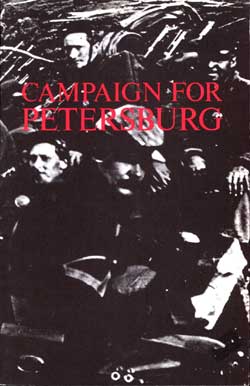 ---
Historical Handbook Number Thirteen
1951
This publication is one of a series of handbooks describing the historical and archeological areas in the National Park System administered by the National Park Service of the United States Department of the Interior. It is printed by the Government Printing Office and may be purchased from the Superintendent of Documents, Washington 25, D.C. Price 25 cents

The National Park System, of which Petersburg National Military Park is a unit, is dedicated to conserving the scenic, scientific, and historic heritage of the United States for the benefit and enjoyment of its people.
UNITED STATES DEPARTMENT OF THE INTERIOR
Stewart L. Udall, Secretary

NATIONAL PARK SERVICE
Conrad L. Wirth, Director






TABLE OF EVENTS


I. EVENTS IN 1864 PRECEDING THE CAMPAIGN

Mar. 9. U. S. Grant made commander in chief of the Union armies.
May 4. Butler and the Army of the James capture City Point, Virginia.
May 5—7. Battle of the Wilderness.
May 8—19. Battle of Spotsylvania Court House.
May 23. Battle of North Anna River.
May 29. Battle of Totopotomoy Creek.
June 3. Battle of Cold Harbor.
June 9. Raid by Union cavalry on Petersburg lines.



II. EVENTS IN 1864 DURING THE CAMPAIGN

June 15—18. Opening Battle of Petersburg.
June 22—23. Union attack on Weldon Railroad repulsed.
July 30. Battle of the Crater, and Capture of Fort Harrison.
Aug. 18—21. Union forces capture the Weldon Railroad.
Aug. 25. Battle of Reams Station.
Sept. 14-17. Hampton's cavalry raid on Union beef supply.
Sept. 29—Oct. 1. Battle of Peebles' Farm.
Oct. 19. Battle of Cedar Creek.
Oct. 27. Battle of Burgess' Mill.



III. EVENTS IN 1865 DURING THE CAMPAIGN

Feb. 5—7. Battle of the Boydton Plank Road.
Mar. 25. Battle of Fort Stedman.
Apr. 1. Battle of Five Forks.
Apr. 2. General Union attacks on Confederate lines outside Petersburg.
Apr. 3. Union troops enter Richmond and Petersburg.
Apr. 9. Lee and the Army of Northern Virginia surrender at Appomattox Court House.