HAWAII NATURE NOTES
THE PUBLICATION OF THE
NATURALIST DIVISION, HAWAII NATIONAL PARK
AND THE HAWAII NATURAL HISTORY ASSOCIATION
---
| | | |
| --- | --- | --- |
| VOL. IV | FEBRUARY 1952 | No. 3 |
---
DEDICATION
Dedicated to the Hawaiian people and to their cultural heritage, handed down by legends such as these.

INTRODUCTION
In the days before the written alphabet came to Hawaii, the history and folklore of the Hawaiian people were handed down by word of mouth. Although many Hawaiian traditions have been carefully recorded by such students as Fornander, Emerson, Westerveldt, Malo, Thrum and others, most of their writings are out of print today and seldom available except in libraries.
In an effort to stimulate interest in the advanced culture of Old Hawaii and to prevent many beautiful and interesting stories from passing into obscurity, the Hawaii Natural History Association hopes to publish, at intervals, Hawaiian legends and myths, particularly those pertaining to places and things which may be seen by the present-day visitor to Hawaii. This story is the first of these.
This ancient LEGEND OF THE NAHA STONE was recorded in Hawaiian by the late Reverend Stephen Desha, Sr. of Hilo, and after careful translation was adapted in its present form by Mr. L. W. de Vis-Norton. Published originally by the Board of Trade in Hilo, it is reprinted with the kind permission of Mr. de Vis-Norton.
The Naha Stone which, with the entrance pillar of the great temple, Pinao, now rests in front of the Hawaii County Library, is considered by historians to be one of the greatest historical relics in the Hawaiian Islands. It was presented to the City of Hilo by Mr. J. A. Scott, upon whose property it lay for many years. The stones were moved to a site behind the old library, and when the new library was completed, were again moved to their present locality, not far from the site of the ancient temple.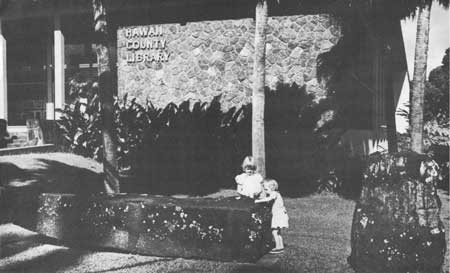 The present resting place of the Naha Stone is near the site of the ancient temple, PINAO (Douglass H. Hubbard—NPS).