GRAND TETON

---

Creation of the Teton Landscape:
The Geologic Story of Grand Teton National Park

TABLE OF CONTENTS
---
Front Cover: View west toward Grand Teton on skyline. Hedrick's Pond surrounded by "knob and kettle" topography is in foreground, tree-covered Burned Ridge moraine is in middle distance, and extending from it to foot of mountains is gray flat treeless glacial outwash plain. National Park Service photo by W. E. Dilley.
THE STORY BEGINS
First questions, brief answers
An extraordinary story
An astronaut's view
A pilot's view
A motorist's view
View north
View west
View south
A mountaineer's view
CARVING THE RUGGED PEAKS
Steep mountain slopes—the perpetual battleground
Rock disintegration and gravitational movement
Running water cuts and carries
Glaciers scour and transport
Effects on Jackson Hole
MOUNTAIN UPLIFT
Kinds of mountains
Anatomy of faults
Time and rate of uplift
Why are mountains here?
The restless land
ENORMOUS TIME AND DYNAMIC EARTH
Framework of time
Rocks and relative age
Fossils and geologic time
Radioactive clocks
The yardstick of geologic time
PRECAMBRIAN ROCKS—THE CORE OF THE TETONS
Ancient gneisses and schists
Granite and pegmatite
Black dikes
Quartzite
A backward glance
The close of the Precambrian—end of the beginning
THE PALEOZOIC ERA—TIME OF LONG-VANISHED SEAS AND THE DEVELOPMENT OF LIFE
The Paleozoic sequence
Alaska Basin—site of an outstanding rock and fossil record
Advance and retreat of Cambrian seas; an example
Younger Paleozoic formations
THE MESOZOIC—ERA OF TRANSITION
Colorful first Mesozoic strata
Drab Cretaceous strata
Birth of the Rocky Mountains
TERTIARY—TIME OF MAMMALS, MOUNTAINS, LAKES, AND VOLCANOES
Rise and burial of mountains
The first big lake
Development of mammals
Volcanoes
QUATERNARY—TIME OF ICE, MORE LAKES, AND CONTINUED CRUSTAL DISTURBANCE
Hoback normal fault
Volcanic activity
Preglacial lakes
The Ice Age
Modern glaciers
APPENDIX
Acknowledgements
Selected references—if you wish to read further
About the authors
Index of selected terms and features (omitted from the online edition)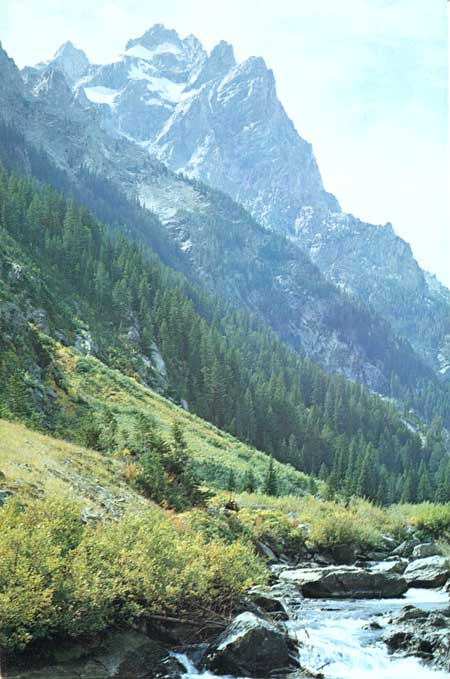 View west up Cascade Canyon, with north face of Mt. Owen in center. National Park Service photo by H. D. Pownall.
Library of Congress Catalogue Card No.: 68-20628
ISBN 0-931895-08-1

1st Edition
1968

1st Revised Edition
1971

Reprinted 1979
Reprinted 1984
Reprinted 1989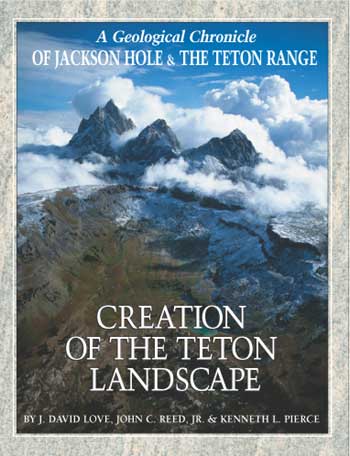 An updated and revised edition can be obtained from
Grand Teton Natural History Association.
---

To Fritiof M. Fryxell, geologist, teacher, writer, mountaineer, and the first ranger-naturalist in Grand Teton National Park. All who love and strive to understand the Teton landscape follow in his footsteps.

---
---
---
grte/geology/contents.htm
Last Updated:--2007