---
MENU
---
---

Glacier Bay
---
Glimpses of Our
National Monuments
---
---
GLACIER BAY NATIONAL MONUMENT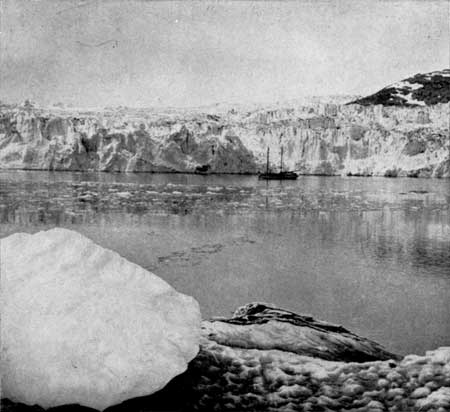 Glacier Bay.
Courtesy National Geographic Society.
The Glacier Bay National Monument, located on the southeast coast of Alaska, was created February 26, 1925, and has an area of approximately 1,820 square miles. It includes a number of tidewater glaciers of first rank in a magnificent setting of lofty peaks.
Creation of the monument was on the petition of the Ecological Society of America and the indorsement of the National Geographic Society, these organizations pointing out that the Glacier Bay district presents a unique opportunity for the scientific study of glacial action, of resulting movements and development of flora and fauna, and certain valuable relics of ancient interglacial forests.
The region also contains a great variety of forest covering consisting of mature area, bodies of youthful trees which have become established since the retreat of the ice, and great stretches, now bare, that will become forested in the course of the next century. These should be preserved in their natural condition. The new monument is also of historic interest, having been visited by explorers and scientists since the early voyage of Vancouver in 1794, who left valuable records of such visits and explorations.
The boundaries of the monument include a part of the coast line of North Marble Island, Bear Track Cove, Bartlett Cove, Excursion Inlet, Glacier Bay, Lynn Canal, and extend to the international boundary line between Alaska and British Columbia, including the summits of Mount Fairweather, Mount Lituya, Mount La Perouse, and several other mountain tops.