Washington Department of Natural Resources
Geology and Earth Resources Division Bulletin No. 72

---

Washington Coastal Geology between the Hoh and Quillayute Rivers
---
CONTENTS
---
THE GIANTS GRAVEYARD is part of a large group of offshore islets and reefs extending between Toleak Point and Taylor Point. They constitute a segment of the earth's crust composed of massive and stratified sandstones and siltstones known as Hoh rocks. Intense forces and stresses generated by the shifting of the earth's crust over millions of years of time have resulted in complex folding and faulting of these strata.

Part I—ROCK FORMATIONS AND GEOLOGIC PROCESSES

General Statement
Rock formations of the earth's crust
Crustal forces
Crustal forces and the Olympic Peninsula
Hoh rock assemblage
Sedimentary rock sequences
Tectonic melange rocks
Deposits and processes of the ice age (Pleistocene Epoch)
Age dating of ice age events



Part II—GEOLOGIC OBSERVATIONS AND INTERPRETATIONS ALONG THE COAST

Hoh River and vicinity
Jefferson Cove
Hoh Head area
Secret Cove to Mosquito Creek
Mosquito Creek
Alexander Island
Mosquito Creek to Goodman Creek
Goodman Creek area
Toleak Point to Taylor Point
Taylor Point
Third Beach
Second Beach, "Quillayute Needles," and vicinity
First Beach, James Island, and vicinity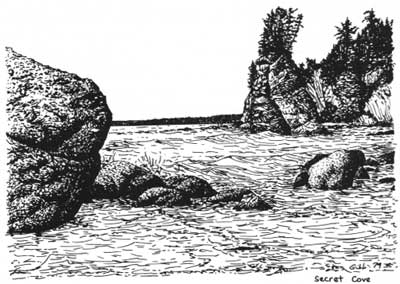 ---
HISTORICAL NOTES
---
Discovery and exploration
Hoh River area
Early oil test
Goodman Creek valley
Toleak Point—Scott Creek area
Early oil well operations
Shipwreck at Teahwhit Head
The "Quillayute Needles"
James Island
Early contacts with white men
La Push Harbor
---
HIKING INFORMATION
---
Hoh River to Mosquito Creek
Mosquito Creek to Toleak Point
Toleak Point to Third Beach
Third Beach
Second Beach and vicinity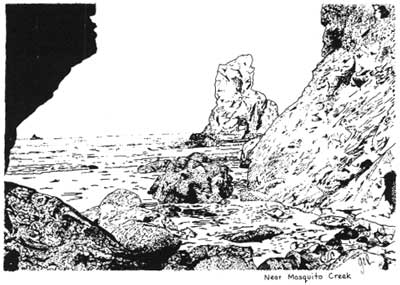 ---
ILLUSTRATIONS
---
Figure
FRONTISPIECE Looking southwest at Taylor Point
1. Geologic time chart
2. Steeply dipping overturned sedimentary rocks
3. The major plate systems of the world
4. Block diagram showing the plate tectonic concept
5. How rocks of the Olympic mountains and coastal area are believed to have been formed
6. Hoh head, looking northward from the air
7. Microscopic fossils "Foraminifera" from sedimentary rocks
8. The coastline, showing numerous coves and headlands
9. A tectonic melange rock outcrop
10. A generalized cross-section of a piercement structure
11. A generalized cross-section showing relations between Pleistocene deposits and land surfaces
12. Pleistocene sediments resting on Hoh bedrock at Quateata
13. Flat-top islets in the "Quillayute Needles" group
14. Wave-cut terrace forming south of Jefferson Cove
15. Closeup view of windblown deposits
16. Windblown deposits exposed in bluffs at Taylor Point
17. Drilling operations along the Hoh River during recent times
18. Drilling operation near Jefferson Cove during the 1930's
19. Plank road to the Jefferson Oil Seep during the 1930's
20. Landslide debris near the mouth of the Hoh River
21. Oil City in the 1930's
22. Oil well remains from drilling operation of the 1930's
23. Jefferson Cove
24. Route map—Hoh River to Toleak Point
25. Geologic map of the area between the Hoh, Quillayute, and Bogachiel Rivers
26. Middle Rock
27. Looking northward along the beach in the Mosquito Creek area
28. North Rock
29. Conglomerate, south of Jefferson Cove
30. Boulder Bay
31. Hoh Head and coastal area
32. Fault zone in the Secret Cove area
33. Large sandstone block in Hoh melange outcrop
34. The mouth of Goodman Creek
35. Conglomerate cliffs north of Goodman Creek
36. The mouth of Mosquito Creek
37. Alexander Island viewed from the beach
38. Southwest side of Alexander Island
39. Blocks of breccia eroded from Hoh melange
40. Waterfall of Falls Creek
41. A large sandstone block forms a nearshore island south of Goodman Creek
42. Rocks off mouth of Goodman Creek
43. Goodman Creek gorge
44. Conglomerate of the Goodman Creek area
45. Route map—Toleak Point to La Push
46. Third Beach viewed from Taylor Point
47. Kitchen middens at Toleak Point
48. Sandstone islets off Toleak Point
49. The Giants Graveyard, looking southward
50. Graded bedding shown diagramatically
51. A typical landslide
52. Taylor Point, as viewed from the south
53. An erosional remnant of sandstone off Taylor Point
54. Ice age deposits on Taylor Point
55. Large blocks of conglomerate on south end of Third Beach
56. Waterfall on northside of Taylor Point
57. Remains of machinery from early well drilling near Third Beach
58. Volcanic block on Third Beach
59. Remains of a steam boiler near Third Beach
60. A natural arch at the north end of Second Beach
61. Teahwhit Head as viewed from the air
62. A shipwreck at Teahwhit Head
63. Contorted bedding, north end of Second Beach
64. A fretted sandstone surface
65. Red beach sands
66. "The Quillayute Needles" as viewed from the air
67. The Quillayute Needle
68. James Island
69. Massive fractured sandstone in the Teahwhit Head area
70. Quateata viewed from First Beach
71. The inner bay of James Island
72. "Little James Island"
73. The James Island group as viewed from the air
74. La Push Harbor, 1909
STATE OF WASHINGTON
DEPARTMENT OF NATURAL RESOURCES
BERT L. COLE, Commissioner of Public Lands
RALPH A. BESWICK, Supervisor
---
DIVISION OF GEOLOGY AND EARTH RESOURCES
VAUGHN E. LIVINGSTON, JR., State Geologist
---
Bulletin No. 72
Washington Coatal Geology
Between
The Hoh and Quillayute Rivers
Part I. —Rock Formations, Geologic Processes, and Events
Part II.—Geologic Observations and Interpretations Along the Coast
A review of geologic processes and events as revealed by the rock formations and deposits of the Washington coast—with historical notes and hiking information.
---
BY
WELDON W. RAU
Research Geologist


1980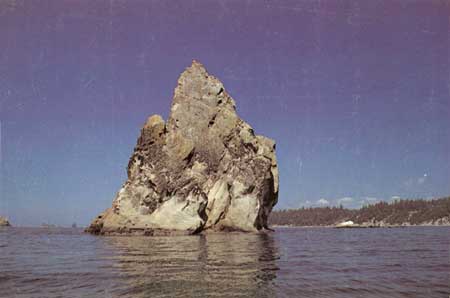 BACK COVER PHOTO—THIS JAGGED ROCK projecting from the sea near Alexander Island is one of the many sandstone blocks strewn along the Washington coast. Due to its greater resistance, it remains as an erosional remnant from a mixture or melange of broken rock material from a major fault zone of the earth's crust.
---
---
state/wa/1980-72/contents.htm
Last Updated: 28-Mar-2006