---
MENU
---

Methods and Extent of Present Research
---
Fauna of the National Parks — No. 7

---

The Wolves of Isle Royale

METHODS AND EXTENT OF PRESENT RESEARCH
---
The results of this study are based upon observations made during 65 weeks in the study area, distributed as shown in table 5.
TABLE 5.—DATES AND EXTENT OF FIELDWORK

---

Dates
Weeks
Days

---

June 28 to Aug. 20, 1958

Total 1958
7

---

7
5

---

5
Feb. 3 to Mar. 14, 1959
May 7 to Aug. 19, 1959
Oct. 27 to Nov. 1, 1959

Total 1959
5
15
....

---

21
5
....
6

---

4
Feb. 4 to Mar. 21, 1960
May 9 to Sep. 1, 1960

Total 1960
6
16

---

23
4
5

---

2
Jan. 30 to Mar. 21, 1961
May 10 to June 15, 1961

Total 1961
7
5

---

12
2
2

---

4

Grand total

---

65

---

1

---
The base camp during the February-March study period was at Windigo, near the head of Washington Harbor (southwest end of the island). The Park Service stocked this camp with canned and dried food and aviation fuel before the park closed in the autumn. Additional gasoline was cached at Mott Island (northeast end of the park). Since a Park Service employee, the pilot, and I were the only persons on the island, two-way, FM radio contact was maintained with the Isle Royale winter headquarters in Houghton, Mich., 24 hours per day. About every 2 weeks a Cessna 180 from Northeast Airways, Eveleth, Minn., arrived with mail, supplies, and an alternate Park Service employee.
Censuses and observations of wolves and moose were made with the aid of a 90-horsepower, ski-equipped Aeronca Champ aircraft stationed on the island throughout the study period (figure 28). This tandem-seated plane cruises at 80 mph and carries a 2-1/2-hour fuel supply. Two sleeping bags, tiedown ropes, and emergency food were carried in the plane, and two pairs of snowshoes and an ice chisel (to chop anchor holes for emergency tie-down) were lashed to the struts.
Competently piloted by Donald E. Murray of Mountain Iron, Minn., the craft provided rapid access to all parts of the study area and was highly maneuverable, allowing close-up views of the activities of both wolves and moose. Wolves were tracked daily whenever possible, and when located were observed continually until low fuel supply, inclement weather, or darkness interfered. Notes were kept of their hunting, killing, and feeding habits, and of their social behavior. When we discovered a moose carcass, we landed on the nearest bay or inland lake, and examined the remains. The winter phase of the study involved 435 hours of flying: 115 hours in 1959, 185 in 1960, and 135 in 1961.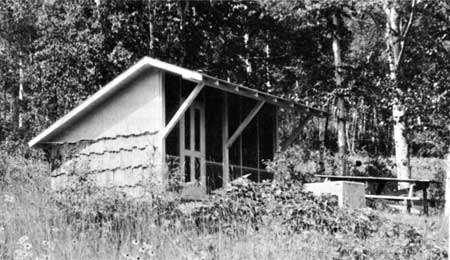 Figure 21—New lean-to, such as at numerous locations along the Isle Royale shoreline.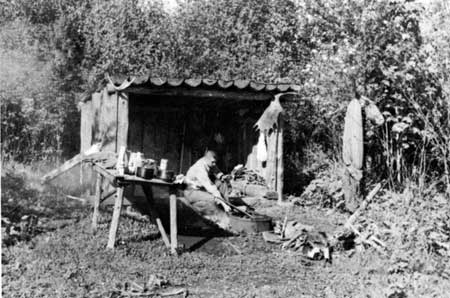 Figure 22—Type of lean-tos in the interior of the park. This one, on Lake Desor, was well used by the author during the summer fieldwork. Stores of staples and canned and dried food were cached nearby at beginning of each season.
| | |
| --- | --- |
| Figure 23—The Purdue "Wolf — 16-foot boat used each summer. | Figure 24—Army "Weasel" used for transporting gear and drinking water from bay to winter camp. |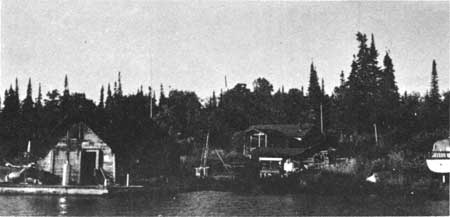 Figure 25—Wright Island cabin— summer headquarters for author and wife in 1959.
The main living quarters during spring and summer were Mott Island dormitory in 1958, a commercial fisherman's cabin on Wright Island in 1959, and another fisherman's cabin (in Rock Harbor) in 1960 and 1961. During extended field trips, I utilized Park Service patrol cabins and lean-tos. A seaworthy 16-foot boat and 35-horsepower outboard motor afforded transportation to all parts of the island's periphery during fair weather. Approximately 1,400 miles of hiking supplemented the use of the boat.
Field work from May through August involved many activities. Observations were made of moose, beavers, and snowshoe hare; wolf and fox scats were collected from foot trails for analysis at the university; and all fresh moose carcasses and old moose remains found were examined. Few wolves were observed, but fresh tracks, scats, and scratchings were seen frequently. In spring I attempted to locate wolf dens by broadcasting recorded wolf howls and searching areas from which replies were obtained. Interviews with island residents, and reported observations of wolves and moose by cooperators (commercial fishermen, park employees, and tourists) provided additional information.
During autumn, I was in the field only 6 days. From October 27 to November 1, 1959, a sampling was made. of the moose population to measure the calf:total population ratio. For the purpose, a 90-horse power Piper Cub aircraft with floats was engaged for 11 hours.
| | |
| --- | --- |
| Figure 26—National Park Service Patrol cabin on Hatchet Lake in center of island. Author used this cabin often. | Figure 27—The "clothes grinder" — Powered by 1-cylinder gasoline engine. |
| Figure 28—Research aircraft and pilot Donald E. Murray. | Figure 29—Aerial view of winter headquarters at Windigo—head of Washington Harbor. |