---
Survey of Historic Sites and Buildings
CAPE MEARES
Oregon



Location: Tillamook County, south side of Tillamook Bay, just west of U.S. 101.
This rocky headland, 700 feet high, was discovered in 1778 by Capt. John Meares, an English explorer, who found the bay closed by a sand barrier and called it "Quicksand Bay." The cape probably had been sighted in 1775 by the Spanish explorer Bruno Heceta. The north side is still wild and beautiful, unchanged except for an unobtrusive Coast Guard station. On the south side are a number of summer beach cottages.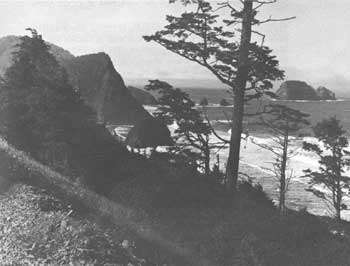 In 1778, the English explorer Capt. John Meares discovered this headland, now Cape Meares, Oregon. It is wild and beautiful and looks today much the same as when first discovered.
---
http://www.cr.nps.gov/history/online_books/explorers-settlers/sitee23.htm
Last Updated: 22-Mar-2005