---
Survey of Historic Sites and Buildings
RICHARD JACKSON HOUSE
New Hampshire



Location: Rockingham County, Jackson Hill Street, Portsmouth.
This two-story house is the oldest in Portsmouth, and perhaps in the State. The present central section is the original part, built in 1664. The two wings and the rear lean-to are later additions. As restored by the Society for the Preservation of New England Antiquities, which owns the property, it reflects well the architecture of its period. Plain and unpainted, the exterior is in the original state except for the casement windows. The interior also retains much of the original flavor; it has exposed beams, sheathed or crudely plastered walls, and broad floorboards. The house is open to the public from June 1 to October 15.
NHL Designation: 12/24/68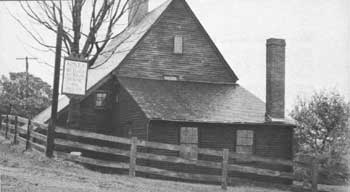 Richard Jackson House, in Portsmouth, New Hampshire, is the oldest house in the town and perhaps in the State. Its original section dates from the year 1664.
WILLIAM DAM GARRISON HOUSE
New Hampshire



Location: Strallord County, 182-192 Central Avenue, Dover.
This small log cabin, erected about 1675 by William Dam (Damme), is an excellent representative of the fortified residence, or garrison, that was once common in New England. It is one of the few such structures in the area that escaped destruction by the Indians. It consists of two rooms and has a central chimney. The walls are hand-hewn oak logs, some of them more than 20 feet long, which have lapped joints at the ends. The original small windows have been replaced by larger ones. The house has been preserved under a private trusteeship as a historic residence since 1915, when it was moved from its original site on Back River Road to its present location. Open to the public, it contains colonial household articles and clothing.
---
http://www.cr.nps.gov/history/online_books/explorers-settlers/sitee18.htm
Last Updated: 22-Mar-2005