---
Survey of Historic Sites and Buildings
ST. LUKE'S CHURCH
Virginia



Location: Isle of Wight County, on U.S. 258, at Benns Church.
Ownership and Administration. Historic St. Luke's Restoration, Inc., Smithfield.
Significance. This venerable structure, originally called the "Old Brick" or "Newport Parish" Church, is probably the best surviving example of 17th-century Gothic architecture in the United States. Its construction may have begun in 1632, for that year is incised on some of the bricks. In any event, the church doubtless replaced a wooden structure built a decade earlier.
Laid in Flemish bond in a single nave plan approximately 24 by 60 feet, the brick church took about 5 years to complete. Installation of the permanent interior fittings took longer, possibly as much as 25 years. About 1657, Col. Joseph Bridger, a prominent parishioner, brought over several artisan members of the Driver family from England to complete this work. During the last quarter of the century, a third story was added to the existing church tower, possibly by second-generation members of the Driver family.
Various architectural changes were made during the 18th century. When the Anglican Church in Virginia was disestablished, in 1785, St. Luke's was used only for occasional services and was not properly maintained. Rehabilitated in 1821, it remained in use for 15 years, being abandoned a second time when Christ Church in Smithfield, 5 miles away, was completed. After a half-century of disuse, a violent storm in 1887 collapsed the roof and part of the east gable. A partial restoration was made soon after under the auspices of the Reverend David Barr, but in 1953 the foundations were discovered to be crumbling. During the next 4 years, the foundations were repaired and the church was completely restored.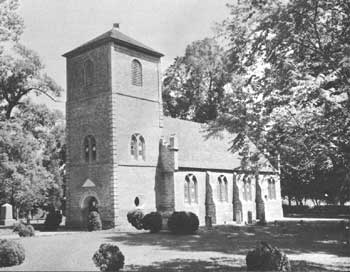 St. Luke's Church, Virginia, begun about 1623, is a noteworthy example of 17th-century Gothic architecture. It has been carefully restored to its original condition.
Present Appearance. The church has been carefully restored to its 17th-century condition, except that the commemorative stained glass windows added in the late 19th century have not been replaced. The exterior work included permanent shoring of the foundations, reopening the base of the tower, altering the east stepped gable, and repointing the masonry. Interior restoration was extensive, including a timber roof erected with Gothic tie-beams; a floor of square brick; 17th-century rood-screen, chancel rail, and pews; and a triple-decker pulpit. The church has been furnished with a number of rare items, including a pair of silver wine flagons dated 1683, a silver trencher-plate of 1696, chancel furnishings of 17th-century cut-velvet, a 17th-century Bernard Smith organ, and a font made from a tree trunk. Occasional memorial services are held at the church, which is open to visitors daily. [66]
NHL Designation: 10/09/60
---
http://www.cr.nps.gov/history/online_books/explorers-settlers/sitec57.htm
Last Updated: 22-Mar-2005