---
Survey of Historic Sites and Buildings
WANTON-LYMAN-HAZARD HOUSE
Rhode Island



Location: Newport County, 17 Broadway, Newport.
Ownership and Administration. Newport Historical Society, 82 Touro Street, Newport.
Significance. This house, probably built around 1695 and one of New England's best Jacobean houses, illustrates the architectural transition from the 17th to the 18th century. Its sturdy frame construction is typical of the earliest New England houses, and its elaborate structural detail and ornamentation reflect the changes that began early in the 18th century and developed into the Georgian style of the middle colonial period. Although other 17th-century structures may still stand in Newport, the Wanton-Lyman-Hazard House best reflects the architecture of the century.
The first known mention of the house dates from 1724, when Stephen Mumford transferred ownership over to Richard Ward, who in 1740 became Governor of the Colony of Rhode Island. In 1765, the house, then occupied by Martin Howard, the Tory Stamp Master of Newport, was extensively damaged during the Stamp Act riots. Subsequent repairs probably included the casing of the beams and the installation of the mantel paneling.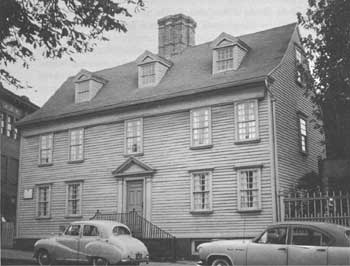 Wanton-Lyman-Hazard House, in Newport, Rhode Island, is a combination of 17th- and 18th-century architectural styles.
Present Appearance. Originally a two-and-one-half story structure, the house had rooms on both sides of the massive chimney and probably a kitchen ell on the rear. The chimney is of brick rather than stone. Because brick was not common in Rhode Island before the 18th century, the chimney represents a unique example of brickwork in the colony. The characteristically steep pitch of the roof remains unchanged. The only major changes in the house's original exterior are the addition of a lean-to across the back; the installation of dormers and sash windows; and the building of the classic doorway, which dates from 1782. The huge plaster coved cornice in the front of the roof indicates an attempt on the part of the original builder to break away from the simple treatment of the 17th century.
Purchased by the Newport Historical Society from the Hazard family in 1927, the house was restored under the direction of Norman M. Isham. In the north bedchamber may be seen the original celling beams and the massive corner posts. The house and its garden are maintained in excellent condition. Furnishings are of the 18th century, but a few earlier pieces are included. The house is open to the public from May 15 to October 15. [63]
NHL Designation: 10/09/60
---
http://www.cr.nps.gov/history/online_books/explorers-settlers/sitec54.htm
Last Updated: 22-Mar-2005