---
Survey of Historic Sites and Buildings
SAN XAVIER DEL BAC MISSION
Arizona



Location: Pima County, 2 miles west of U.S. 89, about 9 miles south of Tucson.
Ownership and Administration. Roman Catholic Church.
Significance. This is one of the finest surviving examples of Spanish mission architecture. The farthest north of the 24 Spanish missions of Pimeria Alta, it commemorates the missionary activities of the famous Jesuit padre, Eusebio Francisco Kino, its founder. In 1700, Kino established the mission, for the Papago Indians, on a site about 2 miles from the present structure. After his death, in 1711, missionary work in most of Pimería Alta was sporadic because of a shortage of priests, but the Jesuits continued their work until the Pima Rebellion of 1751. After the Spanish Government founded the presidio at Tubac in 1752, the missionaries returned. In 1762, a number of Sobaipuri Indians, who had abandoned the San Pedro Valley to the Apaches, came to San Xavier for refuge.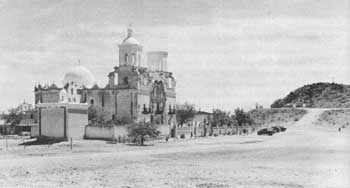 San Xavier del Bac Mission, near Tucson, Arizona. Padre Francisco Kino founded the mission in 1700, but Apaches later destroyed it. In 1797, Franciscans erected the present structure, an excellent example of Spanish Renaissance architecture.
In 1767, the Spanish Crown expelled all Jesuits from the missionary field. Franciscans then carried on the mission work in Pimería Alta, but soon after they occupied San Xavier the Apaches destroyed it. The Franciscans promptly began rebuilding the mission in its present location and consecrated it in 1797. In 1813, the Spanish secularized it. A decade later, when the Mexican regime took over, the few remaining padres abandoned it. In 1857, the Franciscans reoccupied it, after the lands south of the Gila River had passed to the United States under the terms of the Gadsden Purchase (1853). Early in the present century, the Catholic Church began restoration and followed the old plans to a large extent, except in the atrium and dormitories. San Xavier is still an active parish church, attended mainly by Papago Indians.
Present Appearance. San Xavier is distinguished architecturally and artistically. The well-preserved buildings are constructed of burned adobe brick and lime plaster, in Spanish Renaissance architectural style. This style is typified by the lavish baroque churches of Mexico, of which San Xavier is the only example within the United States. [4]
NHL Designation: 10/09/60
---
http://www.cr.nps.gov/history/online_books/explorers-settlers/sitec4.htm
Last Updated: 22-Mar-2005