---
Survey of Historic Sites and Buildings
ACOMA PUEBLO
New Mexico



Location: Valencia County, on N. Mex. 23, about 13 miles south of U.S. 66.
Ownership and Administration. Acoma Tribal Council and Roman Catholic Church.
Significance. This pueblo, spectacularly perched on a prominent mesa 357 feet above the plains of western New Mexico, is believed to be the oldest continuously inhabited settlement in the United States. Probably occupied as early as A.D. 1200, it possesses important historic and prehistoric values. Several 16th-century Spanish exploring expeditions visited it, including Alvarado, one of Coronado's lieutenants, in 1540; Rodriguez and Chamuscado, in 1581; Espejo, in 1583; and Oñate, in 1598.
In part because of their defensible location, the Acoma Indians were persistently hostile during the Spanish period. This pueblo, probably more than any other in the Southwest except Taos, exemplifies native resistance to Spanish rule. In December 1598, the residents lured Capt. Juan de Zaldívar, one of Oñate's officers, into the pueblo and murdered him and 14 of his men. Two months later the Spanish retaliated. Capt. Vicente de Zaldívar, brother of the slain Juan, led a force of 70 soldiers against the fortress-like rock. In a bitterly fought battle, the Spaniards stormed the mesa, captured and partially burned the pueblo, and killed about 1,500 of the inhabitants.
Although Acoma was assigned a mission in 1598, the hostility of the Indians prevented its construction for 30 years. In 1629, Fray Juan Ramírez, a Franciscan, founded Estévan del Rey Mission. During the Pueblo rebellion of 1680, the Acomas murdered the resident priest, Fray Lucas Maldonado. Following the reconquest, in 1692, they successfully resisted an attack by Don Diego de Vargas and held out until induced to surrender in 1699. The mission of San Estévan had suffered relatively little damage during the rebellion, and continued to serve the pueblo during the remainder of the Spanish period.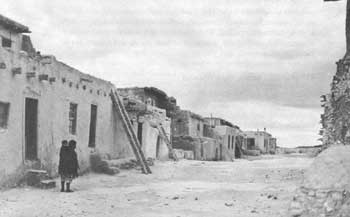 Acoma Pueblo, New Mexico, dates from prehistoric times. In the 16th and 17th centuries, it was a center of native resistance to Spanish rule. Only a handful of Indians live in the pueblo today. (Courtesy, New Mexico State Tourist Bureau.)
Present Appearance. Acoma today is nearly deserted, only a handful of people residing there; the rest of the Indians live at Acomita, 15 miles distant, and gather at Acoma for periodic festivals. The pueblo is little altered from its prehistoric character. Recent construction blends with the old. The church of San Estévan, still used at festival time, is constructed of plastered stone and adobe, as are the adjacent convento and other mission buildings, which are partially in ruins. San Estévan is one of the least altered of New Mexico missions. Measuring 150 by 40 feet, it is also one of the largest. The Acoma Indians keep the church and pueblo in good repair. Admission fees are charged to visit the pueblo and church and to take pictures. Guide service is provided. [42]
NHL Designation: 10/09/60
---
http://www.cr.nps.gov/history/online_books/explorers-settlers/sitec37.htm
Last Updated: 22-Mar-2005