---
Survey of Historic Sites and Buildings
WHIPPLE HOUSE
Massachusetts



Location: Essex County, 53 S. Main Street, Ipswich.
Ownership and Administration. Ipswich Historical Society, 53 S. Main Street, Ipswich.
Significance. This house, one of the earliest surviving in New England, clearly demonstrates the development of a 17th-century dwelling over the centuries. Its three distinct units reflect the evolution of workmanship and architectural detail as the Whipple descendants grew away from their English origins. The original portion of the house may have been built as early as 1638, but the earliest documented date is 1650, when an earlier sale from John Fawn to John Whipple was confirmed.
The original portion of the house was a two-story, two-room structure, which had casement windows and a thatched roof. At one end of the lower room are the entrance door, great chimney, and stairway to the large sleeping chamber on the upper floor. The sleeping room may have been divided originally by a partition. The original building was the lifetime home of the first John Whipple, a leader of some distinction in the settlement of Agawam, later Ipswich, and in the Massachusetts Colony. He served as deputy of the General Court in Boston, and held the offices of selectman, deacon, and ruling elder at the church in Ipswich.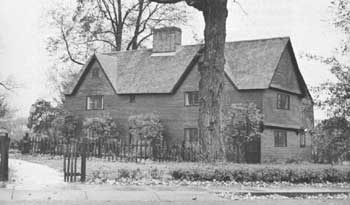 This 17th-century dwelling, the Whipple House, originally had only two rooms. As the Whipple family grew and prospered, they added to the house.
Whipple's son, also named John, continued the family tradition of public service. He served as a representative to the General Court and as an officer during King Philip's War of 1675-76. In 1670, a year after his father's death, the captain added a second unit to the house, more than doubling its size, as well as a hewn overhang to each story at the east end. The rooms of the addition contained triple-light windows, fine molded framing timbers, and summer beams uniquely crossed at right angles. On the death of Capt. John Whipple, the executors of his will appraised the house, as well as 2-1/2 acres of land, kiln, and outhouse, at £330; even at that early period, the house was an unusually valuable property. The structure assumed today's form when its next owner, still another John Whipple, added a lean-to at the back, sometime after 1700.
Present Appearance. The restoration and preservation of the Whipple House have involved a minimum of alteration. The house is in excellent condition and is exceptionally well furnished from a period standpoint. Maintained as a historic house museum, it is open to the public. [33]
NHL Designation: 10/09/60
---
http://www.cr.nps.gov/history/online_books/explorers-settlers/sitec30.htm
Last Updated: 22-Mar-2005