---
Survey of Historic Sites and Buildings
PARSON CAPEN HOUSE
Massachusetts



Location: Essex County, off the Village Green and Mass. 97, Topsfield.
Ownership and Administration. Topsfield Historical Society, 70 Central Street, Topsfield.
Significance. This house, whose setting and interior are superb, is not only a perfect specimen of a New England colonial residence, but also of the English manor house in America. Erected in 1683, a date verified by inscriptions in two places on the oak frame, it eloquently reflects its English heritage. The skill of workmanship indicates the efforts of craftsmen trained in England. Except for the clapboards in place of half timbers, the house is a faithful counterpart of the English manor house of the 17th century. The Reverend Joseph Capen, minister at Topsfield for many years, had it built on a 12-acre plot given him by the town in 1682.
Present Appearance. The house framework consists of heavy oak timbers mortised and tenoned and held in place by wooden pins. The foundation timbers rest on an underpinning of unmortared field stones. The second story overhangs far out in the front, and the third story projects at each end, the overhangs being supported by wooden brackets. Carved pendants decorate the overhang corners of the building.
The staircase which winds up before the chimney in the entry has its original newel post and turned oaken balusters. The exposed brick work of the chimney in the entry indicates the early construction of the house. The parlor and somewhat smaller hall, or kitchen, constitute the lower floor. The walls are wainscoted in a fashion typical of the period, and the hall is dominated by the fireplace, more than 8 feet wide, which has rounded back corners and a large flue. The floor has characteristic wide boards, sanded smooth.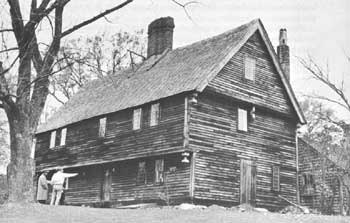 Erected in 1682 by Rev. Joseph Capen, minister at Topsfleld, Massachusetts, the Parson Capen House is a noteworthy example of a New England colonial dwelling and 17th-century manor house.
Acquired by the Topsfield Historical Society in 1913, the house was restored under the direction of George F. Dow. The frame timbers are original, but much of the woodwork, inside and out, has been replaced. Furnishings are of the 17th century and include a food hutch, which antiquarians have called unique in America, and a baluster-back arm chair inscribed "P. Capen 1708," believed to have been part of the wedding furniture of Priscilla Capen, the parson's daughter. The house is maintained in excellent fashion, and is open to visitors during the summer. [29]
NHL Designation: 10/09/60
---
http://www.cr.nps.gov/history/online_books/explorers-settlers/sitec27.htm
Last Updated: 22-Mar-2005