---
Survey of Historic Sites and Buildings
FAIRBANKS HOUSE
Massachusetts



Location: Norfolk County, Eastern Avenue and East Street, Dedham.
Ownership and Administration. Fairbanks Family in America, Inc., Fairbanks House, Dedham.
Significance. This is perhaps the oldest framehouse standing in the United States and an excellent example of the "growing house" of colonial times. The original portion of the house was built about 1637 or 1638 by Jonathan Fayerbanke, who moved to Dedham from Boston in September of 1636. The center portion of the present house is the oldest. As Fayerbanke added to his wealth and land, he added to the size of his home.
The original house consisted of a small porch, hall, and parlor downstairs, and bedchambers upstairs. A lean-to was later added at the back of the house and, perhaps in 1641, a wing on the east side. Still later, around 1654, the west wing was added. The two wings, which have typical New England gambrel roofs, were undoubtedly completed no later than the time of Fayerbanke's death, in 1668.
From the entry porch in the original portion of the house, stairs lead around the chimney to two second-floor bedrooms. The east wing is entered by a small porch in the angle where the wing joins the original house. This wing has a parlor and small bedroom on the lower floor, and a large second-floor room which is reached by a winding stairway. The west wing, which is entered from the hall of the original house, was probably used as sleeping quarters by laborers on the farm. Some authorities believe that the original house was built with oak timbers brought from England—a custom of emigrants that originated in the need to erect houses quickly for defensive purposes.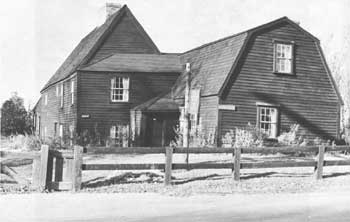 Fairbanks House, Massachusetts, may be the oldest surviving framehouse in the United States. Jonathan Fayerbanke built the original section of the house about 1637 or 1638.
Present Appearance. The Fairbanks House, which has always been in the possession of the Fairbanks family, is open to the public. It is furnished with family heirlooms. In spite of interior alterations occasioned by repairs, plastering, painting, and wallpapering, the antiquity and authenticity of the structure is obvious even to the casual observer. The house is excellently maintained—a labor of love on the part of the Fairbanks descendants, for whom the dwelling is a family shrine. [27]
NHL Designation: 10/09/60
---
http://www.cr.nps.gov/history/online_books/explorers-settlers/sitec25.htm
Last Updated: 22-Mar-2005