---
Survey of Historic Sites and Buildings
URSULINE CONVENT
Louisiana



Location: Orleans Parish, 1114 Chartres Street, New Orleans.
Ownership and Administration. Roman Catholic Church.
Significance. This convent is not only of historical and religious importance, but is also architecturally significant as a Louis XV public building. It is one of the few remaining links with the beginnings of the great capital of French Louisiana. Shortly after New Orleans was founded, a group of Ursuline nuns arrived from France, in 1727, to establish a convent that would "relieve the poor and sick and provide at the same time for the education of young girls."
The first building of the Ursulines was replaced by the present one, built during the period 1748-52. The nuns abandoned it in 1824 and presented it to the Bishop of New Orleans, who used it as his residence. In 1848, a section of the building was demolished to permit construction of St. Mary's Catholic Church, but it remained the episcopal residence until 1899. Subsequently it served as offices for the archdiocese and as a seminary for priests and in 1924 was extensively remodeled.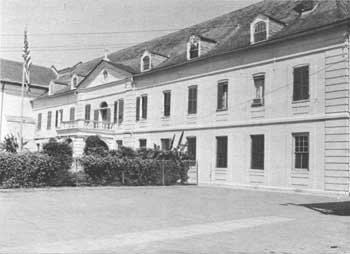 Ursuline Convent, in New Orleans, constructed in 1748-52, is one of the few extant buildings in the Vieux Carré dating from the French period.
Present Appearance. The Ursuline Convent serves today as the rectory for St. Mary's Italian Church, whose parish is responsible for its upkeep. Unfortunately, lack of funds has prevented the rector from doing little more than maintain the status quo. In 1963, some interior refurbishing was done, but no extensive restoration work is planned for the near future. The structure appears to be basically sound. [25]
NHL Designation: 10/09/60
---
http://www.cr.nps.gov/history/online_books/explorers-settlers/sitec23.htm
Last Updated: 22-Mar-2005