---
Survey of Historic Sites and Buildings
GRAND PORTAGE NATIONAL MONUMENT
Minnesota



Location: Cook County, on U.S. 61, about 38 miles northeast of Grand Marais and 49 miles southwest of the Canadian cities of Fort William and Port Arthur, Ontario; address, P.O. Box 668, 315 So. Broadway, Grand Marais, MN 55604-0668.
This 9-mile portage route, connecting the Great Lakes with the interior network of waterways, was probably used by the Indians before the arrival of Europeans. The first recorded visit of a European was that of La Vérendrye, in 1731, who called it the Grand Portage and inferred that it was already well known by that name. From then until the French and Indian War, French traders pushed farther and farther into the Canadian Northwest, and practically all of the traffic passed over the Grand Portage. Voyageurs landed trade goods from large lake canoes at a post on the shore of Lake Superior and prepared them for portage to Pigeon River and conveyance into the interior in smaller canoes.
The period of most active use of Grand Portage was after 1783, when the famous North West Company was formed and some 20 years after the British had taken over Canada. The log stockade at Grand Portage was especially busy every July and August, when the brigades bringing goods from Montreal met the trappers and traders coming in from their posts scattered throughout the region. Employees received—and largely spent—their annual wages, and the company held its annual meeting.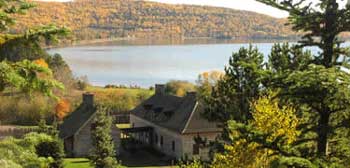 Grand Portage National Monument.
The North West Company established Fort Charlotte where the portage came into Pigeon River, as well as a stockaded lake post that served as a central depot at Lake Superior. Other firms maintained rival posts in the vicinity, but their history is obscure. After 1803, when the North West Company established Fort William on the Kaministiquia, Grand Portage rapidly declined in importance. John Jacob Astor's American Fur Company built a post there after the War of 1812, which for a while was a central station in the Lake Superior fishing industry. Eventually proving unprofitable, it was abandoned, apparently in the 1840's.
In 1922, historians explored and mapped the portage route and discovered the remains of the principal posts. In 1936-37, the Minnesota Historical Society directed archeological work at Grand Portage, and the following year the stockaded lake post was reconstructed under the auspices of the Bureau of Indian Affairs, U.S. Department of the Interior. The National Monument was established in 1960 following conferences with the Minnesota Chippewa Tribal Council and the Grand Portage Band of the Chippewa Tribe, through whose reservation the route passes. Additional archeological investigation and restoration work was begun in 1962.
---
http://www.cr.nps.gov/history/online_books/explorers-settlers/sitea20.htm
Last Updated: 22-Mar-2005