---
Survey of Historic Sites and Buildings
DE SOTO NATIONAL MEMORIAL
Florida



Location: Manatee County, on Tampa Bay, 5 miles west of Bradenton; address, P. O. Box 15390, Bradenton, FL 34280-5390.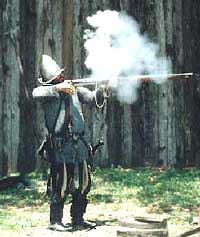 Conquistador firing 16th century matchlock musket.
This memorial commemorates De Soto's landing with a 600-man army in Florida on May 30, 1539. The exact site of the landing is not known, but it was probably between Tampa Bay and Estero Bay (Fort Myers). De Soto was the third Spaniard to lead an expedition into Florida. Ponce de León, as early as 1513, had accomplished some initial land and sea exploration. In 1528, Pánfilo de Narváez and 400 colonists had landed at Tampa Bay and marched overland to the vicinity of Apalachicola Bay, where they built small boats and sailed westward in the gulf.
De Soto's expedition is especially significant because—more than 60 years before the first permanent English settlement, at Jamestown—during the period 1539-43 it explored 4,000 miles of wilderness through out the present Southeastern United States. Penetrating as far as Oklahoma and east Texas, it gained for Spain a broad and valuable knowledge of the interior lands and peoples. When De Soto died near the Mississippi River, his lieutenant, Luís de Moscoso, completed the exploration.
De Soto National Memorial was established in 1949. To commemorate the 400th anniversary of De Soto's landing, in 1939 the National Society of Colonial Dames of America erected the De Soto trail marker, located at Shaw's Point, which overlooks the mouth of the Manatee River.
---
http://www.cr.nps.gov/history/online_books/explorers-settlers/sitea10.htm
Last Updated: 22-Mar-2005