Death Valley

---

Historic Resource Study
A History of Mining

SECTION III:
INVENTORY OF HISTORICAL RESOURCES THE WEST SIDE
---
B. Emigrant Wash and Wildrose Canyon (continued)
2. Wild Rose Mining District (continued)
i) Sites (continued)
(15) Gold King Mine
(a) History
The original location of the Gold King lode was made on 29 August 1936 by C. O. Mittendorf, who, along with a fellow Los Angelan, P. H. Greer, bought the property formerly leased by Walter M. Hoover of Lone Pine. [184] Serious mining activity on the site apparently began in 1938, after 200 tons of ore from the mine, whose showings were said to be unusually. good, had been found to run $25.50 per ton at the mill. This encouraging discovery spurred development and resulted in the opening of an extensive ore body by early 1939. As a result the owners decided to send a test run of one thousand tons of extracted ore to the Golden Queen Mill south of Mojave, over 150 miles away, in order to determine the type of milling most suited to this particular ore. Seven ore trucks were needed for the long haul to Lone Pine and then south. This circuitous route was necessitated by the distressing condition of the shorter road south through Emigrant Canyon and the Panamint Valley that made it unfit for use as a mine-to-market road. [185] During this time the Gold King was extensively developed and ore was being produced for shipment on a regular basis. On completion of loading and hauling the 1,000-ton test shipment, mine workers were given a well-deserved vacation, five men finally resuming development work again toward the end of June. [186]
In late summer the mill of the Del Norte Mining Company, which was operating near Skidoo, was anticipating the arrival of ore for treatment not only from the Del Norte Mine, but also a minimum of 300 tons a month from the nearby Gold King, [187] which, indeed, supplied most of the mill's custom work--1,300 tons of ore--until the arrival of winter forced a cessation of all mining and milling activity. [188] Shipments resumed again in April, when it was also reported that a contract had been let for sinking a new shaft at the mine. [189] The Gold King lode was patented in March 1944, but no data was found about any further mining activity over the next thirty years. A lease/option agreement was executed in 1975 between W. M. Hoover and a Mr. Crowe, with the former again acquiring leasing privileges over the site. [190] In April of this year the Gold King Extension lode was located by Hoover joining the east end of the Gold King.
(b) Present Status
The Gold King patented lode mining claim is located about one mile east of Journigan's Mill in Emigrant Canyon in the hills southwest of Skidoo, and is reached by a rough trail leading east about 6-1/2 miles south of the Emigrant Canyon Road intersection with California State Highway 190. Due to recent washing activity, the trail's merger with the Emigrant Canyon Road is difficult to detect. According to a plat of the property dated 29 May 1942 (Mineral Survey No. 6289), underground workings consisted of a discovery shaft, three short adits, and three inclined shafts, each intersected by short crosscuts, comprising an estimated total footage of 640 linear feet. Although this 1942 plat also lists such improvements as a blacksmith shop, bunkhouse, cookhouse, and office, they are not now extant. In 1975-the remains of a cabin site, a collapsed dugout, and a small powder house were found.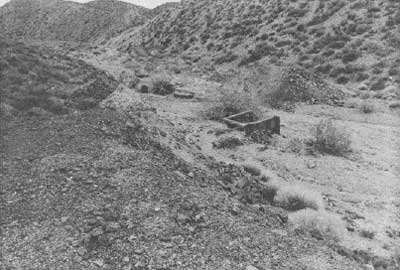 Illustration 163. View southeast of shaft and dump in wash, Gold King Mine. Photo by John A. Latschar, 1978.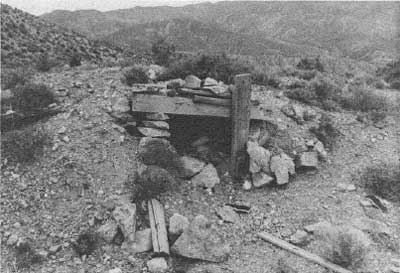 Illustration 164. Collapsed dugout on edge of wash, Gold King Mine. Photo by John A. Latschar, 1978.
(c) Evaluation and Recommendations
The Gold King Mine site has no historical significance. Early 1900 references to a Gold King Mine were found to refer to one by that name in the Bullfrog District. [191] The subject property was not developed until the 1930s, and during that time supported a small mining camp for its employees. Because the underground workings are located in a wash, they have been filled in through the years with sand, gravel, and silt, making the site fairly safe for monument visitors, probably few of whom, however, are aware of its existence. The small powder house and dugout ruin, if still on site, do not appear to pose safety hazards.
---
---
deva/hrs/section3b2o.htm
Last Updated: 22-Dec-2003