Death Valley

---

Historic Resource Study
A History of Mining

SECTION III:
INVENTORY OF HISTORICAL RESOURCES THE WEST SIDE
---
B. Emigrant Wash and Wildrose Canyon (continued)
2. Wild Rose Mining District (continued)
i) Sites (continued)
(13) Journigan's Mill
(a) History
The early history of activities on, and ownership of, this site, located in the Panamint Range two miles south of Emigrant Spring on the west side of the Emigrant Canyon Road, is a rather confusing chronicle of the juggling of titles to water rights to any or all of the six springs located near the mill site. These springs and the mill site were involved in intermittent mining and milling operations from at least the early 1920s through the early 1970s. According to a monument memo a one-stamp mill was processing Skidoo ore here around 1909, but this allegation was not substantiated by data found during the course of this study. Carl R. Suksdorf and Frank (Shorty) Harris purportedly ran a ball mill here in 1918 while performing custom work for miners in the vicinity. Suksdorf, at least, was still in control of the property in April 1923 when he filed for the water rights to the six nearby springs (Green, Canyon, Burro, Malapi, Burns, and Willow) for use at his five-acre Gold Dollar Millsite and camp where he was presumably processing ore from his Gold Dollar Mine about one mile northwest of Skidoo. This application was revoked in February 1926 for failure to develop the water source and use it beneficially. In 1924 Shorty Borden and Harris are said to have run a five-stamp mill on the site to process ore from Skidoo and the Poppy Mine. [173]
A Dr. Archibald owned the property in 1926 and a Mr. Hoover was milling there until 1932. Beginning in 1934, prompted by passage of the Gold Reserve Act, gold mining activity in the United States began to accelerate with the increase in the price of gold to $35 per ounce. In March of that year Roy Journigan, E. L. Journigan, and L. E. Steinberger located the five-acre Gold Bottom Mill Site Claim. (No chain of title exists between Suksdorf and Journigan, the latter not relocating the Gold Dollar Millsite, but merely locating in the same general area.) Roy Journigan acquired the interests of his partners in the mill site sometime prior to April 1939 and possibly as early as May 1937 when he applied for the water rights to Green, Burro, Willow, and Burns springs for use at the Gold Bottom Mill Site, which at present was receiving an insufficient supply from just one spring in the area. On 20 December 1937 the Journigan Mining and Milling Company requested a permit to construct a small pipeline to divert these waters to the mill across monument property. This group of springs evidently supplied Journigan's Mill up until World War II.
Many formerly productive gold mines in the Death Valley and surrounding regions opened up again during these prewar years, given impetus by the presence of a custom mill in the area. As a result, Journigan and Judge Gray, operator of the Skidoo Mine, entered into a business arrangement for the reduction of the latter's ores at the former's custom mill, which was also processing ore hauled by truck from the Cashier Mine at Harrisburg. [174]
In January 1937 Roy Journigan secured a lease on the Skidoo Mine, about 2-1/2 airline miles northeast of his mill, from the Gray and Worcester Mining Company, which had operated the mine for the last two years and used Journigan's Mill to process the ore. Journigan employed five men to work the old stopes on the property, and old dump tailings were also being hauled to Journigan's amalgamation and cyanide plant for treatment. Machinery at the plant consisted now of a twenty-five-ton ore bin, a 6 in. by 8 in. Blake crusher, a twenty-five-ton fire ore bin, a 3 x 4 ft. Straub cone-type ball mill, seven 14 x 5-ft. cyanide tanks, 4 x 8-foot amalgamation plates, and four-compartment zinc boxes, the entire operation being powered by a fifteen h.p. Fairbanks-Morse gasoline engine. Four men were employed working the Skidoo ore and performing custom work for other mines in the area. The plant's capacity was twenty-five tons per day. [175]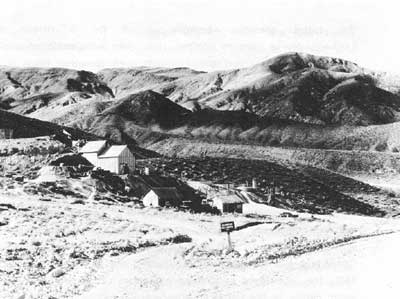 Illustration 156. Journigan Mining and Milling Co., 1935. Note stamp mill to right of lower entrance road. Photo by George Grant, courtesy of DEVA NM.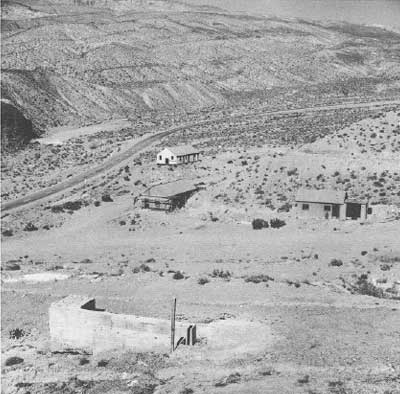 Illustration 157. Buildings on mill site south of plant, 1962. Photo by Matt Ryan, courtesy of DEVA NM.
On 14 April 1939 Roy Journigan and his wife Mary agreed to sell the Gold Bottom Mill Site to J. E. O'Donnell, who assigned the agreement to C. O. Mittendorf, who, on 12 February 1940 proceeded to assign his interest in the 14 April agreements to the Del Norte Mining Company, a Nevada corporation. The Del Norte Group of mines, just north of the Skidoo Mine operation, had been the site of an important low-grade gold ore discovery in 1936, and a short while later were being actively developed, the ore being trucked to the Keeler Gold Company's mill for treatment. During World War II, on 20 May 1943, the Journigans quitclaimed all interest in the mill site and the water rights to the Del Norte Company, [176] whose owners were John M. Rogers, Joe Stivers, and Roy C. Troeger. According to the Journal Stivers and Rogers used the water from the springs acquired in their purchase to operate the mill at Skidoo.
On 1 March 1951 the Del Norte Corporation quitclaimed a 45/100 undivided interest in the mill site and its other property to Joe W. Stivers and a 55/100 undivided interest to Roy C. Troeger. These two, in turn, leased the Gold Bottom Mill Site Claim on a year-to-year basis to James H. Bennett and Max Barginski, who proceeded to locate three other mill sites--the B & B, B & B #1, and B & B #2--contiguous to each other and to the Gold Bottom Mill Site and located up the Burro Canyon branch off Emigrant Canyon toward the mill water sources. The B & B Group was later quitclaimed to Art Detloff. [177]
On 28 November 1953 the Gold Bottom Mill Site and other properties were quitclaimed to Art Detloff and Donald A. Dobbins, who by the next year were busy rebuilding the mill site, which by now consisted of only a few tanks and buildings. A crew of married men and their families were constructing houses and erecting concrete foundations and piers for the cyanide solution plant. The mill was expected to be in operation in three to four months and producing 100 tons per day. The milling process involved sending Skidoo ore through a 16 x 24-inch Wheeling crusher to two 36-inch Allis-Chalmers rolls that would reduce the rock to 1/4-inch size. From there it would go to a large Harding ball mill and be ground to a hundred mesh, then on to agitation in a cyanide solution tank. It would then be pumped in sequence to three Dorr thickeners, two of them sixty feet in diameter and twelve feet high. The recovered gold, in solution, would then be pumped from the tanks through an automatic Denver gold precipitation unit in a locked room. The gold would then be retorted into bullion bricks and shipped to the mint. Tailings would go to the Oliver filters and be conveyed by belt to the dump. The Skidoo ore was being mined by the Golden Queen Mining Company of Mojave, who had extensively sampled the Skidoo ore bodies and found them ranging in value from $14 to $28 per ton. Already 250,000 tons of the ore were ready for breaking and to be hauled to the mill, hauling and milling expenses totalling about $7.50 per ton with gold recovery running about 90%. The profit on a 100-ton-per-day schedule was expected to be $7 per ton. [178] Detloff also filed on another mill site, called the "Detloff," adjoining the Journigan site and northeast of it in November 1953. The camp buildings were located on this later claim.
Meanwhile, on 9 March 1954, Joe Stivers and his wife quitclaimed to Roy C. Troeger all their rights in the mill site and other property. [179] By 1959, because Detloff and Dobbins defaulted in the payment of royalties and in other particulars, their Gold Bottom lease was terminated and they quitclaimed all their interests in the mill site to Troeger in February. [180] In September of that year the machinery at Journigan's Mill was purchased by the Argentum Mining Company and was dismantled and moved to Columbia Flats, Nevada, southwest of Mina. Only the two water tanks were left. By 1960 the "Detloff Mill," owned by Roy Troeger, was considered an eyesore, largely due to the ramshackle condition of the remaining buildings.

Illustration 158. Journigan's Mil' ruins. California State Route 8 in background. Photo by Linda W. Greene, 1978.
From 1962 to 1964 a contractor, Carl Dresselhaus, and his crew, who were performing annual assessment work on the Del Norte and Skidoo claims, held water rights to Burro Spring, but no milling activity was taking place here. On 1 May 1967 Roy Troeger deeded to David E. and Elisabeth Hinckle an undivided 25% interest in the mill site and his mining claims. (Troeger held the remaining 75% undivided interest until his death in 1973.) [181] Also in 1967 Troeger entered into a use agreement on the Gold Bottom Mill Site with the unregistered Nemo Silver Corporation, O. L. Heironimus, president. This company, which in the lease obtained water rights to one of the nearby springs, intended to install pipelines from the springs to connect to the remaining cyanide tanks. Heironimus and his partner Bill Stapleton then would attempt to cyanide the tailings dump, and hopefully the gold and silver recovered would provide them with enough capital to mine their gold and silver claims in Nemo Canyon. At that time the property supported a frame building, two 25,000-gallon water tanks, and eight old concrete cyanide tanks. [182] This appears to have been the last spate of activity on the site.
(b) Present Status
The only building remaining on the site today is a large white plywood building covered with tarpaper and with a composition-paper roof. Originally it appears to have been divided into three rooms. Inside are a mattress, bedsprings, and an old icebox. Southeast of this structure are wooden foundations of another building, identified in one photograph found by the writer as a CCC building. Northwest of the first building are two cement foundations for other structures (see Illus. 157). Further northwest and around the point of a ridge are the ruin of a collapsed residence and some old car wreckage.
The mill site itself consists of two steel water tanks, an extensive layout of concrete foundations and machinery pillars, and seven concrete cyanide tanks. The concrete ruins are in stable condition.
(c) Evaluation and Recommendations
The Journigan's Mill ruins are considered eligible for inclusion on the National Register of Historic Places as being of local significance. The site has been used sporadically for milling purposes from the first decade of the twentieth century up until the early 1970s--the longest continuous usage of a site for milling-related activities within the monument. In addition to its early association with such Death Valley luminaries as Frank Harris and Shorty Borden, it is especially significant because as the largest and best-equipped custom mill in the Wildrose area, its presence in the 1930s stimulated gold-mining activity around Emigrant Spring and provided impetus and encouragement to the reopening of mines in the Skidoo/Harrisburg areas by cutting down markedly on their production costs. Journigan's Mill is the largest ruin of an amalgamation and cyanide plant of the 1930s-1950s period left within the monument boundaries.
The concrete ruins are in good shape and do not require stabilization work. The erection date of the frame building on the site is uncertain, though it appears in a 1954 picture. It might have been one of the structures erected during the Dobbins-Detloff period of ownership in the early 1950s, An interpretive sign on this site presenting a capsulized account of the mill's operation and perhaps an early picture would be of great value, since visitors passing by now have little idea of the type of structure that once stood here.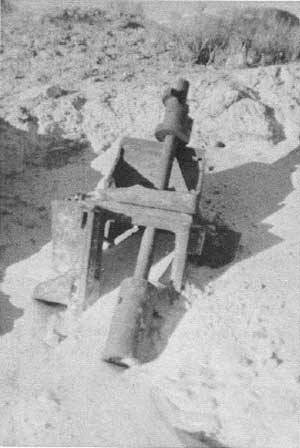 Illustration 159. View south down California State Route 8 of Journigan's Mill cyanide tanks. Foundations in preceding photo are up hill to right. Photo by Linda W. Greene, 1978.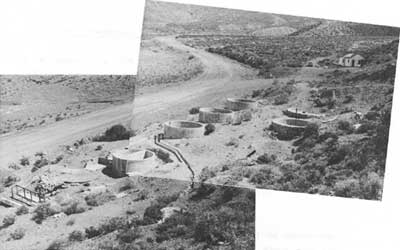 Illustration 160. Stamp lying on bank by side of road below cyanide tanks. Photo by Linda W. Greene, 1978.
---
---
deva/hrs/section3b2m.htm
Last Updated: 22-Dec-2003