Death Valley

---

Historic Resource Study
A History of Mining

SECTION III:
INVENTORY OF HISTORICAL RESOURCES THE WEST SIDE
---
B. Emigrant Wash and Wildrose Canyon (continued)
2. Wild Rose Mining District (continued)
i) Sites (continued)
(8) Napoleon Mine
(a) History
The Napoleon and Napoleon Nos. 1-2 quartz claims, situated one-half mile south of Harrisburg, were located by Pete Aguereberry on 1 January 1911 and recorded on 24 January. The location date of the Napoleon No. 3 was not found in the record books, but it was probably several years later, since it was not filed for record until 14 September 1935. [103] The Napoleon No. 1 is east of the Napoleon Claim and the No. 2 is south of it. The No. 3 joined the Napoleon No. 2, but on which side is unknown. The only reference to these claims in the literature was found in Pipkin, who was evidently told by Pete that after he had done some development work on the Napoleon he leased the claim to two men who reportedly removed $35,000 in gold ore from the mine within a six-month period and then abandoned it, leaving it ruined by improper timbering and gopher holing. [104] This large a sum seems open to. question. In 1946, when Pete's estate was settled, ownership of the Napoleon Nos. 1-4 was divided among the heirs, Ambroise Aguereberry receiving an undivided one-half interest, and the other half being given equally to Joseph, Arnand [Arnaud], James Peter, Mariane, and Catherine Aguereberry. [105]
The Napoleon Group is mentioned in the Journal of Mines and Geology in 1951 as comprising four unpatented claims, the Napoleon Nos. 1-4, owned by Ambroise Aguereberry of Trona, California. Development consisted of an 80-foot-deep inclined shaft and several adits, all within an 8O0-foot radius. Most of the ore mined has been removed from three adits southwest of the shaft. During sporadic operations from 1937 to 1939 lessees had shipped fifty-five tons of gold- and silver-bearing ore to custom mills, but the operation was currently idle. [106]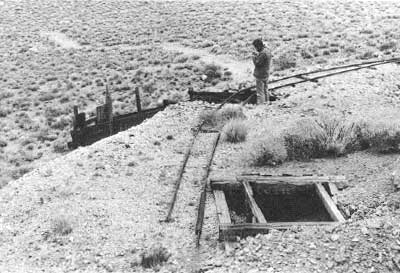 Illustration 144. Shaft, tram rails, and ore chute at Napoleon Mine. Photo courtesy of William Tweed, 1975.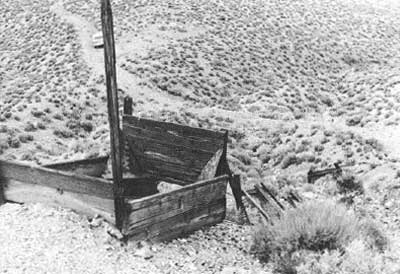 Illustration 145. Ore bin and collapsed chute southwest of main adit, Napoleon Mine. Photo courtesy of William Tweed, 1975.
(b) Present Status
The Napoleon Mine is situated on the north side of a ridge about one mile south-southwest of the Cashier Mine workings. The site consists of two working levels--the lower containing a main adit and an ore chute, with a timbered vertical shaft between, some dry-stone retaining walls, and the remains of a mine tramway. Uphill about one-quarter mile southwest of this first complex are a second ore bin with a collapsed chute and several adit entrances. Purple glass has been found on this site.
(c) Evaluation and Recommendations
The Napoleon Mine has no significance except for its association with Pete Aguereberry, which is minimal. The writer does not recommend that it be included within the boundaries of the proposed Harrisburg Historic District. The site does not offer potential for further research or historical archeology.
---
---
deva/hrs/section3b2h.htm
Last Updated: 22-Dec-2003