Death Valley

---

Historic Resource Study
A History of Mining

SECTION III:
INVENTORY OF HISTORICAL RESOURCES THE WEST SIDE
---
B. Emigrant Wash and Wildrose Canyon (continued)
2. Wild Rose Mining District (continued)
i) Sites (continued)
(6) Bald Peak Mine
(a) History
This site, located about 1-1/2 miles northwest of Bald Peak, was not visited by this writer, both because of its inaccessibility and because it had been inspected by two members of the LCS survey crew, Bill Tweed and Ken Keane, in December 1975. The area is reached via a dirt road leading east for 2-1/2 miles from the Emigrant Canyon Road about 1-1/2 miles south of Emigrant Pass. This access was reportedly badly damaged by heavy rains in the fall of 1975.
The site appeared to Tweed and Keane to be a talc operation, dating from perhaps the 1940s or 1950s. On-site was a wooden-framed building with corrugated-metal walls and roof standing on a level platform area that was supported by a corrugated-metal retaining wall. A short distance further southeast up the canyon was a good-sized one-chute ore bin; the mine workings were located on top of the steep slope behind. [96]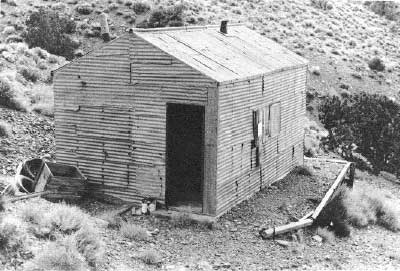 Illustration 138. Corrugated-metal cabin at mine 1-1/2 miles northwest of Bald Peak. Photo courtesy of William Tweed, 1975.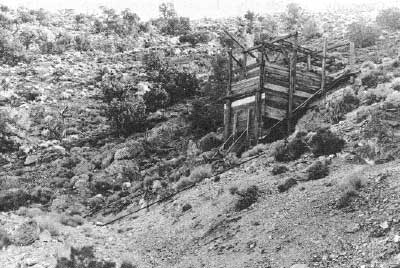 Illustration 139. Ore bin at Bald Peak mine. Photo courtesy of William Tweed, 1975.
(b) Present Status
The present condition of the mine structures is unknown.
(c) Evaluation and Recommendations
This site, probably a post-Depression Era talc operation, lacks National Register eligibility. The scarcity of data on the mine suggests little production and associative connection with any of the more important miners or mining companies that operated in Death Valley.
---
---
deva/hrs/section3b2f.htm
Last Updated: 22-Dec-2003