---
Biographical Sketches


GEORGE CLYMER
Pennsylvania

George Clymer

George Clymer, a leading Philadelphia merchant, rendered long years of service to his city, State, and Nation. He signed the Constitution as well as the Declaration, and applied his commercial acumen to the financial problems of the Colonies and the Confederation.
Clymer was orphaned in 1740, only a year after his birth in Philadelphia. A wealthy uncle reared and informally educated him and advanced him from clerk to a full-fledged partner in his mercantile firm, which on his death he bequeathed to his ward. Later, Clymer merged operations with the Merediths, prominent businessmen, and cemented the relationship by marrying his senior partner's daughter.
Motivated at least partly by the impact of British economic restrictions on his business, Clymer early adopted the Revolutionary cause and was one of the first to recommend independence. He attended patriotic meetings, served on the Pennsylvania council of safety, and in 1773 headed a committee that forced the resignation of Philadelphia tea consignees appointed by Britain under the Tea Act. Inevitably, in light of his economic background, he channeled his energies into financial matters. In 1775-76 he acted as one of the first two Continental treasurers, even personally underwriting the war by exchanging all his own specie for Continental currency.
In the Continental Congress (1776-77 and 1780-82) the quiet and unassuming Clymer rarely spoke in debate but made his mark in committee efforts, especially those pertaining to commerce, finance, and military affairs. During and between his two congressional tours, he also served on a series of commissions that conducted important field investigations. In December 1776, when Congress fled from Philadelphia to Baltimore, he and fellow signers George Walton and Robert Morris remained behind to carry on congressional business. Within a year, after their victory at the Battle of Brandywine, Pa. (Sept. 11, 1777), British troops advancing on Philadelphia detoured for the purpose of vandalizing Clymer's home in Chester County, about 25 miles outside the city, while his wife and children hid nearby in the woods.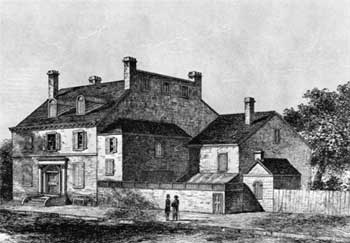 George Clymer lived in this Philadelphia townhouse during the Revolutionary period. (Pen and ink drawing by an unknown artist, from Magazine of American History, September 1880, Library of Congress.)
After a brief retirement following his last tour in the Continental Congress, Clymer was reelected in the years 1784-88 to the Pennsylvania legislature, where he had also served part time in 1780-82 while still in Congress. As a State legislator, he advocated reform of the penal code, opposed capital punishment, and represented Pennsylvania in the Constitutional Convention (1787). The next phase of his career consisted of service as a U.S. Representative in the First Congress (1789-91), followed by appointment as collector of excise taxes on alcoholic beverages in Pennsylvania (1791-94). In 1795-96 he sat on a Presidential commission that negotiated a treaty with the Indians in Georgia.
During his retirement, Clymer advanced various community projects, including the Philadelphia Agricultural Society, the Philadelphia Academy of Fine Arts, and the Philadelphia Bank. At the age of 73, in 1813, he died at Summerseat, an estate a few miles outside Philadelphia at Morrisville that he had purchased and moved to in 1806. His grave is in the Friends Meeting House Cemetery at Trenton, N.J.
Drawing: Oil, 1872, by Edward D. Marchant, after Charles Willson Peale, Independence National Historical Park.
---
http://www.cr.nps.gov/history/online_books/declaration/bio8.htm
Last Updated: 04-Jul-2004