---
Biographical Sketches


ABRAHAM CLARK
New Jersey

Abraham Clark

Abraham Clark—farmer, surveyor, self-taught lawyer, and politician—typifies those signers who dedicated most of their lives to public service but never gained national renown.
An only child, Clark was born in 1726 at his father's farm in what is now Roselle, N.J. In his boyhood, he was too frail for farmwork. He received only a minimum of formal education, but in his independent study demonstrated a bent for mathematics. When he reached manhood, besides farming his father's land, he took up surveying and informally read law to aid in mediating land disputes. Although probably never admitted to the bar, he gained a reputation as the "poor man's counselor" for his willingness to dispense free legal advice or accept produce or merchandise in lieu of a fee. He married in 1749, and fathered 10 children.
Clark followed his father's example by taking an active part in civic affairs. For many years, he served the Crown as high sheriff of Essex County and as clerk in the colonial legislature. The exact date of his entry into the patriot ranks is not known, but in the period 1774-76 he became a member and secretary of the New Jersey council of safety, attended several Revolutionary conventions, and won election to the provincial assembly. In June of the latter year, he and four other men replaced the existing congressional Delegates, who were opposing independence.
Despite poor health and deep concern for the welfare of his family and the safety of his home, located not far from an area of British occupation, Clark stayed in Congress throughout the War for Independence and sometimes sat concurrently in the State legislature. He suffered additional anxiety when the British captured his two soldier sons and incarcerated them for a time on the prison ship Jersey, where hundreds of captives perished.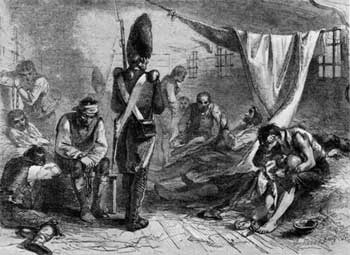 Thousands of American soldiers, including two of Abraham Clark's sons, endured the agonies of captivity on the British prison ship Jersey. (Wood engraving, by an unknown artist, after F. O. C. Darley, from Henry Howe, Life and Death on the Ocean, 1855, Library of Congress.)
At the end of the war in 1783, Clark resumed his life back in New Jersey. The next year he began a 3-year tour in the State legislature, which he represented at the Annapolis Convention (1786). The following year, ill health prevented his attendance at the Constitutional Convention. He subsequently opposed the Constitution until it incorporated the Bill of Rights. In 1787-89 he returned to the Continental Congress, but in 1789-90 remained in New Jersey as commissioner to settle his State's accounts with the Federal Government. In 1791-94 he climaxed a long career of alternating State-National service as a Representative in the Second and Third Congresses.
Clark was stricken with a sunstroke in 1794 at his birthplace in Roselle, where he had lived all his life except when political duty called him away. He died a few hours later, at the age of 68, in the nearby town of Rahway and was buried there in the Presbyterian Cemetery.
Drawing: Oil, 1873, by James R. Lambdin, after John Trumbull, Independence National Historical Park.
---
http://www.cr.nps.gov/history/online_books/declaration/bio7.htm
Last Updated: 04-Jul-2004