The Civilian Conservation Corps and
the National Park Service, 1933-1942:
An Administrative History

---

Chapter Four:
Contributions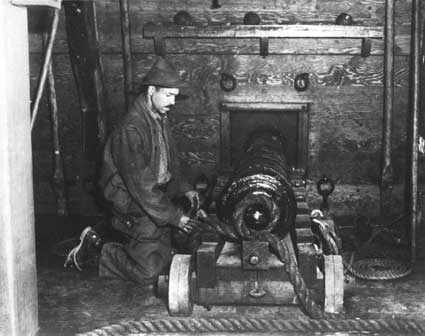 Black veteran enrollee and historical reconstruction work at Colonial National Monument.
Courtesy of the National Archives.
The CCC program presented a number of new opportunities for the Park Service in park conservation and development. CCC contributions in national and state parks were many and varied.
FIRE FIGHTING
When the ECW was established in 1933, the greatest threat to the parks was forest fires. Prior to that time the National Park Service had lacked sufficient fire-fighting personnel to contain fires and had been unable to fully implement fire protection programs within the parks. During the first year of ECW operation, enrollees began constructing firebreaks, removing deadwood, conducting other fire prevention activities, and erecting telephone lines in parks. These measures were credited for reducing forest fire losses by a total of 1,600 acres in the first nine months of 1933. [1]
On August 17, 1933, Director Fechner set a precedent for using ECW workers in local and national emergencies when he authorized ECW units to fight fires in Craig, Montana. [2] The following year refinements were made to fire-fighting programs, with specific groups of enrollees selected for fire protection training. In Glacier National Park each of the camps had a "flying squad" of 15 men and a fully equipped light truck ready for instant response in case of fire. This first crew was backed up by a 100-man squad in case the fire could not be contained by the "flying squads." Other parks had their own fire protection plans and training measures that utilized the ECW enrollees in combating forest fires. [3]
During 1935 the NPS Branch of Forestry began to publish circulars on various aspects of fire fighting and forest conservation to provide guidance on these matters to ECW supervisors. In an effort to improve administration of the fire protection program, Director Cammerer assigned a fire protection engineer to the branch to better coordinate the fire hazard reduction program and implement safety regulations and measures for the protection and prevention of accidents among the enrollees. The camps not only suppressed fires on NPS lands, but cooperated with federal and state officials in suppressing fires on lands adjacent to NPS areas. [4]
A major change in training for the fire-fighting program occurred in 1936 when the Branch of Forestry requested that the ECW regional offices send a detailed description of each of the parks' fire-fighting program to the Washington Office so that it could be evaluated and a more effective training program developed At Gettysburg National Military Park, the park conducted a fire class with the enrollees at Great Smoky Mountains National Park before the fire season. After the training, one camp in the park was designated to maintain the fire-fighting apparatus. In this camp enrollees were taught to operate the fire engine and act as hosemen. Yosemite, Yellowstone, Glacier, and Sequoia national parks gave fire suppression training to all enrollees, but designated small groups of up to 15 men as the primary fire-fighting teams. These small groups would be sent first; if they failed to suppress the fire, other enrollees would be called. The most spectacular fire fighting activity in 1936 occurred at Isle Royale, where 1,600 ECW youths were credited with saving part of the island's timber from a fire that destroyed more than 33,000 acres. [5]
The Isle Royale fire prompted changes in the Park Service fire prevention program in 1937. Each CCC camp was to have one day of fire-fighting training every month of the fire season, with one man from each camp selected to be responsible for all phases of fire protection training. The increased training for the fire protection program was directly attributed to a sharp reduction in acreage burned in national parks. In the period from January 1 through September 30, 1937, the acreage burned in national park areas amounted to 90 percent less than for the same period in 1936. [6] In 1937 the CCC continued doing tree conservation work, fire fighting, and fire prevention work. These projects were funded almost entirely with CCC funds. The most dramatic fire-fighting incident that year was on the eastern boundary of Yellowstone National Park in the Shoshone National Forest. Forest Service enrollees were assisted by 125 NPS enrollees from Yellowstone National Park in fighting the blaze. The Blackwater Canyon fire resulted in 15 men being burned to death and another 40 being taken to the hospital. While none of these were NPS enrollees, the incident caused the superintendent of Yellowstone to request that CCC enrollees be given even more extensive fire-fighting training. [7]
Partly because of the Blackwater Canyon fire, the fire-fighting training program was intensified during 1938, with fire-fighting schools established on a nationwide basis. The CCC enrollees learned fire-fighting methods and techniques, proper use of fire-fighting implements, and personal safety and discipline on the fire line. These training schools were held jointly, when feasible, between the Park Service and the Forest Service, first in the south and later in eastern, midwestern, and western park areas. [8]
The Park Service's dependency on the CCC and its funds was evident in the fire protection and other forest preservation programs. In both these areas the Park Service received regular appropriations, but these funds, in most cases, were not even enough to maintain essential services, and CCC funds were used to supplement and expand these programs. After 1939, as a result of continuing CCC program reductions and redirection to national defense programs, the National Park Service faced austerity and was forced to dramatically reduce park programs. [9]
NEXT> Insect and Fungus Control