---
MENU
---

NPS Role
---
The Civilian Conservation Corps and
the National Park Service, 1933-1942:
An Administrative History

---

Chapter Two:
The National Park Service Role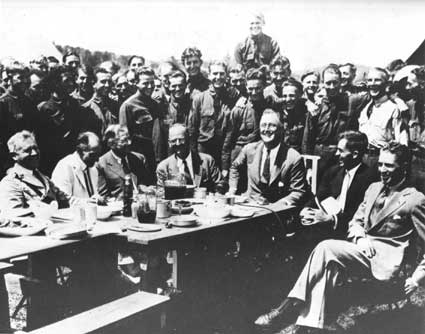 President Roosevelt and visiting dignitaries at Big Meadows Civilian Conservation Corps camp in Shenandoah National Patk. August 12, 1933.
Courtesy of the National Archives.
NATIONAL PARKS AND STATE PARKS PROGRAMS:
Establishment
Upon submission to Congress of the original ECW legislation in March 1933, National Park Service Director Horace M. Albright began to prepare his staff for the additional workload. In a memorandum to Senior Assistant Director Arthur Demaray, Albright recommended that NPS officials compile a list of parks where conservation work was required. He specifically had in mind shoreline cleanup of Jackson Lake in Grand Teton National Park and Sherburne Lake in Glacier National Park, as well as roadside cleanup in Grand Canyon National Park and Glacier National Park. The NPS staff had master plans that outlined development requirements in most of the parks for a six-year period, and they used these plans to formulate the requested work programs. [1] Director Albright requested that park superintendents make estimates for road, trail, and facility construction. He also requested that the Branch of Engineering, Branch of Plans and Design, and Division of Forestry prepare an emergency unemployment relief forestation program. Since there was insufficient time to contact all parks for input, the work tasks were determined through analysis of the parks' five-year plans, fire protection plans, and preliminary 1935 estimates for forest protection and fire prevention measures. By early April the park superintendents were completing preliminary estimates on how best to utilize the ECW workers. Prior to the receipt of the requested estimates from the parks, the San Francisco NPS design office made its own estimates for cleanup work, fire hazard reduction tasks, erosion control projects, vegetation mapping, insect control, tree disease control, forest planting, reforestation, and landscaping projects for all the parks and sent them to Washington. The NPS Washington Office (forestry or planning division) had the right of approval for any project and defined limits on certain projects according to type of work, funds to be expended on structures and equipment, need for skilled labor, and impact on park land. If the type of work was deemed inappropriate, excessive expenditures of funds were required for material and equipment, a highly skilled work force was required, or the development was too extensive, the project would not be approved. As an example, truck trails were not to exceed 12 feet in width, while horse and hiking trails were not to be over 4 feet wide. In addition, the construction of firebreaks, lookout towers, houses, shelters, and fire guard cabins, the placement of telephone lines, and the development of public campgrounds were not to exceed $1,500 per structure without express authority from the NPS Washington Office. [2]
On April 10 Director Albright designated his chief forester, John D. Coffman, to handle the details for the conservation program within the national parks, military parks, and monuments, and his chief planner, Conrad L. Wirth, to administer the state parks program. Albright had been designated by Secretary of the Interior Harold L. Ickes to represent the department at meetings of the ECW advisory council. In turn, Albright designated Coffman to represent him at advisory council meetings that he could not attend; later this authority was extended to Conrad Wirth. Chief Forester Coffman was to prepare the departmental ECW budget, assign camps within the national parks and monuments, and allocate funding. In addition, he was responsible for preparing work instructions for parks and monuments and administering an inspection program. Wirth undertook similar tasks for the state parks program. In addition, Wirth was to report matters concerning the state parks to Coffman. In this regard, Albright telegraphed all state park authorities telling them that the Park Service was the designated agency to administer the ECW programs within state parks. He asked that they send representatives to a meeting in Washington on April 6. If this was not possible, he suggested they authorize S. Herbert Evison, secretary of the National Conference on State Parks, to represent them at the meeting. [3]
NEXT> National Parks and State Parks Programs: Responsibilities