Capitol Reef

---

Administrative History

CHAPTER 6:
URANIUM, ROADS, WATER, AND OTHER PROBLEMS: 1950 - 1955
---
The years 1950-55 were transitional for Capitol Reef National Monument, with the first allocations for personnel and minor maintenance authorized, and with gradually improved roads bringing more traffic to the monument. National Park Service management was also faced with its first controversies over water, grazing, and mining.

Kelly Begins At Capitol Reef
Custodian Charles Kelly finally saw the monument officially activated on May 1, 1950. His first year's budget was a little over $6,500, most of which would pay his salary. Before he could get paid to continue the duties he had performed as a virtual volunteer for the previous six years, however, he had to pass the civil service exam. He took his exam in August 1949, failing on "experience rating." He twice appealed the decision and, with the help of former Zion National Park Superintendent Paul Franke, got the rating overturned. Kelly, now on the payroll, wrote:
After a year's probation, will be set for the next 15 years. It is the job I wanted, but thought I might be too old. We will have to live in the shack, but hope to get a new house before long. [1]
Kelly was now 61 years old; the "shack" was the old Chesnut house, his residence until his retirement nine years later. Two perks of the new job were a regular National Park Service uniform and a brand new government pickup truck, "which," observed Kelly, "bites the natives." [2]
Some of the private landowners at Fruita, particularly Max Krueger, were not pleased with Charles Kelly. The Krueger difficulties began over an inaccurate property description and ended with a U.S. marshal delivering a summons to Krueger's California home during a Christmas party. The main difficulty, however, concerned the trail down the Fremont River to Hickman Bridge. A flood in 1945 changed the course of the river, forcing hikers and horseback riders to cross Krueger's land to reach the bridge trail. Krueger, who visited his Robber's Roost Ranch (as he called it) only during his annual summer vacation, did not object to the new, informal trail, so long as the tourists left his fruit alone and closed his gates. Every couple of years, though, Krueger would get into a dispute with Kelly and post "no trespassing" signs around his property.

Meager Roads and Tourist Developments
In May 1950, funds finally became available to build a small campground. Located at the base of the rock formation known as the Castle, next to Sulphur Creek, this was to be a temporary campground with just a few tables. A little later, Kelly added some picnic tables around the schoolhouse. There were a couple of pit toilets at the old, dilapidated school, but drinking water had to be hauled from the Fremont River. [3]
Tourists were also able to stay in the still largely unfinished Capitol Reef Lodge. Begun in 1946, financial troubles had forced operator Fred Mason to struggle just to provide basic services, even though the lodge was full throughout the summers. Mason finally sold his interest to Archie Bird, whose son Clair would be a consistent irritant to park management well into the 1970s. The only other lodgings in the monument were cabins owned by Doc Inglesby, but these apparently these were reserved for "rock hounds only." Because of the increasing traffic through the area, Dewey Gifford built his own small motel between his barn and house, opening for business in July, 1954. [4]
Visitation climbed from about 8,000 visitors in 1950 to roughly 16,000 in 1953. Although the lack of accurate statistics makes more precise conclusions difficult, the steady increase in traffic through the monument was probably due to three factors:
1) increased written and word-of-mouth publicity about the area;

2) improving roads; and

3) the influx of uranium prospectors.
While the local traffic along Utah Highway 24 through the monument remained fairly constant (except in bad weather), the visitor and prospector count varied noticeably with the season. In the summer months, there could be well over 2,000 visitors to Capitol Reef, as opposed to the 10-20 intrepid travelers who came through during December or January. At a time when most tourists took their vacations in the summer, and when dirt access roads into the monument could be closed for weeks due to one storm, this seasonal visitation is not surprising. [5]
Regular tours throughout the summer months were also underway in the early 1950s. Wonderland Tours began running buses through Capitol Gorge in 1950; other, smaller groups were brought through the monument by guides Worthen Jackson, of Fremont, and Lurton Knee, of Sleeping Rainbow Ranch.
Roads continued to be the dominant problem of the early 1950s. Summer floods and winter storms played havoc on Utah Highway 24, the only through route across Wayne County. The dirt sections of the road east of Torrey would turn to a gluey soup when wet, wash out at river crossings (many of which had no bridge), or become impassable in narrow canyons such as Capitol Gorge. Local residents, travelers, and Superintendent Kelly were kept busy year-round repairing roads and bridges. When they weren't fixing the road, they were complaining about its poor condition (Fig. 11). [6]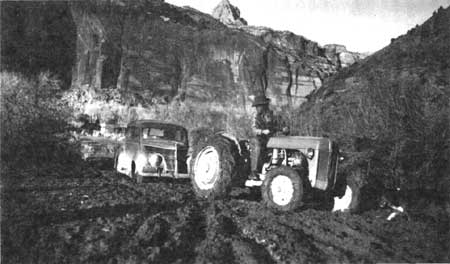 Figure 11. Road conditions at Fruita, 1948. (NPS file photo)
It is remarkable that no one was killed in one of the many flash floods through Capitol Gorge. In earlier days, local people made up most of the traffic through the gorge: they could judge weather conditions and avoid entering the gorge until the danger had passed. With increasing numbers of out-of-state visitors, however, the risk was greater that someone would ignore or misjudge weather conditions and get caught in the gorge during a flash flood. In July 1951, Kelly noted that one such flood in Capitol Gorge, "the most serious to date," stranded nine cars just short of the narrows. One car was actually caught by the water and its passengers barely escaped. If there were other narrow misses, they were not recorded by park officials. [7]
Slowly, the roads were improved. A new bridge was built across the Fremont River at Fruita in early 1951, while steel bridges at Hanksville replaced the old bridge and river ford there. In 1952, a new section of graveled road between Twin Rocks and Chimney Rock replaced a section that constantly washed out. The same year, mostly due to the Atomic Energy Commission's (AEC) push for better access to potential uranium sites, construction of an oiled road was begun between Green River and Hanksville. In the summer of 1953, the AEC spent an additional $50,000 to blast and bulldoze a road up the old Burr Trail to allow truck access to the Circle Cliffs. Also during this time, the road over Boulder Mountain, west of the monument, was widened and improved. It remained dirt and gravel across the top, though, and was closed every winter after the first significant snowfall. [8]
Yet, despite the continual promise that the road between Torrey and Hanksville would soon be paved, actual work was always postponed. Every year at meetings of the Wayne County Lions Club and the Associated Civic Clubs, local businessmen and National Park Service officials appealed to the state to begin work. Finally, in 1954, the money was allocated and work was begun to reroute and pave the section from Torrey to Fruita. Although the first portion of the road to Twin Rocks was not completed until the following year (leaving the final approach still dirt), the dream of smoother roads was coming true. [9]
Road problems, though, did not deter the Easter Sunday crowds that increased each spring as families from throughout the state came to spend the holiday in the park. By 1954, there were over 1,500 people visiting the monument on that one day, and Kelly noted almost every year how orderly and tidy the visitors were. This respect for Capitol Reef's resources may be attributed to the permanent signs Kelly erected, as well as the talks Kelly made to local groups. The superintendent had initiated an active program of slide presentations and talks about the National Park Service mission, meeting with the Lions Club and in local classrooms. [10]
These attempts to promote positive public relations with the local communities, however, were sometimes offset by the manner in which Kelly protected monument resources. Two examples were the June 1955 difficulties with a banker and part-time rancher who left a dead calf near the campground, and with the bishop of the Torrey LDS Ward, who left beer bottles along the road. Both were told to remove the offending materials and, according to Kelly, were "no longer friends of the superintendent." [11]
Confronted with increased visitation, Kelly transformed the CCC ranger residence into an office and checking station. The first National Park Service interpretive exhibit was installed there in 1953. Additional exhibits would not arrive for several more years. Kelly and the superintendents at Zion National Park had been in long negotiation to bring the Ephraim Pectol and Charles Lee archeological collections to the monument. The case was finally closed and the artifacts returned to Torrey in December, 1953, until space could be provided in Fruita. [12]

Vandalism And Natural Destruction
Superintendent Kelly was also able to hire a little help, as well. The monument's first seasonal ranger, Frank Farnsworth, of Bicknell, was hired in 1952 but moved to Arizona two years later. Dewey Gifford was hired, too, for temporary maintenance work and occasional stints as acting custodian while Kelly was away on business or vacation. [13]
For the most part, though, Kelly was on his own. Forced to be a jack of all trades, the superintendent not only managed the road and visitation issues, but also faced occasional vandalism and continual water and grazing problems that strained the fragile friendships he had forged with the residents of Fruita.
Surprisingly, with the increase in visitation, vandalism and trash seem to have been less a problem in the early 1950s than they were earlier. Kelly attributed this trend to the permanent signs marking monument boundaries. Another reason may have been Kelly's more active presence in the local communities. There were, however a few new names inscribed in Capitol Gorge--and there was the "romantic vandalism" story of Bob and Carrie.
According to Kelly, a cowboy named Bob Johnson came to work for Tine Oyler in the 1920s, and fell in love with Tine's oldest daughter, Carrie. Together, Bob and Carrie explored the country, leaving their names on many walls and rocks. These inscriptions are still visible along the Fremont River, at the entrance to Capitol Gorge and on the petroglyph panel along Pleasant Creek. Apparently, Johnson left a short time later on a stolen horse and became a minor outlaw. Carrie died at age 18 of a ruptured appendix, while her lover was away. In 1952, Kelly discovered that several of the inscriptions had been recently, secretly freshened. While no one saw Johnson, it was rumored that he had recently returned to the area from a prison stint and longed for his lost love, Carrie. [14]
During the early months of 1952, natural rock spalling defaced the large petroglyph panel (now along Utah Highway 24) immediately east of Kelly's house. The large slab that fell out of the center of the rock art broke into "many small pieces." The slab had been moving away from the cliff for at least a year, but since it was on private land (the Max Krueger farm), "nothing could be done, and now the petroglyphs are gone forever." [15]

Water And Grazing
The manner in which Mormon communities handled their water rights was not always cooperative. In September 1950, the disputes among the various land owners, including the National Park Service, got so out of hand that Kelly called a meeting of Fruita residents to discuss the problems. Unfortunately, he wrote, the meeting "ended in a brawl so [Kelly] walked out." Kelly then proposed to the Coordinating Superintendent at Zion that a water master be appointed for Fruita so that everyone could "all hate him instead of each other." [16] This letter produced a flurry of memoranda that went all the way up to Arthur E. Demaray, National Park Service associate director, by mid-November. The problems facing the National Park Service stemmed not just from Kelly's inability to mediate the dispute. It seems that Kelly had stopped irrigating some of the monument's orchard lands and, if he did not resume irrigation, the National Park Service could permanently lose its water rights to the Fremont River. Another concern of National Park Service officials was the eventual need to transfer the water rights to the ranger station and campground area to provide for later development. [17]
The only realistic way to protect the park service water shares was to build a separate set of irrigation ditches and pipes, but this appears to have been too expensive. Consequently, Kelly was instructed to start irrigating the old Chesnut property with as much of the allotted water as possible until a long-term solution could be reached. This long-term solution, as it turned out, was to purchase all the remaining private lands in Fruita. [18]
Until the water rights issue could be solved, or at least until a plant to treat the contaminated Fremont River water could be built, the culinary water had to be trucked down from Bicknell, a very time-consuming task. This temporary "solution" to the drinking water problem lasted until 1962. [19]
Another issue that got Superintendent Kelly into hot water with the local residents was grazing. A few of the residents, particularly Cass Mulford, owned cattle as well as fruit orchards. Left to roam free, cows would stray into the headquarters area and into the campground in search of fresh grass. The local owners, as well as the ranchers using the stock driveways through Capitol Reef, had let their cattle wander freely across the monument for many years. Kelly's attempts to get the cows off monument lands were met at first with indifference and then resistance. In 1954, a confrontation between Mulford and Kelly became especially heated. Kelly asked the Santa Fe Regional Office for help, sometimes in letters that were overly vehement. The regional officials counseled discretion, but they finally issued a letter notifying all livestock owners that it was illegal to graze on monument lands. Kelly then presented the letter to the residents of Wayne County, and the problem seems to have died down for a while. Since the monument was unfenced and the boundaries not adequately surveyed, though, stray cattle would continue to be a particular irritant to Kelly and later superintendents. [20]
The arguments between local residents and Kelly over water and grazing arose from conflicting values. Kelly was the National Park Service representative who, as his responsibilities increased, protected the monument's resources and interests with increasing vigor. On the other hand, local residents of Fruita, and to a certain extent the rest of Wayne County, saw Kelly as a non-Mormon neighbor who, after living at Fruita for only 10 years, was now telling them how to run their lives. The two were bound to conflict.

Uranium Boom
The uranium boom of the early 1950s provided another example of Kelly's bucking the western belief that land, regardless of designation, was to be used to make a living. From February 1953 to February 1959, Capitol Reef National Monument was opened to uranium mining under a special use permit granted to the Atomic Energy Commission. Throughout this period, prospectors hoping to strike it rich in this government-supported mining boom not only kept Charles Kelly busy, but created substantial scars on the scenery and resources throughout the present national park.
The first uranium mining claim in what is now the park was filed on a location at the entrance to Grand Wash in 1901. The Oyler Mine, as it came to be called, was excavated only sporadically, mostly because of its isolation, marginal productivity, and lack of a market. However, this situation changed when the uranium market boomed in the 1950s, leading to a long, complicated wrangle over who actually owned the rights to the Oyler Mine. [21]
By 1951, the escalating Cold War led the federal government to stockpile uranium for defense purposes. Price supports and AEC promotions created a mining boom throughout the Colorado Plateau. Would-be miners swarmed over the labyrinth of sandstone canyons and cliffs looking for the new El Dorado. Most uranium was found in two geologic formations: the Morrison and Chinle. Since the Chinle, especially the contact between the Moenkopi and Shinarump members, was exposed along much of the western Waterpocket Fold, Capitol Reef National Monument became a focal point for many prospectors. Another factor bringing miners to Capitol Reef was Utah Highway 24, one of the few mapped routes into the western Colorado Plateau. [22]
Kelly was already remarking on the stream of summertime prospectors through the monument in 1950. Brought by the rumors of plentiful uranium and an "open" monument, the miners flooded into Kelly's office. Others simply started working their Geiger counters and picks over the monument lands without asking permission. [23] The next year, some of the claimants to the Oyler Mine camped out on the site and told Kelly that they would start mining whether he liked it or not. They left before proceedings of federal trespass were initiated. In 1952, the special permit from the National Park Service to the Atomic Energy Commission was approved and 35 claims were immediately filed on the Oyler Mine area alone. Ironically, confusion over the multiple claims to the Oyler Mine made the most famous mine in the monument off-limits to prospectors throughout the 1950s uranium boom. [24]
A ranger from Zion National Park was detailed to Capitol Reef for a month to help monitor the expected rush when the special permit was approved. Even though the AEC inspectors concluded that there was little valuable ore within the monument, this did not discourage the latter-day "49-ers." The official opening of Capitol Reef to mining in February 1953 brought only a dozen prospectors, "more than half of which left within 24 hours." [25] By May, more determined miners were taking large amount of rocks that, according to Kelly, had not even been verified as to ore content. Kelly appealed directly to the AEC Regional Office in Grand Junction, Colorado, which promised to be more careful in issuing future permits. [26]
The prospecting effort was mostly seasonal due to bad roads and the fact that many of the miners were seeking their fortunes while on summer vacation. The AEC attempted to correct transportation problems by upgrading the road from Green River to Hanksville and blasting the road up the Burr Trail into the Circle Cliffs. The Circle Cliffs mining boom, with over 3000 claims, was in full swing by 1954. Ore-laden trucks were soon rolling down the Burr Trail and the Notom road along the eastern side of the monument. From there, they went north to Green River and the processing plant at Moab, or west through Capitol Gorge and Fruita to the Marysvale plant. Another small, ore-processing unit was set up at Notom but, despite a lot of money invested, never produced an ounce of ore. [27]
The heavy truck traffic was hard on monument roads and bridges. On May 30, 1955 the CCC-built Sulphur Creek bridge collapsed under the constant procession of ore-laden trucks. Temporarily rebuilt, the bridge continued to carry five 20-ton trucks each night and an additional 40-75 jeeps full of prospectors each day. [28]
Throughout this period, Kelly waged single-handed battle against the uranium miners. The threat to the monument had never been so severe, and Kelly was determined to protect the resources. However, the overriding authority given to the AEC in the name of national security was often too much for Kelly or even higher National Park Service officials to stop. In June 1955, efforts to prevent mining next to the Oyler Tunnel were finally exhausted. Kelly was particularly frustrated, complaining:
Having protected damage to this area for several years, under the theory that the NPS had authority, the superintendent now feels like the man who had the rug pulled from under him while out on a limb holding a bear by the tail. [29]
By the end of 1955, the mining operations at Capitol Reef were dwindling although yearly claims were still filed through the end of the decade. The Oyler Mine dispute was not fully resolved until well into the 1960s. Other uranium mines in the vicinity of the Oyler tunnels were cleaned up during the late 1960s, but mine shafts are still visible along the Scenic Drive. Shafts and roads are also scattered throughout the backcountry; for when the monument was expanded to include virtually the entire Waterpocket Fold, many other mining claims and sites were brought within Capitol Reef's boundaries.
The uranium boom consumed a great deal of the superintendent's time and energy. Except for some seasonal help in the summer, he alone served as the on-site regulator for all mining activity. Kelly's efforts to protect the monument's integrity were further hampered by a switch in the jurisdiction for Capitol Reef National Monument from Zion National Park to the Southwest Regional Office and then back to Zion during the very height of the uranium threat.

Administrative Jurisdiction And A New Master Plan
In 1953, responsibility for Bryce Canyon National Park and Capitol Reef National Monument was removed from the coordinating superintendent of Zion National Park. Throughout the rest of the 1950s, Bryce Canyon was to have a direct, autonomous relationship with the regional office. [30] Capitol Reef, on the other hand, was juggled back and forth. The monument was first placed under regional direction on July 1, 1953, but since Kelly had no administrative personnel, all accounting work was still to be handled through Zion's chief clerk. [31]
While the reasons for this transfer in jurisdiction are unknown, neither Charles Kelly nor Zion Superintendent Paul Franke were happy about the move. Kelly, in particular, felt even more isolated than before. In a letter to Franke, Kelly expressed his apprehension that Capitol Reef would "again be more or less of an orphan." He wote, "We don't understand the reason for this change, and although we hope it will work out for the best, we still have serious misgivings because no one in the regional office will ever have the personal interest here that you had." [32]
Franke tried to cheer up Kelly by pointing out the growth that Capitol Reef had obviously gained through the transfer. "For our part," he consoled, "we in turn recognize progress, that you and your areas have grown to more mature responsibilities and will henceforth seek guidance direct from the Regional Office." [33]
Franke, who still was responsible under the new reorganization for coordinating Cedar Breaks and Pipe Springs National Monuments, also expressed his personal regard for Kelly and their ability to work together.
During the course of the next year, Kelly dealt exclusively with the regional office in Santa Fe regarding all management issues, particularly uranium mining and grazing. All bookkeeping and clerical duties that could not be handled by Kelly, however, were still channeled through Zion National Park. This apparently created an awkward situation. A little over a year later, in October 1954, Capitol Reef National Monument was returned to Zion's coordinating control. Regional Director Minor R. Tillotson pointed out that it was becoming "increasingly difficult to give long range supervision to [the] area," and said he was certain that "this new arrangement [would] be helpful to [Kelly] and beneficial to the area." [34]
More immediate concerns that may have played a role in this reversal of jurisdiction were the continual problems over uranium mining and administrative difficulties. Kelly's persistent requests for faster, more responsive actions from the regional office may also have been a factor. Regardless of the reason, Superintendent Kelly was overjoyed by the news. In a short letter to Franke, Kelly expressed his happiness at once again being in Zion's jurisdiction. Kelly wrote, "The cooperation of the regional office has been very much lacking during the past year, probably due to the reorganization program. Scattering the records in three different places has also been inefficient. I am sure that things will run much smoother from now on." [35]
Capitol Reef National Monument remained under Zion National Park's coordinating jurisdiction until Charles Kelly left in 1959. Considering the continued isolation and lack of personnel at the monument, coordination by the closer and smaller Zion staff was far more beneficial to Kelly and the monument's resources. Ironically, at the same time that Capitol Reef was being transferred back and forth, its long-range direction was becoming clearer in the new 1953 Master Plan Development Outline.
Prepared by Charles Kelly in December and approved by the regional office in February 1954, the new master plan supplemented the 1949 Master Plan, which was, according to Kelly, "incomplete and in some cases inaccurate." [36] The major point the report made was that there was an obvious need to expand facilities to handle increasing visitation brought by impending road improvements. [37]
While the themes for development were still focused on the "higher class" tourists such as artists, photographers, students, and backcountry explorers, it was recognized that better roads, trails, campground, and interpretation were needed to better serve the increasing numbers of "pavement travelers." Annual visitation was around 16,000, mostly concentrated in the summer months. Accommodations included an undeveloped campground, which resulted in great deal of uncontrolled camping, and the lodge, which could handle about 25 people a night. "A few other sub-standard accommodations in the town of Fruita" are also mentioned. [38]
To handle the increasing crowds, it was proposed that the existing staff of one superintendent, one seasonal ranger, and "laborers as needed" be supplemented by a permanent ranger, an additional seasonal ranger, and some seasonal naturalists. A permanent maintenance man was also requested. Protection needs focused on the threat to natural resources from uranium mining and grazing. The unfenced monument was susceptible to occasional stock drift, and since there was no designated stock driveway, the "unsupervised" herds wandered over various trails, "usually bedding two nights in the monument." There is no mention of the need for road patrols or difficulties from the campground or lodge occupants. [39]
The only interpretation undertaken by the superintendent or seasonal ranger was initial contact with the visitor upon arrival at the ranger station, and question-and-answer sessions with Kelly at the Capitol Reef Lodge on summer evenings. The interpretive themes of geology, flora and fauna, history, and archeology were covered at these times, but there were still no wayside exhibits, guided trail hikes, or interpretive pamphlets. The basic monographs on the geology and archeology of Capitol Reef had not been updated since the 1930s, and there was virtually no resource management research or program. [40]
Key facilities still needed were a water system for the National Park Service residence, office, and campground. Water was still hauled from Bicknell for all culinary needs; pit toilets were used at the campground and ranger station. A museum and office building were needed for interpretation, to store the various archeological collections, and to provide office space. Additional housing was requested for permanent and/or seasonal help, since there was little available for purchase or rent in Fruita or surrounding communities. In 1953, Fruita had electricity but no sewage system (other than individual septic tanks), and no communications save the mail and National Park Service short-wave radio. [41]
The final headquarters location was still undetermined, since the state highway department hadn't decided how to route the new, paved highway through the monument. As for the village of Fruita, the current policy of "leav[ing] these private owners where they [were], as part of the local picture" was deemed best, although this could lead to future problems. Inevitably, at least some additional private land would have to be acquired to enable future National Park Service growth. [42]
By 1955, improved roads, an increasing influx of post-war tourists, and the uranium boom had put a lot of pressure on Capitol Reef's meager National Park Service staff and facilities. Yet, for all intents and purposes, the monument's natural resources were still in reasonably good condition. The uranium prospectors had found little to dig up, although the roads and tunnels they left behind would require reclamation in the years to come. The maze of sandstone cliffs, ledges, and canyons had deterred most tourists, and the 37,000-acre monument had been designed to keep grazing and other multiple-use interests to an absolute minimum. In many ways, the lands protected by Capitol Reef National Monument had not changed since its creation in 1937.
Future protection, however, was far from certain. If the anticipated crowds began arriving on the new paved roads, and if the National Park Service did not spend the money necessary to upgrade facilities and personnel, the monument would be very much in trouble. Of course, Capitol Reef National Monument was facing the same imminent threats as the other units of the national park system.
In the late 1950s and early 1960s, change finally came to this small, virtually undisturbed national monument. The road was eventually paved through the Fremont River canyon and the National Park Service's Mission 66 program brought needed facilities. The road and Mission 66 together also enabled the final buy-out of private lands at Fruita. All this increased activity would challenge the monument's growing staff as never before.

Footnotes
1 Charles Kelly diary, 5 July 1950, Charles Kelly Manuscript Collection MSS 100, Box 1, Folder 1, University of Utah Special Collections, Manuscript Division, Marriott Library, Salt Lake City (hereafter referred to Kelly diary).
2 Kelly diary, 5 January 1950.
3 Superintendent's Monthly Report, May 1950, Box 4, Folder 3, Capitol Reef National Park Archives (hereafter referred to as Monthly Report).
4 Ibid., July 1954, October 1955.
5 1950 and 1953 monthly reports totaled visitor and local cars separately, and estimates were often given. The 16,000 figure comes from the "1953 Master Plan," File D18, Accession #79-067A-337, Box 1, Container #919498, Records of the National Park Service, Record Group 79 (RG 79), National Archives - Rocky Mountain Region, Denver (hereafter referred to as NA-Denver).
8 Monthly Reports, March, November 1951, June 1952, September 1953.
9 Ibid., April, September 1953, March 1955.
10 Ibid., November 1950, April 1953.
11 Monthly Reports, July 1955.
12 Monthly Reports, June 1951, July and December 1953. For the complete history of the Pectol/Lee Collection see Box 4, Folder 2, Capitol Reef National Park Archives and Capitol Reef Museum Collection Accession Folder No. 3; see also Capitol Reef Museum Deaccession Folder #1, and Lee Kreutzer, "The Pectol/Lee Collection, Capitol Reef National Park, Utah" Utah Archaeology (7) 1, pp. 104-116, 1994.
13 Ibid., July 1952, April 1953, September 1955.
14 Monthly Report, February 1952; George Davidson, Red Rock Eden (Torrey: Capitol Reef Natural History Association, 1986, 52.
15 Monthly Report, February 1952. A large photograph of this panel, now in the Capitol Reef museum collection, was taken in the 1930s, and thus shows the figures that were lost when the slab fell.
16 Kelly diary, 5 January 1951; Kelly to Zion Superintendent, 20 September 1950, File CR 600-05.7 (Part III), 79-60A-354, Box 3, Container #63181, RG 79, NA-Denver.
17 Acting Assistant Director Cook to Regional Director, 13 October 1950; Associate Director to Regional Director, 14 November 1950; Zion Superintendent to Regional Director, 17 November 1950; Kelly to Zion Superintendent, 18 November 1950; Chief, Water Resources to Regional Director, 14 March 1952; Zion Superintendent to Regional Director, 2 April 1952; Acting Director to Sen. Watkins, 21 March 1956, all in File CR 660--05.7 (Part III), 79-60A-354, Box 3, RG 79, NA-Denver.
18 Ibid. The National Park Service water share was calculated to be .66 second feet, or 8.25 percent of the 8 second feet of the Fremont River water allocated to Fruita.
19 "Report on Inspection of Sanitary Facilities, October 1951," File CR-660-03, 79-60A-354, Box 3; "Report on Sanitary Facilities, June 1962," File D5031, 79-67A-505, Box 1, Container #343490, RG 79, NA-Denver.
20 Kelly to Regional Director, 4 May 1954; Assistant Regional Director to Kelly, 28 July 1954; Regional Director to Kelly, 9 August 1954; Kelly to Stockmen of Wayne County, 18 August 1954, all in File L3019, 79-66A-691, Box 1, RG 79, NA-Denver.
21 See Lenard Brown, Capitol Reef Historical Study and Base Map (Washington, D.C.: U.S. Department of the Interior, National Park Service, 1969) 13-36, for a complete examination and history of the Oyler Mine dispute.
22 Raye C. Ringholz, Uranium Frenzy: Boom and Bust on the Colorado Plateau (New York: Norton and Company, 1989) gives a good overall impression of the uranium boom, even though it concentrates mainly on other areas of Utah.
23 Monthly Reports, May, July 1950.
25 Ibid., June 1952 and February 1953.
26 Monthly Reports, May, July 1953.
27 Ibid., February, July, August 1954 and January 1955.
28 Kelly to Zion Superintendent, 2 June 1955, File D30, 79-67A-337, Box 1, File D30, RG 79, NA-Denver; Monthly Report, June 1955.
30 Harold P. Danz, Historic Listing of National Park Service Officials, revised ed. (Washington, D.C.: U.S. Department of the Interior, National Park Service, May 1991), 69.
31 Franke to Kelly, 23 June 1953, File CR-201-06, 79-60A-354, Box 1, RG 79, NA-Denver.
32 Kelly to Franke, 21 June 1953, Ibid.
33 Franke to Kelly, 23 June 1953, Ibid.
34 Tillotson to Kelly, 1 November 1954, Ibid.
35 Kelly to Franke, 26 November 1954, Ibid.
36 Monthly Report, December 1952.
37 "1953 Master Plan Development Outline," File D18, 79-79A-337, Box 1, Container #919498, RG 79, NA-Denver.
39 1953 Master Plan Development Outline, Operations Prospectus, 1.
40 1953 Master Plan Development Outline, Interpretation, 1-6.
41 Ibid., Operations Prospectus, 1-4.
---
---
http://www.nps.gov/care/adhi/adhi6.htm
Last Updated: 10-Dec-2002