National Park Service

---

Circulars of Information / Guidebooks / Official Maps and Guides / Park Brochures


Year Index
(non-Unigrid)

---

1970s

Antietam
(date unknown)

Badlands

Canyon de Chelly

Carlsbad Caverns

De Soto

Death Valley

Fort Clatsop

Fort Point
(ca. 1970s)

Waterton Lakes
(Glacier-Waterton International Peace Park)
(ca. 1970s)

Glacier Bay

Glen Canyon

Golden Gate
(ca. 1970s)

Gran Quivira
(Salinas Pueblo Missions)

Haleakala
(ca. 1970s)

Hampton
(ca. 1970s)

Hampton
(ca. 1970s)

Joshua Tree

Lincoln Memorial

Maggie L. Walker
(ca.1970s)

Montezuma Castle

Muir Woods
(German Edition)
(ca. 1970s)

Muir Woods
(Italian Edition)
(ca. 1970s)

Muir Woods
(Japanese Edition)
(ca. 1970s)

Muir Woods
(Russian Edition)
(ca. 1970s)

Muir Woods
(Spanish Edition)
(ca. 1970s)



Organ Pipe Cactus

Pecos

Rocky Mountain
(ca. 1970s)

Saugus Iron Works

Saugus Iron Works

Tonto

Tuzigoot

Walnut Canyon

City of Refuge
(Pu'uhonua o Honaunau)

Coronado

Coronado
(Spanish edition)

Coulee Dam
(Lake Roosevelt)

North Rim
Grand Canyon

South Rim
Grand Canyon

Great Smoky Mountains

Jefferson National Expansion Memorial

Manassas

Muir Woods

Scotts Bluff

Washington, DC

Yoesmite





Arches

Blue Ridge Parkway

Cape Henry
(Colonial)

Casa Grande Ruins

Channel Islands

Cowpens

Fort Caroline

South Rim
Grand Canyon

Haleakala

Harpers Ferry

Hopewell Village
(Hopewell Furnance)

Kings Mountain

Lincoln Home

Montezuma Castle

Mount McKinley
(Denali)

Natural Bridges

Olympic

Saugus Iron Works

Stones River

Tonto

Big Hole

Biscayne

Carlsbad Caverns

Carlsbad Caverns
(Spanish edition)

Cedar Breaks

City of Refuge
(Pu'uhonua o Honaunau)

Curecanti

Effigy Mounds

Fort McHenry

Glen Canyon

South Rim
Grand Canyon



Maps
Grand Teton

Great Sand Dunes

Hopewell Village
(Hopewell Furnance)

Independence

Mount Rainier

North Cascades
Lake Chelan
Ross Lake

Olympic

Organ Pipe Cactus

Petrified Forest

Rocky Mountain

Saugus Iron Works

Sequoia / Kings Canyon

Sunset Crater

Theodore Roosevelt Memorial

Tumacacori



Wupatki



Maps
Yellowstone



Amistad

Bighorn Canyon

Black Canyon of the Gunnison

Brices Cross Roads

Capitol Reef

Carl Sandburg

Coronado

Florissant Fossil Beds



Fort Jefferson
(Dry Tortugas)

Fort Necessity

Fredericksburg and Spotsylvania

Gran Quivira
(Salinas Pueblo Missions)

South Rim
Grand Canyon

South Rim
(French Edition)Grand Canyon

South Rim
(German Edition)
Grand Canyon

South Rim
(Spanish Edition)
Grand Canyon

Hawaii Volcanoes

Johnstown Flood

Lake Mead

Mount McKinley
(Denali)

Mount Rushmore

Padre Island
(Spanish Edition)

Pipe Spring

Point Reyes

Shenandoah

Stones River

Tupelo

Walnut Canyon

Yorktown
(Colonial)

Yoesmite



Antietam

Bandelier

Big Hole

Cabrillo

Castle Clinton

Christiansted

City of Refuge
(Pu'uhonua o Honaunau)

Colorado

Coulee Dam
(Lake Roosevelt)

Cowpens

Devils Tower

Dinosaur

Fort Bowie

Fort Donelson

Fort Matanazas

Fort Larned

Fort Moultrie

Fort Pulaski

Fort Stanwick

Fort Union

Fort Union Trading Post

Gettysburg

George Washington Birthplace

South Rim
(Japanese Edition)
Grand Canyon

Grand Portage

Grand Teton

Guadalupe Mountains

Hampton

Homestead

Ice Age

Independence

Katmai

Lake Meredith

Natchez Trace

Petersburg

Pinnacles

Rainbow Bridge

Saguaro

Theodore Roosevelt Island

Voyageurs

Yorktown
(Colonial)



Abraham Lincoln Birthplace

Alcatraz Island
(Golden Gate)

Alibates Flint Quarries

Appomattox Court House

Canyonlands

Channel Islands

Platt
(Chickasaw)

Chiricahua

Craters of the Moon

Custer Battlefield
(Little Bighorn Battlefield)

Deshler-Morris House
(Independence)

Fort Davis

Fort Laramie

Fort McHenry

Fort Necessity

Fort Pulaski

Glacier

Jefferson National Expansion Memorial

Jefferson National Expansion Memorial

Jewel Cave

Lyndon B. Johnson

Museum of Westward Expansion
(Jefferson National Expansion Memorial)

Moore House
(Yorktown)
(Colonial)

Pictured Rocks

Valley Forge

Yorktown
(Colonial)

Zion
In 1977 the Unigrid design was unveiled and has become the standard format used for all subsequent park brochures. Producing a brochure from scratch is typically a two-year process, with planning and research consuming year one and production and writing during year two. Consequently, it took the National Park Service a number of years to convert all park brochures to the new Unigrid design.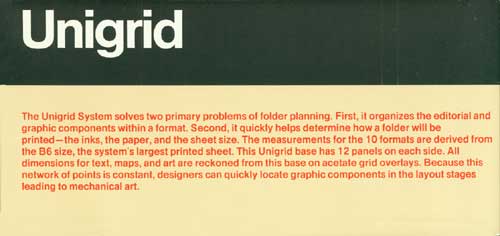 Unigrid
Prior to the Unigrid design, NPS-produced photographs were typically used, but it was decided to enhance the quality of the brochure by making use of photographs from professional photographers. The links to the Unigrid brochures are solely for educational purposes.
Unigrid brochures: A-F | G-M | N-S | T-Z
Below are additional brochures that have been produced since 1977 that had yet to be converted to the Unigrid design.

Allegheny Portage Railroad

Assateague Island

Booker T. Washington

Chaco Canyon
(Chaco Culture)

Delaware Water Gap

Fort Frederica

Golden Gate
(ca. 1970s)

Grand Teton

Great Smoky Mountains

Indiana Dunes

Jamestown
(Colonial)

Lassen Volcanic

Manassas

Muir Woods

North Cascades
Lake Chelan
Ross Lake

Minute Man

Organ Pipe Cactus
(Spanish Edition)

Platt
(Chickasaw)

Richmond



Rocky Mountain

Shenandoah

Big Hole

Black Canyon of the Gunnison

Chamizal

Chesapeake and Ohio Canal

Colorado

Crater Lake

Curecanti

Custer Battlefield
(Little Bighorn Battlefield)



Death Valley

Delaware Water Gap

Devils Postpile

Grand Canyon

Grant-Kohrs Ranch

Herbert Hoover

Mount Rainier

Organ Pipe Cactus

Jedediah Smith Redwoods State Park
(Redwoods)

Sunset Crater

Theodore Roosevelt

Timpanogos Cave

Whiskeytown



Arkansas Post

Arlington House

Alcatraz Island
(Golden Gate)
(ca. 1970s)

Bandelier

Buck Island Reef

Canyonlands

Capitol Reef

Cedar Breaks

Chamizal

El Morro

Horsehoe Bend

John Day Fossil Beds

Mesa Verde

Olympic

Ozark Riverways

Scotts Bluff

Virgin Islands

Fredericksburg
(Battlefield Self Guided Tour)
(ca. 1970s)

Gettysburg
(Civil War Walking Tour)
(ca. 1970s)

Gettysburg
(The Gettysburg Address Exhibit)
(1979)

Hampton
(Gardens & Grounds)(ca. 1970s)

Independence: The Park In Pictures
(1976)

Independence
(Summer Events)
(1978)

Lightship Chesapeake
(ca. 1970s)

The Battle of Moore's Creek Bridge
(1979)

National Park Areas in Colorado
(1978)

National Park Areas in the Rocky Mountain Region
(1978)



year-1970.htm
Last Updated: 09-Jun-2012