Five Views: An Ethnic Historic Site Survey for California
---
MENU
---

Introduction
Immigration
Settlement
Organizations/Religion
Discrimination
World War II Incarceration

Historic Sites
Selected References
---

---

A History of Japanese Americans in California:
HISTORIC SITES
---
Shonien
Los Angeles, Los Angeles County
Rokuichi Kusumoto established the Shonien (Japanese Children's Home) in 1914, when he realized that the Japanese community needed such an institution to provide care and supervision for children whose parents could not do so.
Several conditions necessitated that the Shonien be established. For example, economic conditions required parents to work long hours, which could result in young children lacking proper supervision, nutrition, and care. Occasionally, a child would be born out of wedlock, with neither parent willing to raise the youngster. Sometimes, difficulties between parent and child required another home for the child. Because the early Japanese community consisted only of immigrants and their children, the traditional extended family system that could have provided care for children did not exist. Another factor was that many child care agencies in the larger community were closed to nisei children because of their race.
The Shonien has had a 60-year history in Southern California. The first Shonien was started at 1120 Alvarado Street with six infants, and was moved to several locations over the years as it expanded. The Shonien has been licensed to care for 20 to 50 children at different times in its history. Difficulties experienced during its long history included fund-raising, meeting standards of various child welfare organizations, locating English-speaking personnel during the early stages of operation, and providing adequate administration of the home, particularly during Kusumoto's illness.
During the World War II internment of Japanese Americans, children at the Shonien were located at the Children's Village in Manzanar. Two other Japanese children's homes, Maryknoll Home and the Salvation Army Home, were also included in the Children's Village. In April 1942, 93 children were located in the Children's Village. By the time the camp at Manzanar was closed in 1945, placement with Japanese American families had been found for all children in the village.
After the internment, the Shonien building served as a hostel for Japanese Americans returning to Los Angeles. By 1948, inquiries for child care facilities were received by the Shonien organization, and a residential out-of-home care program was begun in 1956.
The Shonien closed its out-of-home care program in 1963, and merged with other community organizations such as the Japanese American Community Services Inc. (JACS) and Japanese American Youth (JAY), to meet the changing needs of the community. The new organization maintains support through fund-raising, volunteer work, and participation by the Board of Directors to develop several community service activities. These include a drug abuse prevention program, draft counseling, a senior citizens' project, and day care for Japanese and other Asian children.
The Shonien building is a one-story wooden house. Two columns support the gabled front porch. Several girls lived in this structure when it was used as the girls' dormitory section of the Shonien. The building has been altered slightly, and is now a private residence.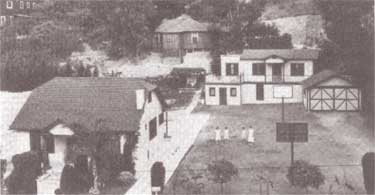 Shonien, Los Angeles, Los Angeles County [circa 1925]
NEXT> Terminal Island